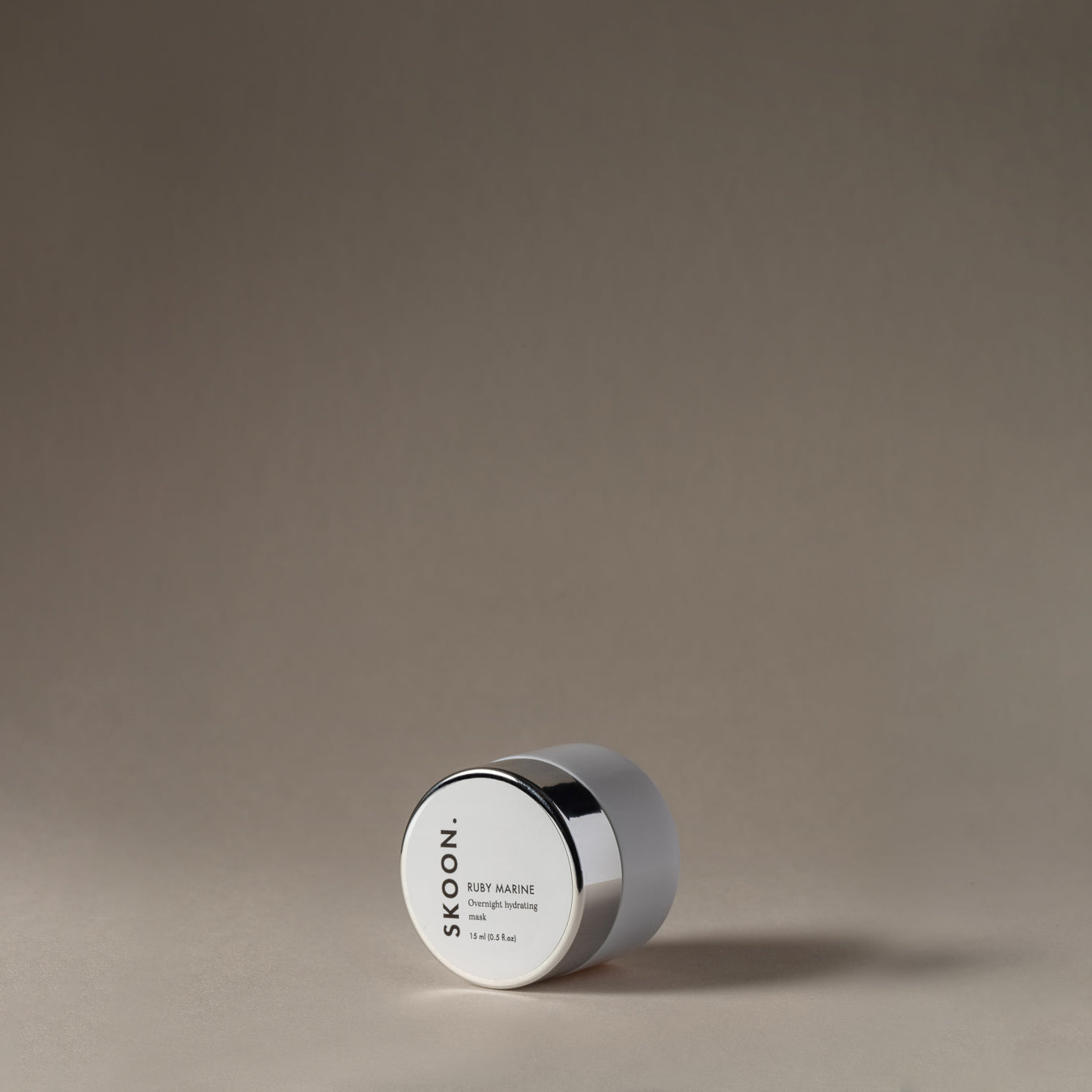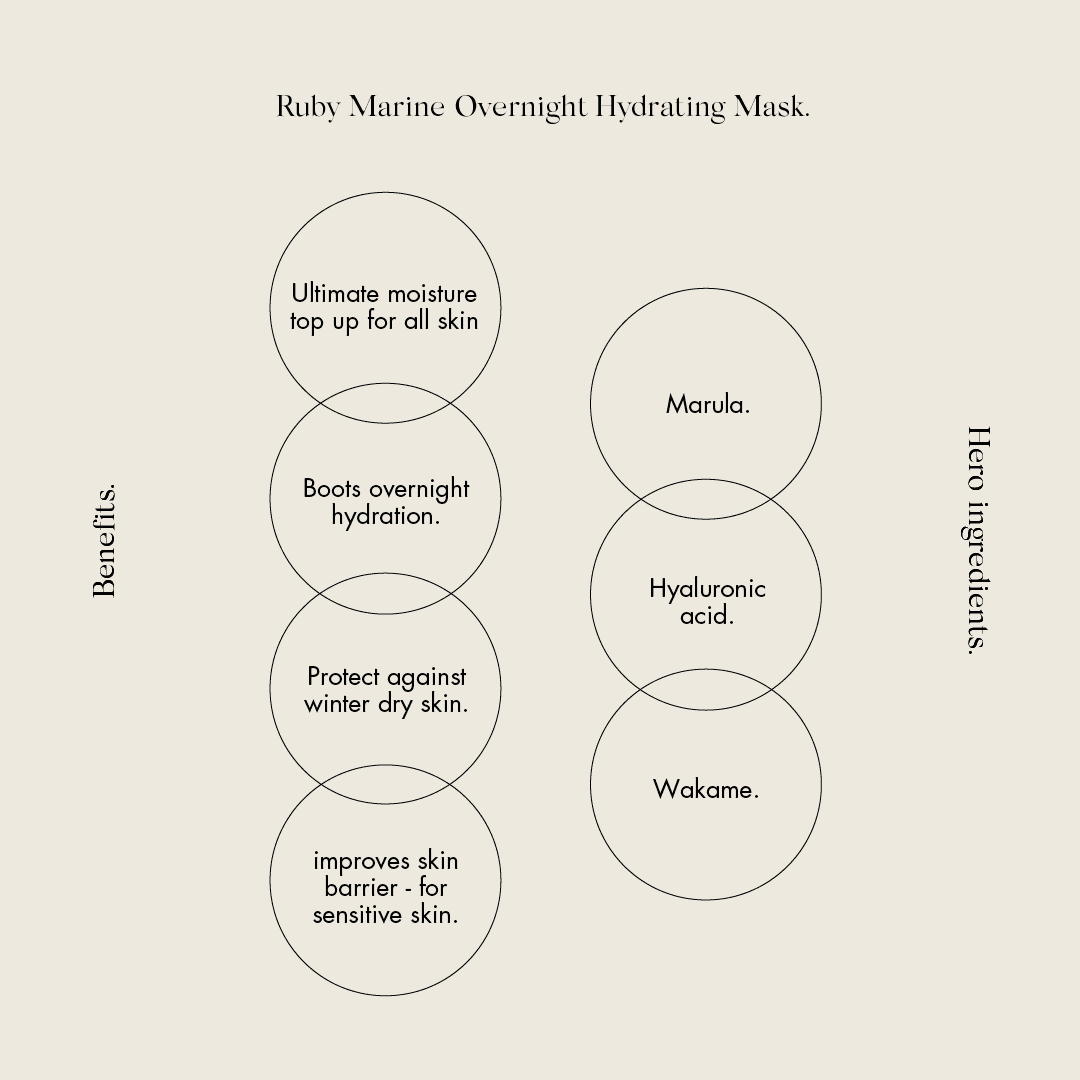 RUBY MARINE Overnight Hydrating Mask
Translation missing: en.products.product.price.regular_price
R324.95
Translation missing: en.products.product.price.sale_price
R324.95
Translation missing: en.products.product.price.regular_price
Tax included.
Embark on an Enchanting Journey with SKOON. RUBY MARINE Overnight Hydrating Mask – Your Beauty Sleep Elixir!
Step into a realm of pure enchantment with a skincare experience that's nothing short of magical – the extraordinary SKOON. RUBY MARINE Overnight Hydrating Mask. This elixir is your invitation to unlock the wondrous secrets of beauty sleep, as it transforms your night-time ritual into a journey of rejuvenation.
Experience the Power of RUBY MARINE:
🌙 Hyaluronic Acid Magic: Immerse your skin in the potent goodness of hyaluronic acid, a true hydration hero. Watch as it works tirelessly to replenish and plump your complexion, leaving you with skin that's supple, revitalized, and ready to embrace the day.
🌙 Soothing Magnesium Touch: Let the soothing touch of magnesium caress your skin, calming it from the stresses of the day. This mineral powerhouse works in harmony with other ingredients to create a symphony of relaxation and rejuvenation.
🌙 Luxurious Botanical Blend: Indulge in the luxury of a carefully crafted blend of Vanilla, African Shea, and Marula Oil. This trifecta of botanical goodness delivers a nourishing embrace that pampers your skin while you sleep.
Unveil the Magic of Beauty Sleep:
SKOON. RUBY MARINE Overnight Hydrating Mask isn't just a mask – it's an enchanting elixir that transports you into a world of beauty wonders. As you slip into slumber, this elixir weaves its magic, leaving you with a complexion that's soothed, plumped, and utterly radiant.
Embrace the enchantment of SKOON. RUBY MARINE Overnight Hydrating Mask and let each night be a journey into the world of ultimate skincare magic. Awaken to a new dawn, where your skin shines with the brilliance of beauty sleep.
🎨 Fun Fact: Did you know? Our Overnight Hydrating Face Mask is like a magical potion crafted with the divine blend of Vanilla, African Shea, and Marula Oil! It's like a dreamy dessert for your skin, working its wonders while you sleep. Get ready to awaken to a skin sensation that's as sweet and indulgent as your favourite treat. So go ahead, let your skin feast on this delightful trio, and embrace the enchanting journey to a deeply hydrated and oh-so-happy complexion. Embrace the magic of beauty sleep with our Overnight Hydrating Face Mask - the ultimate bedtime treat for your skin!" 🌙✨
 ◦ Intense Hydration - delivers deep and long-lasting hydration to the skin, helping to combat dryness and replenish moisture
 ◦ Skin Repair and Rejuvenation - supports skin's natural repair processes, aiding in cell turnover and promoting a refreshed complexion
 ◦ Nourishment - provides essential nutrients to the skin, helping to improve its overall health and appearance
 ◦ Enhanced Radiance - helps bring out a radiant and glowing complexion, giving the skin a refreshed and revitalised appearance
 ◦ Minimizes Fine Lines - helps plump up the skin, reducing the appearance of fine lines and wrinkles
 ◦ Locks in Moisture - helps lock in moisture, preventing water loss and maintaining hydration
 ◦ Improves Skin Barrier - supports skin's natural barrier function, strengthening its defences against external stressors
Buy SKOON. RUBY MARINE Overnight Hydrating Mask online today!
AM | PM:
1. Preparation: Start with clean, dry skin. Remove any makeup, cleanse your face with a gentle cleanser, and pat your skin dry with a clean towel.

2. Patch Test: If you're using the Overnight Hydrating Face Mask for the first time or have sensitive skin, perform a patch test on a small area of your skin to check for any adverse reactions.

3. Application: Take a small amount of the mask and apply it evenly to your face. You can use your fingertips to spread the product. Avoid the eye area and hairline.

4. Massage In: Gently massage the mask into your skin using upward and outward motions. This helps the product to penetrate and be absorbed better.

5. Leave-On Overnight: The mask is meant to be left on overnight, so there's no need to rinse it off. Allow it to work its magic while you sleep.

6. Morning Rinse: In the morning, rinse your face with lukewarm water to remove any residue. Pat your skin dry with a clean towel.

7. Follow with Regular Skincare: After rinsing off the mask, follow up with your regular skincare routine, such as applying a moisturiser, sunscreen, or other serums you use during the day.

Frequency - Use the Overnight Hydrating Face Mask as often as recommended on the product label or as needed based on your skin's hydration needs. For some masks, 2-3 times per week may be sufficient, while others can be used nightly.
Cocos Nucifera (Coconut) Oil* ,Cera Alba (Beeswax)*, Vitus vinifera (Grape) Seed Oil*, Sclerocarya Birrea (Marula) Seed Oil, Aqua (Water), Glyceryl Behenate, Jojoba Esters, Glycerin*, Helianthus Anuus (Sunflower) Seed Oil Unsaponifiables, Lactobacillus Ferment, Mel (Honey), Vanilla Planifolia (Vanilla) Fruit Extract, Helianthus Anuus (Sunflower) Seed Wax, Tocopherol, Undaria Pinnatifida (Wakame) Cell Culture Extract, Ethylhexylglycerin, Helianthus Anuus (Sunflower) Seed Oil, Magnesium PCA, Sodium Phytate, Sodium Hyaluronate, Zinc PCA, Acacia Decurrens Flower Wax, Polyglycerin-3, Fulvic Acid, Leuconostoc/Radish Root Ferment Filtrate, Iron Oxide (C.I. 77491). *Certified organic ingredient.