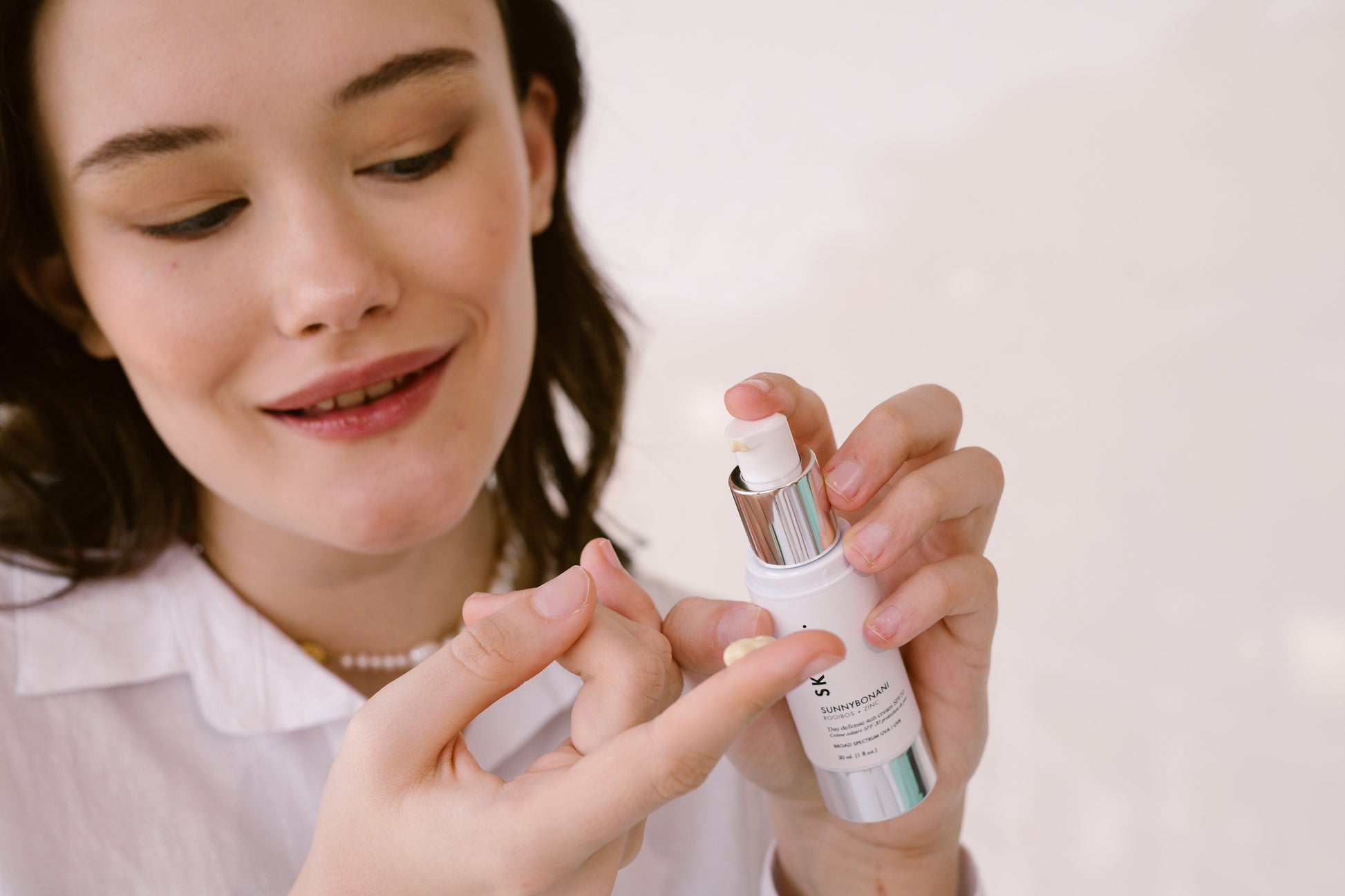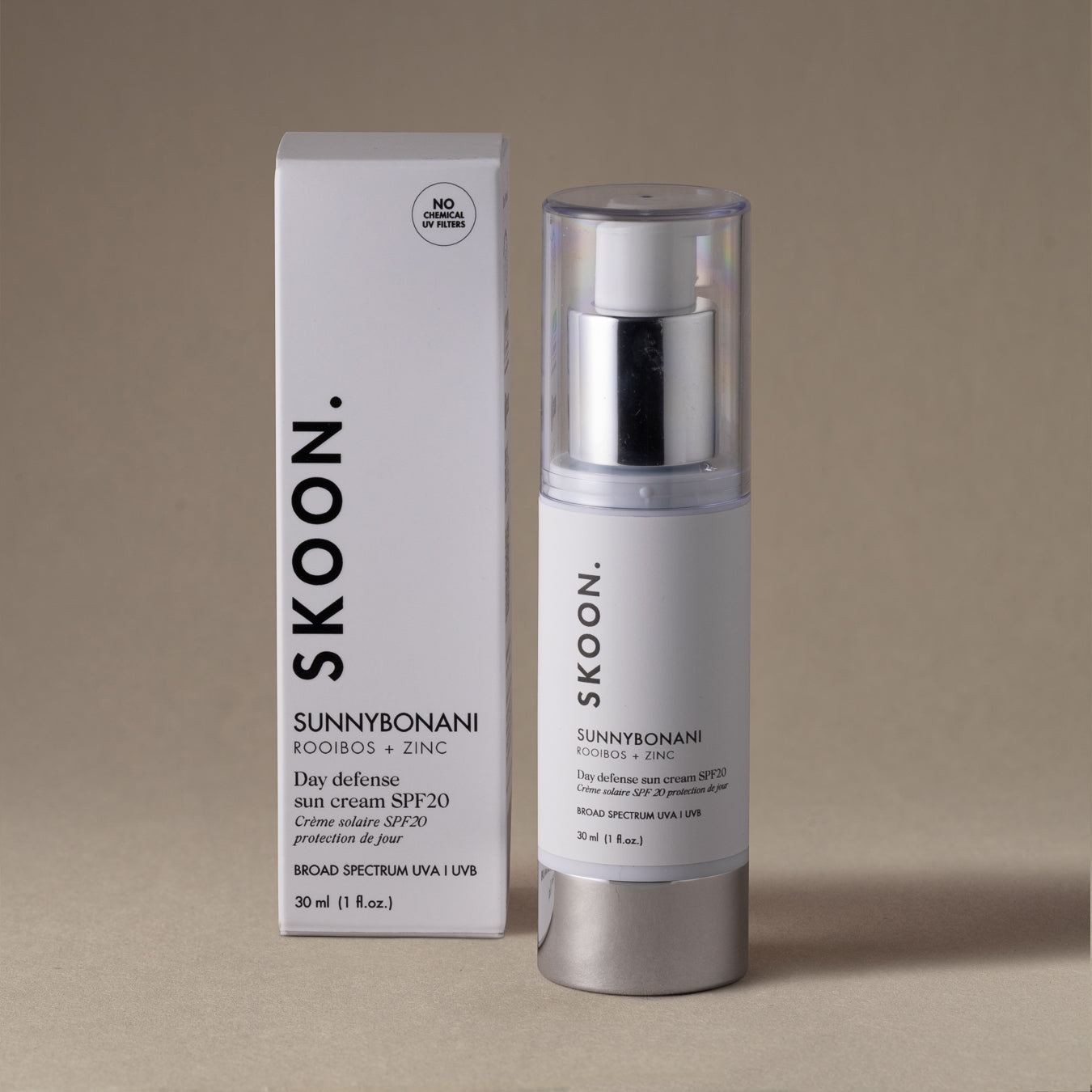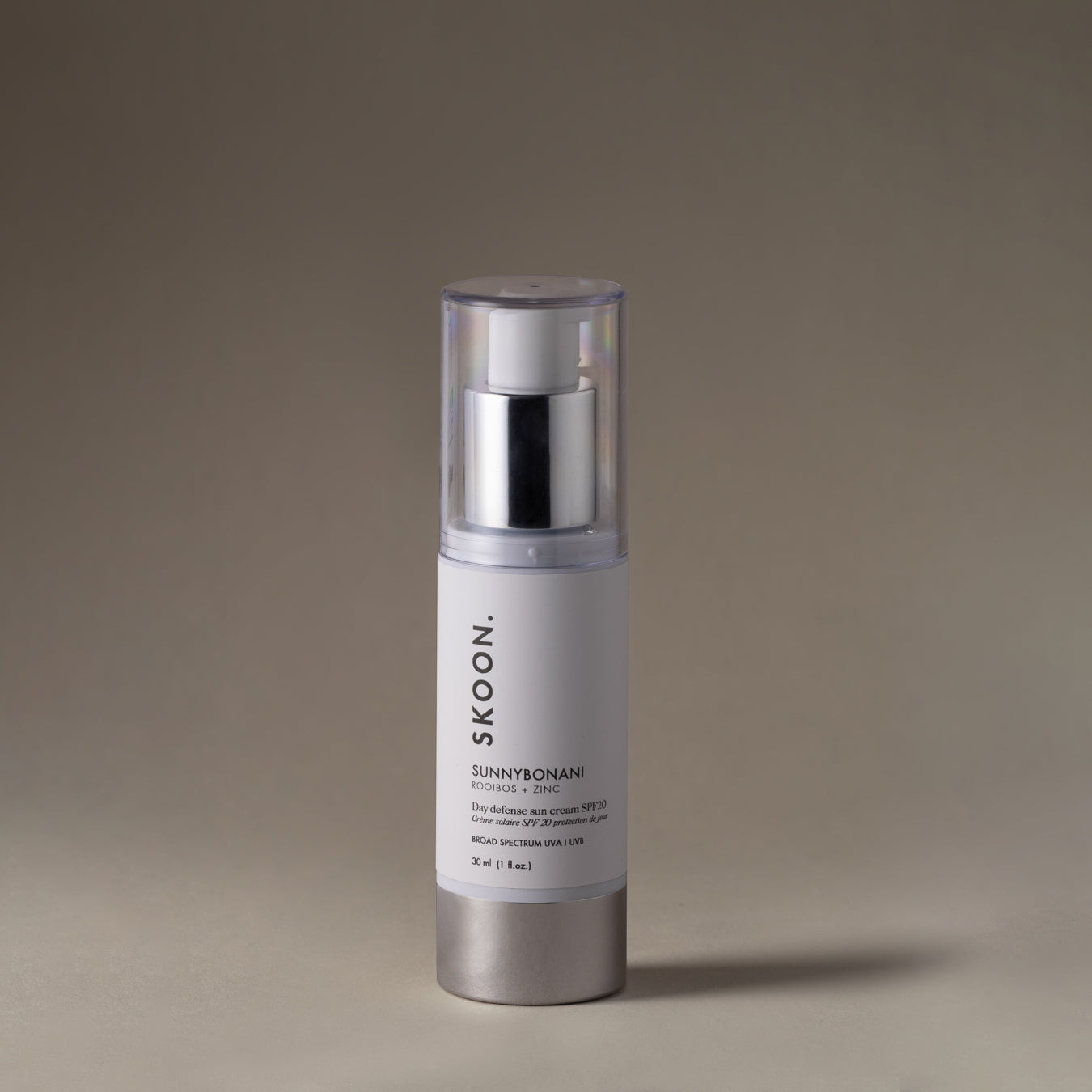 SUNNYBONANI Day Defence Sun Cream SPF20
Translation missing: en.products.product.price.regular_price
R439.95
Translation missing: en.products.product.price.sale_price
R439.95
Translation missing: en.products.product.price.regular_price
R549.95
Tax included.
Embrace the Sun with Confidence: Introducing SKOON. SUNNYBONANI Day Defence Sun Cream SPF20 – Your Ultimate Sun Guardian!
Sanibonani! Step into a world of sun-kissed beauty and embrace the magic of sun protection like never before. Introducing the exceptional SKOON. SUNNYBONANI Day Defence Sun Cream SPF20 – a natural, mineral-only-based sunscreen inspired by the sun-baked African continent. This lightweight sun cream is your ticket to daywear sun protection that's both effective and indulgent.
Experience the Power of SUNNYBONANI:
☀️ Mineral Marvel: Immerse your skin in the goodness of Zinc Oxide and Titanium Dioxide – powerful minerals that create a protective shield against harmful UV rays. Experience the confidence of knowing your skin is safeguarded, all while enjoying a lightweight texture that feels like second skin.
☀️ Botanical Bliss: Enrich your skincare experience with the soothing touch of Calendula, Vitamin C, and indigenous Cape antioxidant, Rooibos. This symphony of botanical wonders partners with the minerals to create a formula that not only protects but also pampers your skin.
Embrace the Essence of Sun Protection:
SKOON. SUNNYBONANI Day Defence Sun Cream SPF20 isn't just a sun cream – it's your key to a sun-kissed world where beauty and protection go hand in hand. With every application, you're embracing the heritage of sun-baked Africa and infusing your skin with the essence of natural, mineral-only sun protection.
Elevate your sun protection game to new heights of indulgence with SKOON. SUNNYBONANI Day Defence Sun Cream SPF20. Embrace the magic of a sun guardian that's inspired by nature and designed to keep your skin beautifully shielded.
🎨 Fun Fact 1: Did you know? Mineral sunscreens might be superstars in sun protection, but they can sometimes leave behind a subtle 'white cast' on the skin, making it look like you had a playful encounter with a friendly ghost! 😄 But don't worry, it's just their superhero powers at work. The minerals create a protective shield, reflecting harmful UV rays away from your skin.☀️👻
🎨 Fun Fact 2: Discover 'airless technology': it's not just about looks, it's a skincare game-changer. Traditional containers expose products to air, but airless tech dispenses precisely, safeguarding freshness from oxygen and contaminants. Your skincare stays potent, effective, and ready to love your skin. It's not just packaging; it's brilliance! 🌬️🧡✨
Our Melanin-Rich Beauties! Fear not, we're working on a special mineral sunscreen formulated just for you! Say goodbye to ghostly appearances and hello to top-notch sun protection without any white traces. Our upcoming mineral sunscreen is tailored to embrace and enhance your melanin-rich skin, keeping you radiant and protected under the sun. Stay tuned for this skin-loving superhero – your ultimate sun defence is on the way! ☀️🌟


 ◦  Broad-spectrum UVA(geing) + UVB(urning).
 ◦  Zero, nada, no chemical filters!
 ◦  Only non-nano minerals.
 ◦  No clogging & perfect for daywear over moisturisers and serums.
Handy hint:
SUNNYBONANI, our mineral-based sunscreen, is thoughtfully formulated and best suited for skin types 1-2 on the Fitzpatrick scale, specifically catering to lighter skin tones.


SUNNYBONANI NOTICE: 
This product is not water-resistant and is not suitable for water-based activities. 
Buy SUNNYBONANI Day Defence Sun Cream SPF20 online today!
AM: Every morning, as the final step in your skincare routine, apply 1-2 pumps of day defense sun cream onto your face, taking care around the delicate eye area. Apply extra sun cream on neck and décolletage.


BOTTLE PRIMING INSTRUCTIONS:
1. Tap the Base: With the cap removed, gently tap the base of the bottle on a flat surface. This helps to dislodge any air bubbles that may be trapped in the pump system.
2. Pump Several Times: Press down on the pump head multiple times to initiate the flow of product. You may need to pump the dispenser anywhere from 10 to 20 times until the product is dispensed.
3. Try the 'Secret Touch': For an extra boost in priming, here's a trick to consider, turn the product upside down and gently tap it on the pump's side. Do this with the cap still on. This technique can help release any stubborn air bubbles and enhance the priming process.
4. Observe Product Dispensing: As you pump, you'll notice that the product begins to emerge from the nozzle. It's normal for the initial pumps to take a bit of effort due to the airless system's design.
5. Enjoy Your Product: Once you see a consistent flow of product, your airless bottle is now primed and ready for use! Each subsequent pump will dispense your product effortlessly and without air exposure.
Aqua (Water), Caprylic/Capric Triglyceride, Zinc Oxide, Isoamyl Laurate, Squalane, Polyglyceryl-6 Polyhydroxystearate, Polyglyceryl-6 Polyricinoleate, Titanium Dioxide, Cetyl Alcohol, Glycerin*, Glyceryl Behenate, Magnesium Sulphate, Salix Alba (White Willow) Bark Extract, Sodium Ascorbyl Phosphate, Canola Oil, Maltodextrin, Jojoba Esters, Aspalathus Linearis (Rooibos) Leaf Extract*, Alumina, Lupinus Albus Seed Oil, Polyglycerin-6, Tocopherol, Glyceryl Behenate/ Eicosadioate, Calendula Officinalis Flower Extract, Triticum Vulgare (Wheat) Germ Oil Unsaponifiables, Helianthus Anuus (Sunflower) Seed Oil, Sodium Phytate, Vanilla Planifolia (Vanilla) Fruit Extract, Polyepsilon-lysine, Daucus Carota Sativa (Carrot) Seed Oil, Caesalpinia Spinosa Fruit Pod Extract, Daucus Carota Sativa (Carrot) Extract*, Helianthus Annuus Seed Oil, Tocopheryl Acetate, Beta- Carotene, Helianthus Annus (Sunflower) Sprout Extract. *Certified Organic Ingredient