Unveiling Our Essence.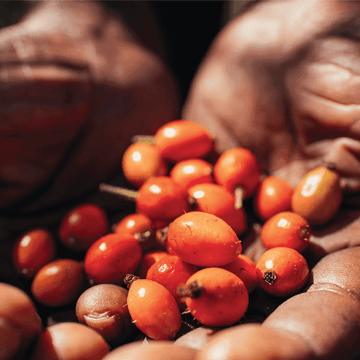 At SKOON., we're more than skincare – we're a journey into the heart of ancient beauty wisdom, expertly blended with modern innovation.
Drawing from generations of African traditions, our beauty secrets have been refined and reborn in a cutting-edge laboratory by in-house formulation chemists, bringing you a pure, compassionate beauty experience.
Our Unique Approach:
Ancient Wisdom, Modern Science: Our formulations are a tribute to the timeless knowledge passed down through African traditions. This wisdom is lovingly harmonised with the latest advancements in cosmetic science.
Ethical Sourcing: We take pride in our commitment to Africa's bountiful offerings. We diligently choose potent, sustainably harvested
natural ingredients, adding an extra layer of care to your skincare ritual.
Pure and Potent: Our products are a celebration of nature's power. We believe in harnessing non-toxic, effective, and clinically proven ingredients to nourish, rejuvenate, and empower your skin.
Innovation at Its Best: We marry ancient heritage with world-leading formulating techniques, resulting in products that elevate your beauty regimen to new heights.
Born in Africa
At SKOON., we believe in harnessing the power of nature's finest offerings. Our skincare is a fusion of Africa's most revered ingredients, combined with the expertise of Swiss and French phyto-compounds, to create an unparalleled beauty experience.
The Essence of SKOON.:
African Elixir: Our ultra-powerful actives are sourced from remarkable South African hero ingredients like Rooibos, Honeybush, Buchu, Baobab, Electric Daisy (affectionately known as nature's botox), and African Ginger. These treasures are renowned for their concentrated antioxidants, delivering a rejuvenating touch to your skin.
Global Harmony: We unite these African gems with ingredients from around the world. Nkuto Butter from Ghana, Niaouli from Madagascar and wild-harvested organic Rosehips from Lesotho join hands with Swiss and French phyto-compounds, crafting a skincare line that's both deeply rooted and brilliantly expansive.
Elevated Efficacy: Our formulations are designed for impact. The synergy of these extraordinary elements results in highly effective, holistic skincare that nurtures, rejuvenates, and honours your skin's natural vitality.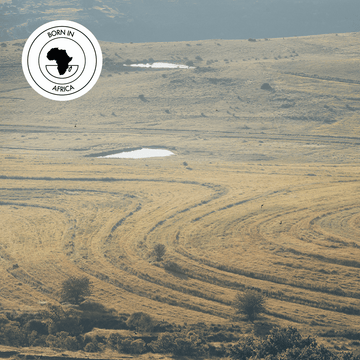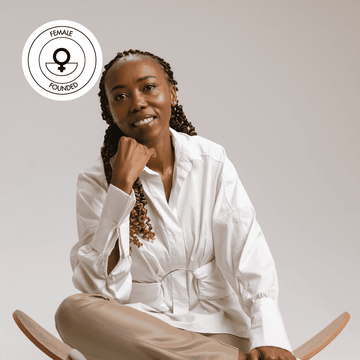 Female Founded and Led
SKOON. is a small, strong, women-led team, pushing the limits to offer more conscious choices. Expanding our team with South African women and youth is a choice that we know will make a difference. Creating opportunity and celebrating individuality is part of who we are. Led by one of South Africa's most innovative entrepreneurs, CEO Thandi Mbulaheni is fiercely passionate about SKOON. and our SKOON. Clan.
We foster a culture of inclusivity, equality, and empowerment. We believe that diversity fuels creativity and innovation, and thus, we strive to create an environment where every team member's voice is valued and heard. We provide equal opportunities for growth and development, ensuring that each individual is encouraged to reach their full potential. We celebrate the unique strengths and talents that women and youth bring to the table, enabling them to take on leadership roles and make significant contributions to our brand's success.
Non-Toxic Beauty
At SKOON., we've been committed to your well-being and the health of your skin since our inception in 2015.
Our journey has been guided by a steadfast dedication to non-toxic beauty, ensuring that every product you experience is a testament to purity and efficacy.
Why SKOON. Stands Apart:
Clean from the Start: Since day one, we've rejected harmful ingredients. You can trust that each formulation adheres to the highest standards of safety and integrity.
Mindful Ingredients: We meticulously choose plant-based, non-toxic ingredients that work harmoniously with your skin, resulting in products that not only beautify but also nurture.
Free of Harm: Our products are free from toxic chemicals, artificial fragrances, and harmful additives. We prioritise your skin's health and well-being above all else.
Conscious Beauty: Our commitment extends beyond your skin – it's a pledge to a healthier you and a healthier planet.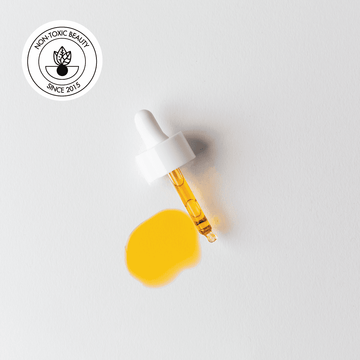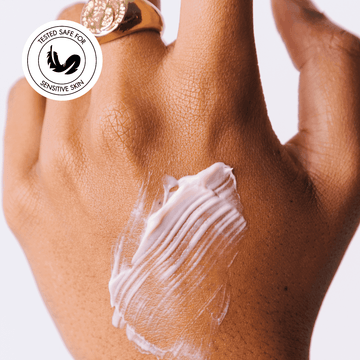 Sensitive Skin Tested and Proven
We understand that every skin type is unique and deserves the utmost care. That's why our skincare products are thoughtfully crafted and rigorously tested to cater to even the most sensitive of skin types.
Sensitive skin requires a delicate touch, and we've made it our mission to provide you with products that prioritise your skin's health and comfort. Our commitment to quality and safety means that all our products undergo thorough testing specifically designed to ensure compatibility with sensitive skin.
What Sets Our Products Apart:
Hypoallergenic Formulas: We formulate with care, using ingredients known for their gentleness and non-irritating properties, reducing the risk of allergic reactions.
Nurturing Ingredients: We select ingredients known for their skin-soothing and calming properties, providing a nurturing experience for your sensitive skin.
No Harsh Chemicals: You won't find unnecessary fragrances, dyes, or harsh chemicals in our products. We believe in a clean, minimalist approach to skincare.
Hydration and Protection: Our products are designed to hydrate, strengthen the skin barrier, and protect against external aggressors without causing irritation.
Dermatologically Endorsed
At SKOON., your skin's well-being is our utmost priority. That's why every product we offer is put to the test by dermatologists who understand the intricacies of healthy skin. We're proud to share that our skincare line has not only been rigorously dermatologically tested but also endorsed by professionals who trust our commitment to quality.
What This Means for You:
Scientific Validation: Our formulations undergo thorough dermatological assessments to ensure they're safe, effective, and gentle for all skin types.
Professional Approval: Our products have earned the trust and endorsement of dermatologists who recognise the value of our ingredients and the care we invest in crafting each product.
Skin Health Priority: With SKOON., you're choosing skincare that aligns with the expertise and care of dermatological professionals who put your skin's health at the forefront.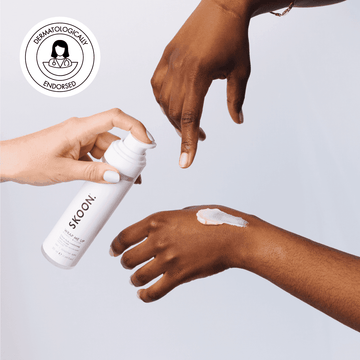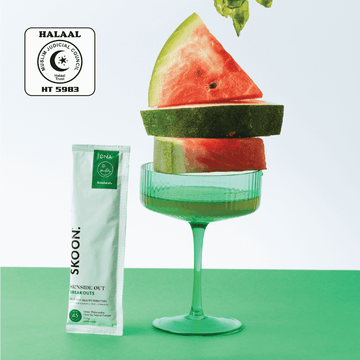 Halaal Certified
At SKOON., we're committed to bringing you beauty and wellness that aligns with your values.
We're excited to share that our SKOON. Marine Collagen+ PowerBlend has achieved an important milestone – they're now officially certified Halaal.
Crafted with care and your well-being in mind, our Beauty Marine Collagen+ PowerBlend is not just a treat for your taste buds, but also a celebration of inclusivity. Our commitment to quality and respect for diverse dietary preferences drives us to ensure that our products meet the highest standards.
What This Means for You:
Certified Halaal: Our Marine Collagen+ PowerBlend are prepared in strict adherence to Halaal principles, giving you the confidence that they're crafted with respect to your dietary choices.
A Refreshing Experience: Sip on the goodness that resonates with your values. Our certified Halaal Marine Collagen+ PowerBlend are a
delightful way to enhance your daily routine for healthy skin and gut.
PETA Approved
At SKOON., it's a given that compassion is at the heart of everything we do. We want you to know that when you choose our products, you're making a choice that aligns with ethical values and respect for all living beings.
Our Promise to Animals:
Cruelty-Free Ethics: We proudly declare that no product in our range, from formulation to the supply chain, has ever been tested on animals. It's an unwavering commitment we've held from day one.
Kindness in Every Step: Our supply chain upholds the same principles of cruelty-free practices, ensuring that your choice for beauty resonates with care at every level.
PETA Endorsement: Our dedication to animal welfare is acknowledged by PETA, a leading voice in animal rights. Their endorsement guarantees that our products are not just animal-loving but also cruelty-free.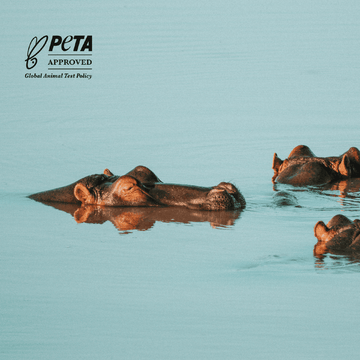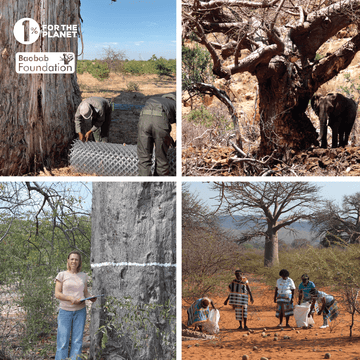 1% for the Planet | Baobab Foundation
At SKOON., our journey is intertwined with Africa's vibrant tapestry. Amid its natural treasures, the Baobab tree stands tall as a symbol of strength and resilience. We embrace this legacy and weave it into our commitment to giving back.
Our Promise to the Baobab Tree:
1% for the Planet: Recognising the Baobab's intrinsic worth, we pledge to donate 1% of our annual sales to the Baobab Foundation through 1% for the Planet. This remarkable initiative champions the preservation and conservation of these majestic trees.
Community Empowerment: Our support reaches beyond conservation. We touch lives. By nurturing the Baobab, we empower the communities of predominantly women growers in and around the Limpopo province. Their hands plant the seeds of a greener future.
Environment and Livelihood: With each contribution, we enable these women to cultivate more Baobabs, enriching both the environment and their lives. Together, we create a legacy of sustainability, resilience,
and shared prosperity.
Reuse | Reduce | Recycle
At SKOON., our journey is guided by a philosophy that marries the pursuit of potent beauty with an unwavering commitment to a healthier planet. Our promise to you goes beyond skincare – it's a promise to champion clean beauty, reduce waste, and innovate for a brighter future.
Our Green Path:
Maximised Potency, Minimised Waste: Our focus lies in amplifying the power of our products while minimising waste. It's the foundation of clean beauty, and it's how we began and how we continue to thrive.
Waterless Innovation: As trailblazers, we've harnessed waterless skincare technology, pioneering products that boast 100% active ingredients. The result? Efficient, potent skincare that leaves a smaller carbon footprint.
Refillable Revolution: We believe in being the change. Our best-selling face creams are now refillable, embracing Airless Refill Technology. These sleek, reusable glass dispensers are a testament to our commitment to reduce plastic waste and your skincare costs.
For You, For Earth: We're not just caring for your skin; we're nurturing the planet. Through conscious choices, we reduce energy consumption, transportation, and carbon footprint. What's good for your skin is also kinder to our world.