GLOWDROPS Bouncy Skin Face Concentrate
Translation missing: en.products.product.price.regular_price
R999.95
Translation missing: en.products.product.price.sale_price
R999.95
Translation missing: en.products.product.price.regular_price
R1,199.90
Tax included.
Introducing SKOON. GLOWDROPS Bouncy Skin Face Concentrate with WHOA-TOX!: Your Pathway to Luxuriously Bouncy, Radiant Skin!
We've taken your cherished favourite Glowdrops and infused it with the latest sensation in beauty. Brace yourself for a WHOA! moment as you immerse yourself in the awe-inspiring universe of ACMELLA OLERACEA (natural botox) – or also known as WHOA-TOX! This pro-collagen powerhouse is poised to dazzle, working its magic to unveil results that leave you spellbound.
Say hello to SKOON. GLOWDROPS Bouncy Skin Face Concentrate – an opulent blend that features the synergy of Golden Baobab Oil, ACMELLA, and Vitamin E. This dynamic trio unveils the magic of instant glossiness and plumping for your skin, igniting a radiance that's simply breathtaking.  
The Marvels Within:
✨ ACMELLA OLERACEA (WHOA-TOX!): Brace yourself for a skin transformation like no other. ACMELLA enchants your skin with a natural botox-like effect, unveiling a radiance that's irresistibly youthful and captivating.
✨ Golden Baobab Oil: Immerse your skin in the lavish embrace of Golden Baobab Oil. Experience instant glossiness and a plumped-up feel that leaves your skin gloriously refreshed.
✨ Vitamin E: Infuse your skin with the nurturing touch of Vitamin E. Discover a symphony of antioxidants that protect and revitalise, revealing a complexion that exudes vitality.  
Unveil your most captivating self with GLOWDROPS and WHOA-TOX!. Embrace the journey to skin that's gloriously bouncy, undeniably glossy, and utterly breathtaking.
🎨 Fun Fact: Meet the superstar of skincare - acmella oleracea! Don't be fooled by its name; this botanical wonder is no ordinary plant! Commonly known as 'nature's botox,' acmella oleracea has a magical ability to smooth and relax your skin, just like a spa treatment without the needle fuss. Get ready to embrace the natural age-defying power of this botanical gem and say hello to a complexion that's as radiant as it is youthful. It's time to let acmella oleracea work its wonders and put a smile on your face!" 😄🌸
Eco-friendly Packaging
Step into the world of sustainable skincare with our exciting new product range, now offering three convenient sizes: 5ml, 15ml, and 30ml, complete with an extra 15ml refill! Embrace the magic of our first-ever sustainable packaging, featuring refillable glass containers that not only offer practicality but also contribute to a greener planet. Elevate your skincare routine while being a part of our mission to create a cleaner, eco-friendly world. Discover the power of sustainability and double the goodness today! 🌱🌍🌿
◦ Intense Hydration
◦ Anti-Aging Properties with natural botox
◦ Antioxidant Protection
◦ Skin Firming with natural botox
◦ Regenerates Skin Cells
◦ Brightening Effect
◦ Lightweight and Non-Greasy
◦ Instant skin gloss in 60 seconds
◦ Natural & oil-based
◦ 100% Natural essential oil aroma
Buy SKOON. GLOWDROPS Bouncy Skin Face Concentrate online today!
DAILY AM or PM:
Add 1-2 drops of GLOWDROPS bouncy skin face concentrate to enrich your face cream. Alternatively, to highlight features, tap 1-2 drops directly onto face and décolletage area. For glossy cover, add a drop to your foundation.
Squalane, Adansonia Digitata (Baobab) Seed Oil*, Helianthus Annuus (Sunflower) Seed Oil Unsaponifiables, Caprylic/Capric Triglyceride, Tocopherol, Helianthus Annuus (Sunflower) Seed Oil, Acmella Oleracea Extract, Citrus Aurantium (Neroli) Flower Oil, Cymbopogon Martini (Palmarosa) Grass Oil, Geraniol**, Vanilla Planifolia (Vanilla) Fruit Extract, Linalool**, Pogostemon Cablin (Patchouli) Leaf Oil, Limonene**, Farnesol**. *Certified Organic Ingredient **From Natural Essential Oils.
What is ELASTICITY skin concern all about?
Wrinkles + sagging skin
If you're concerned about wrinkles and sagging skin, then your skin concern is ELASTICITY.
There are two types of wrinkles: expression lines caused by repetitive facial movement and solar rhytides - the fancy name for criss-cross wrinkles caused by sun exposure.
Collagen and elastin are the 'youth molecules' which keep expression lines and solar rhytides at bay. As you age, you lose some of this natural magic of collagen and elastin. Here's why: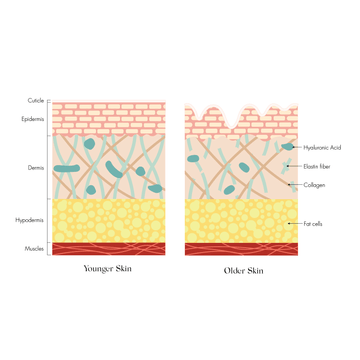 Collagen and elastin
deplete over time due to:
Ageing
The simple process of growing older.
Too much fun in the sun
Years of cumulative UV-exposure damages collagen and elastin fibres, resulting in leathery, coarse skin and criss-cross wrinkles.
Your genes
Sometimes we inherit gene variants that make our skin break down existing collagen faster + also produce less new collagen. (Are you curious to know which skin genes you have?) 
If ELASTICITY is one of your key concerns, it's important to look after your collagen and elastin. Choose a pro-collagen routine to protect existing collagen + boost new collagen production for firmer, healthier skin with a 3-step ELASTICITY approach: prevent & protect, repair + be proactive.
GLOWDROPS Bouncy skin face concentrate
GLOWDROPS Bouncy skin face concentrate is a natural, rich and nourishing oil-based concentrate. 
African wonder oil, Baobab is blended with a skin-mimicking emollient, Squalane (from sugar) and enriched with an electrifying new active ingredient called WHOA-TOX! from the Electric Daisy plant. WHOA-TOX! is rich in spilanthols and alkylamides and exhibits a natural botox effect when applied to skin. 
Baobab Seed Oil, from the majestic Baobab trees native to the Limpopo Province in South Africa, combined with Squalane repairs the skin's barrier, locks in moisture and provides instant gloss.
Hero ingredients
Repair I Lipid Skin Barrier - Baobab Oil
Repair I Lipid Skin Barrier - Sugar Squalane
Pro-active I Stimulate Collagen - WHOA-TOX!
Pro-active I Stimulate Elastin - WHOA-TOX!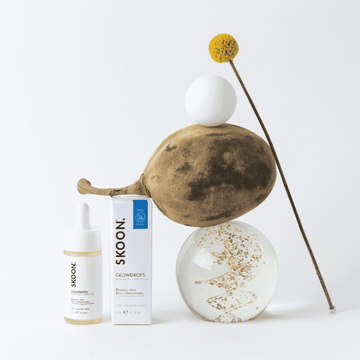 ELASTICITY skin concern daily AM + PM routine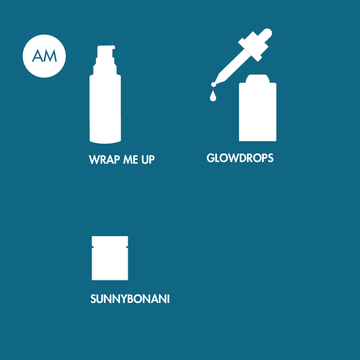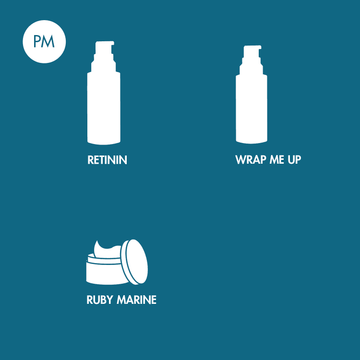 Daily ELASTICITY skin concern essentials
Here are some of our skin firming favourites! Bursting with hero ingredients that help you keep skin plump + firm. Find out how to use them in your daily skincare routine.
GLOWDROPS Bouncy skin face concentrate
BAOBAB + WHOA-TOX!
AM or PM
Sublime blend of 100% natural oils infused with WHOA-TOX! Acts as a pro-collagen concentrate by stimulating new collagen and elastin.
WRAP ME UP Therapy face cream
ROOIBOS + β-GLUCAN
AM or PM

Rich cream made with super-antioxidants, Rooibos + Honeybush, to repair collagen. White Willow Bark increases cell turnover to stimulate new collagen.

SUNNYBONANI Day defense sun cream SPF 20
ROOIBOS + ZINC
AM
Lightweight mineral sun cream protects collagen with mineral UV filters, Zinc + Titanium Dioxide. Repairs existing collagen with super antioxidants, Rooibos + β-carotene
ELASTICITY All-in-one beauty smoothie
MARINE COLLAGEN + VITAMIN A + VITAMIN C
AM or PM
Pro-collagen ELASTICITY beauty supplement containing 44 building blocks for new collagen including Type I Hydrolysed Marine Collagen, MSM, Vitamin C, Baobab, 10+ antioxidants, minerals, vitamins, 2 billion/CFU probiotics + 5 types of digestive enzymes.
RETININ Resurfacing face cream
MARULA + RETINAL 0.1%
PM
Resurfacing treatment cream with Vitamin A stimulates new collagen bundles and improves skin elasticity.
RUBY MARINE Overnight hydrating mask
MARULA + WAKAME
AM or PM
Unique, Vanilla butter mask softens and plumps skin overnight. Use AM + PM for intense barrier repair and optimal moisture matrix.
Shop GLOWDROPS Bouncy skin face concentrate for firm skin
Try our GLOWDROPS Bouncy skin face concentrate for firm skin with the hottest, new active ingredient trending in skincare - WHOA-TOX! - a pro-collagen active that exhibits natural botox effects when applied to skin.