ROSEGOLD Deep Tissue Face Concentrate
Translation missing: en.products.product.price.regular_price
R999.95
Translation missing: en.products.product.price.sale_price
R999.95
Translation missing: en.products.product.price.regular_price
R1,199.90
Tax included.
Introducing SKOON. ROSEGOLD Deep Tissue Face Concentrate with WHOA-TOX!: Unleash Age-Defying Beauty and Radiant Skin

We've reimagined your beloved Rosehip to encompass cutting-edge skincare innovation. Brace yourself for a WHOA! moment as you uncover the enchanting prowess of ACMELLA OLERACEA (natural 'Botox') – also known as WHOA-TOX! This multitasking marvel is a pro-collagen wonder that delivers a natural Botox-like effect, making your skin feel refreshed, renewed, and absolutely radiant.
Meet SKOON. ROSEGOLD Deep Tissue Face Concentrate – a synergy of Deep Tissue Blend featuring Lesotho Rosehip, ACMELLA, and Sea Buckthorn. This exquisite fusion breathes life into dry, mature, and sun-damaged skin, reawakening its youthful vibrance.
Unlock the Magic Within:
🌹 ACMELLA OLERACEA (WHOA-TOX!): Prepare for an experience like no other as your skin is graced with a natural Botox-like transformation. Witness the magic unfold, leaving your skin visibly renewed, lifted, and astonishingly smooth.
🌹 Lesotho Rosehip: Immerse your skin in the nourishing embrace of Lesotho Rosehip. Rejuvenate your complexion with this precious gem, unveiling a radiance that's nothing short of breathtaking.
🌹 Sea Buckthorn: Let the golden glow of Sea Buckthorn infuse your skin with renewed vitality. Experience the ultimate nourishment that unveils a luminous, age-defying allure. 
Awaken your skin's brilliance with this transformative elixir. Elevate your beauty to extraordinary heights and embark on a journey to discover your skin's true radiance.
🎨 Fun Fact: Meet the superstar of skincare - acmella oleracea! Don't be fooled by its name; this botanical wonder is no ordinary plant! Commonly known as 'nature's Botox,' acmella oleracea has a magical ability to smooth and relax your skin, just like a spa treatment without the needle fuss. Get ready to embrace the natural age-defying power of this botanical gem and say hello to a complexion that's as radiant as it is youthful. It's time to let acmella oleracea work its wonders and put a smile on your face!" 😄🌸
Eco-friendly Packaging
Step into the world of sustainable skincare with our exciting new product range, now offering three convenient sizes: 5ml, 15ml, and 30ml, complete with an extra 15ml refill! Embrace the magic of our first-ever sustainable packaging, featuring refillable glass containers that not only offer practicality but also contribute to a greener planet. Elevate your skincare routine while being a part of our mission to create a cleaner, eco-friendly world. Discover the power of sustainability and double the goodness today! 🌱🌍🌿
◦ Skin Regeneration
◦ Anti-Aging Properties with nature's 'Botox'
◦ Antioxidant Protection
◦ Hydration and Nourishment
◦ Radiant Complexion
◦ Lightweight and Absorbent
◦ Boosts Collagen Production with nature's 'Botox' 
◦ Restores Skin's Vitality
◦ Natural & oil-based
◦ 100% Natural essential oil aroma
 Buy SKOON. ROSEGOLD Deep Tissue Face Concentrate online today!
DAILY AM or PM:
Add 1-2 drops of ROSEGOLD Deep tissue face concentrate to enrich your cream. Alternatively, tap 1-2 drops directly onto clean skin before applying cream.
Rosa Canina (Rosehip) Fruit Oil*, Squalane, Helianthus Annuus (Sunflower) Seed Oil Unsaponifiables, Caprylic/Capric Triglyceride, Tocopherol, Lupinus Albus Seed Oil, Aniba Rosaeodora (Rosewood) Leaf Oil, Helianthus Annuus (Sunflower) Seed Oil, Linolool**, Triticum Vulgare (Wheat) Germ Oil Unsaponifiables, Hippophae Rhamnoides (Sea Buckthorn) Fruit Extract*, Acmella Oleracea Extract, Rosmarinus Officinalis (Rosemary) Leaf Extract*. *Certified organic ingredient. **From natural essential oils.

You've asked: What does "**From Natural Essential Oils" on the list of ingredients mean?

SKOON.: Fourteen ingredients found in natural essential oils may potentially cause sensitive reactions. If your product contains 100% natural essential oils the constituents need to be highlighted on the list of ingredients. We highlight constituents with a double asterisk** to make them easy to spot.
What is UV-AGEING skin concern all about?
Criss-cross wrinkles, sagging skin + leathery texture
If you're concerned about criss-cross wrinkles, sagging skin and leathery textured skin, then your skin concern is UV-AGEING.
Several factors determine the way your skin ages. The factors are principally your genetics, your chronological (actual) age as well as the amount of exposure to sun and other environmental pollutants. Ageing is divided into two distinct groups:
Intrinsic ageing  - this type of ageing is linked to the chronological process of simply growing older.
Extrinsic ageing - this type of ageing is linked to exposure to pollutants, of which UV radiation is the most significant, over a long period of time.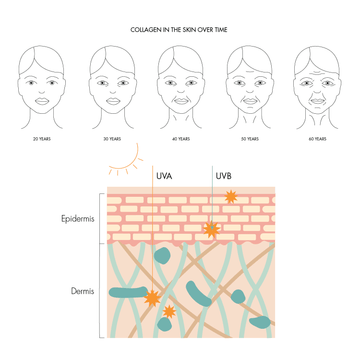 How you can you tell the difference between intrinsic ageing symptoms and extrinsic ageing symptoms from UV radiation
Intrinsic ageing
Gravity's effect is a slow, gradual sagging of skin that happens over decades. Repeated facial movements also develop into intrinsic expression lines. Smile lines, crow's feet, horizontal forehead lines and "eleven" lines between the eyebrows are all a result of intrinsic ageing. 
Extrinsic UV-ageing
Extrinsic ageing is primarily caused by exposure to sun over a long period of time. Signs of sun damage include wrinkles not formed by facial expressions, deeper facial expression lines, criss-cross wrinkles, severe sagging, multiple discolourations and rough, leathery skin texture.
If UV-AGEING is one of your key concerns, it's important to choose a sensible sun care routine to protect your skin from further sun damage + a pro-active collagen routine to improve the appearance of extrinsic aged skin with a 3-step UV-AGEING approach: prevent & protect, repair + be proactive.
ROSEGOLD Deep tissue face concentrate
ROSEGOLD Deep tissue face concentrate is a natural, rich and nourishing oil-based concentrate. 
African wonder oil, Rosehip is blended with a skin-mimicking emollient, Squalane (from sugar) and enriched with an electrifying new active ingredient called WHOA-TOX! from the Electric Daisy plant. WHOA-TOX! is rich in spilanthols and alkylamides and exhibits a natural botox effect when applied to skin. 
High altitude Rosehip Oil, from the mountain kingdom of Lesotho, combined with Squalane repairs the skin's barrier and lock in moisture for optimal hydration. The deep orange colour is due to a high content of carotenoids - potent antioxidants to neutralise free radicals and inflammation from UV radiation.
Protect I Antioxidants neutralise free radicals - Rosehip Oil + Vitamin E
Repair I Lipid Skin Barrier - Sugar Squalane
Pro-active I Stimulate Collagen - WHOA-TOX!
Pro-active I Stimulate Elastin - WHOA-TOX!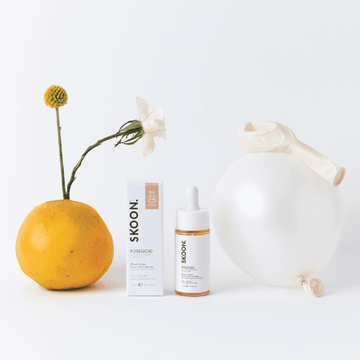 UV-AGEING skin concern daily AM + PM routine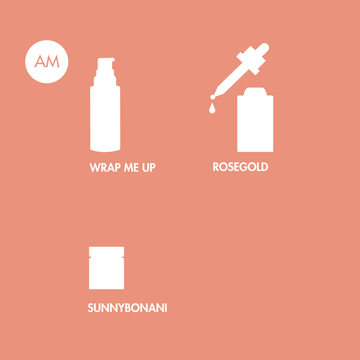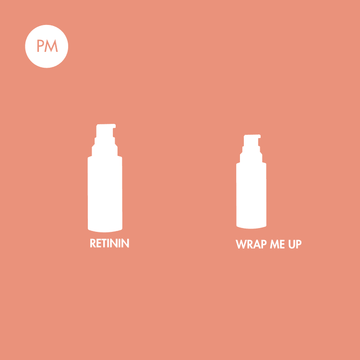 Daily UV-AGEING skin concern essentials
Here are some of our skin reviving favourites! Bursting with hero ingredients that help keep skin revived, repair the skin's barrier + lock in moisture for optimal hydration. Find out how to use them in your daily skincare routine.
ROSEGOLD Deep tissue face concentrate
LESOTHO ROSEHIP + WHOA-TOX!
AM or PM
Deep tissue blend of natural oils and botanical extracts infused with WHOA-TOX! nourishes skin barrier and acts as a pro-collagen concentrate by stimulating new collagen and elastin.
WRAP ME UP Therapy face cream
ROOIBOS + β-GLUCAN
AM or PM

Rich cream made with super-antioxidants, Rooibos + Honeybush, to repair collagen. White Willow Bark increases cell turnover to stimulate new collagen.

SUNNYBONANI Day defense sun cream SPF 20
ROOIBOS + ZINC
AM
Lightweight mineral sun cream protects collagen with mineral UV filters, Zinc + Titanium Dioxide. Repairs existing collagen with super antioxidants, Rooibos + β-carotene
ELASTICITY All-in-one beauty smoothie
MARINE COLLAGEN + VITAMIN A + VITAMIN C
AM or PM
Pro-collagen ELASTICITY beauty supplement containing 44 building blocks for new collagen including Type I Hydrolysed Marine Collagen, MSM, Vitamin C, Baobab, 10+ antioxidants, minerals, vitamins, 2 billion/CFU probiotics + 5 types of digestive enzymes.
RETININ Resurfacing face cream
MARULA + RETINAL 0.1%
PM
Resurfacing treatment cream with Vitamin A stimulates new collagen bundles and improves skin elasticity.
RUBY MARINE Overnight hydrating mask
MARULA + WAKAME
AM or PM
Unique, Vanilla butter mask softens and plumps skin overnight. Use AM + PM for intense barrier repair and optimal moisture matrix.
Shop ROSEGOLD Deep tissue face concentrate for revived skin
Try our ROSEGOLD Deep tissue face concentrate for revived skin with the hottest, new active ingredient trending in skincare - WHOA-TOX! - a pro-collagen active that exhibits natural botox effects when applied to skin.