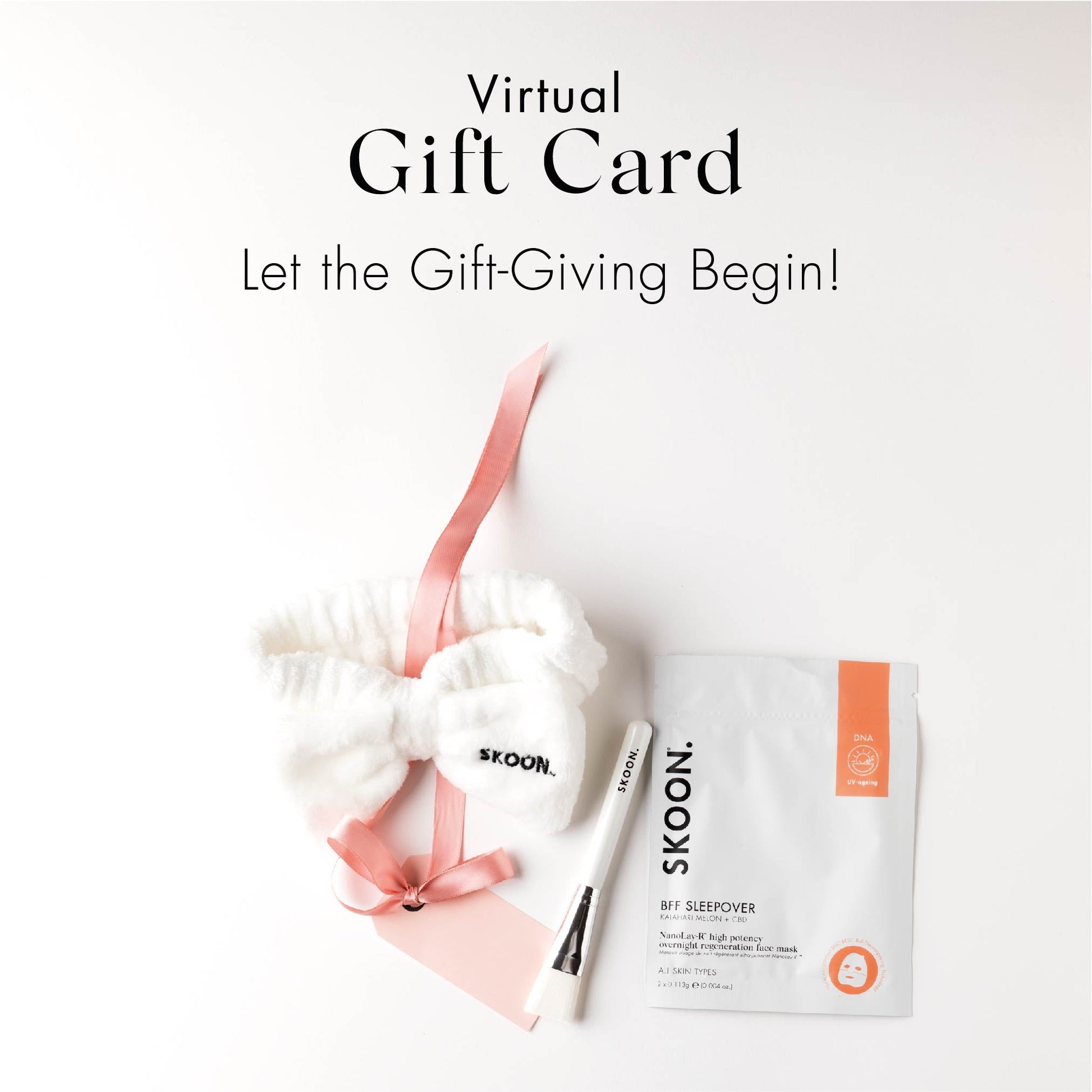 Give the Gift of Choice with a SKOON. Skincare E-Gift Card!
Looking for the perfect gift that lets them choose what they love? Look no further! Introducing SKOON. Skincare E-Gift Card—an ideal way to show you care and let your loved ones indulge in their skincare desires.
How It Works:
Our E-Gift Card is delivered directly to their email inbox, complete with easy-to-follow instructions on how to redeem them at checkout. It's hassle-free, convenient, and sure to bring a smile to their face.
The Joy of Choosing:
With a SKOON. Skincare E-Gift Card, they have the freedom to explore our range of luxurious skincare products and pick their favourites. Whether it's a hydrating serum, a rejuvenating face cream, or a soothing face mask, they get to choose exactly what they need for their unique skincare routine.
No Additional Fees:
Our gift cards come with no additional processing fees, making them the perfect present for any occasion, big or small.
Share the Love:
Share the joy of self-care and beautiful skin with your friends, family, or colleagues. Give the gift of choice and let them discover the enchanting world of SKOON. Skincare!  
🎨 Fun Fact: Sending an e-gift is like sending a digital hug to your loved ones! 🎁✨ No need to wait for snail mail - with just a few clicks, you can brighten someone's day with the perfect present right in their inbox. It's the modern-day magic of spreading joy and love, making gifting a breeze for every occasion. So, embrace the e-gift trend and let the smiles light up the digital world. After all, who doesn't love a little surprise delivered with a sprinkle of digital delight? 💌🌟 
** Gift card Terms & Conditions **
Buy  SKOON. Skincare E-Gift Card online today!