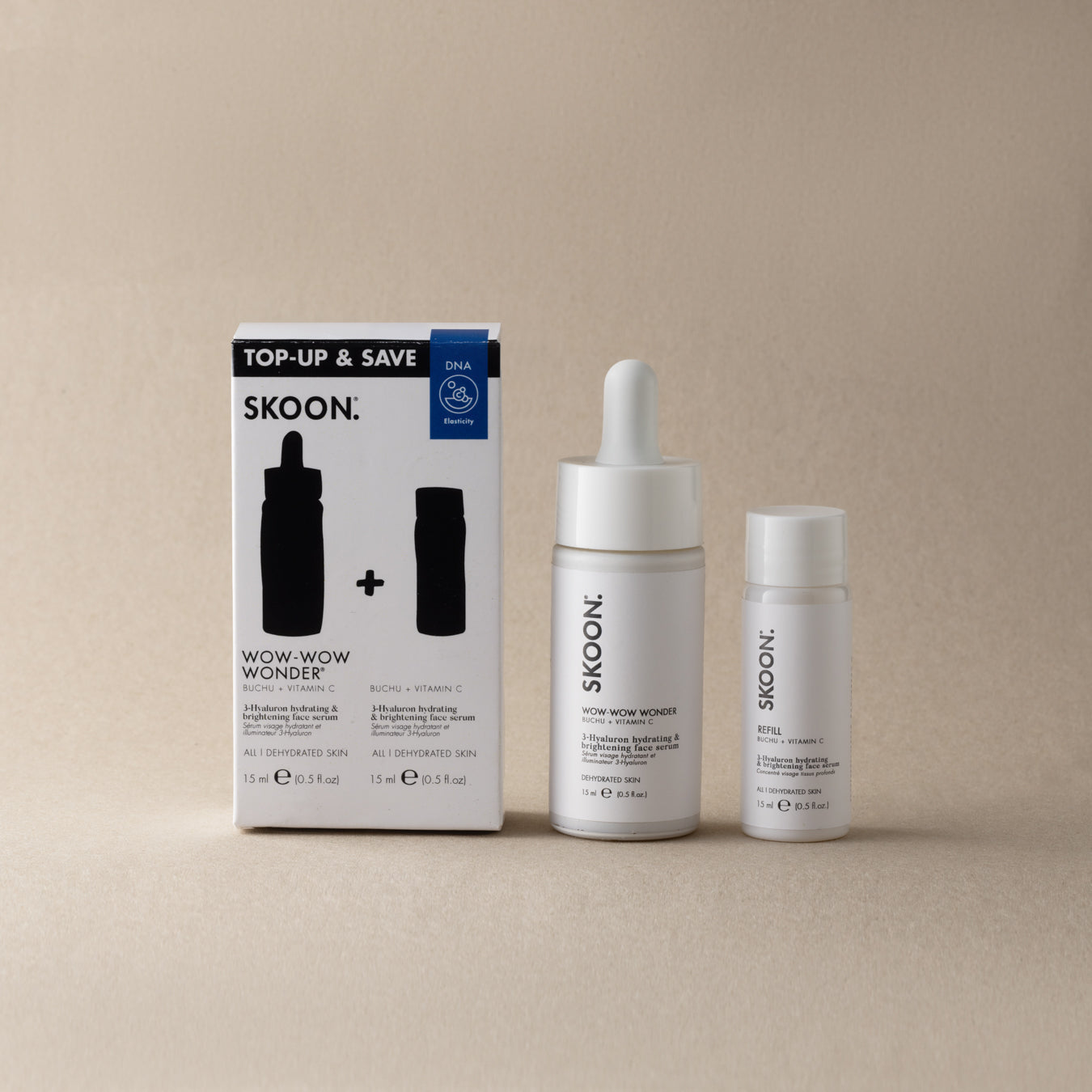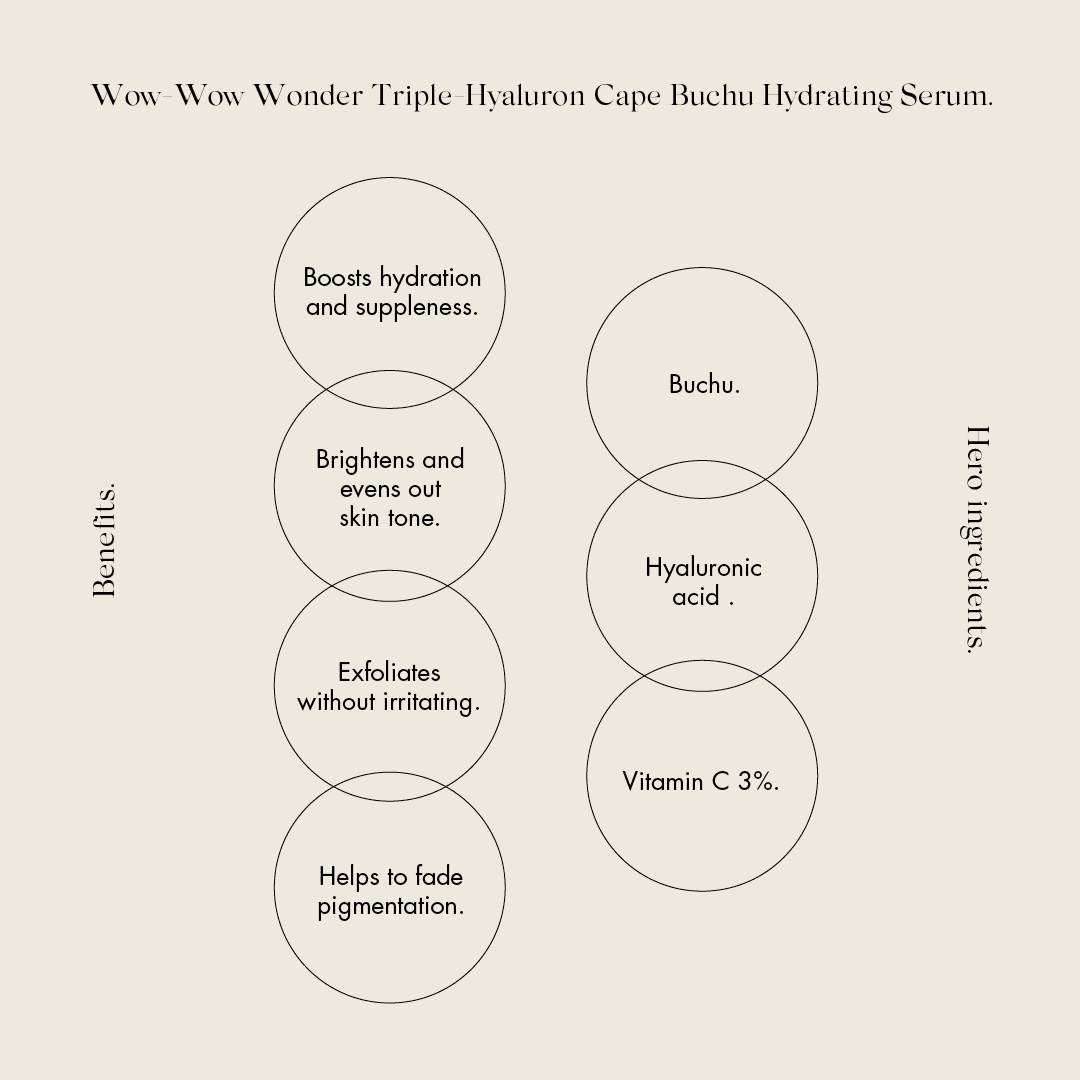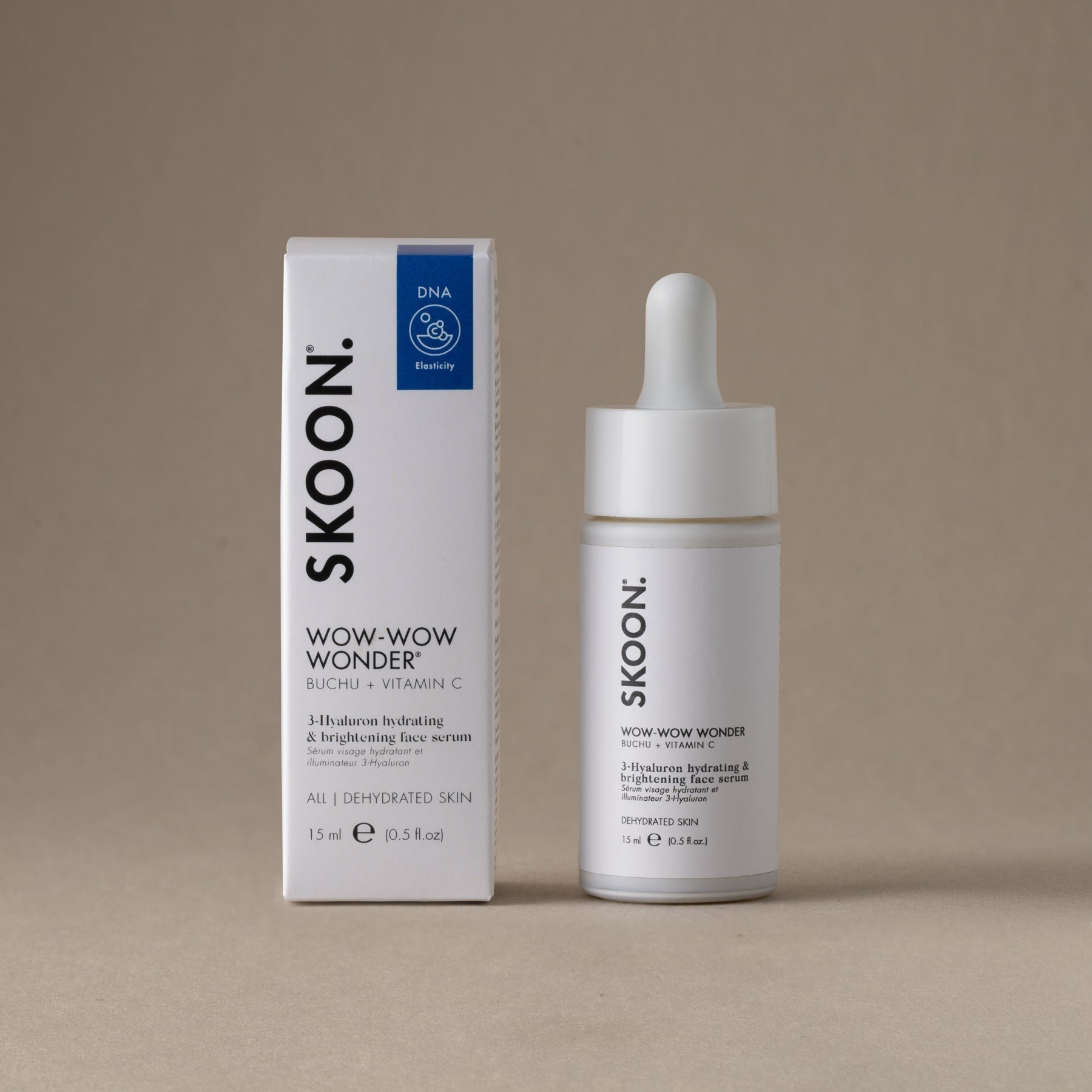 WOW-WOW WONDER 3-Hyaluron & Vitamin C Face Serum
Translation missing: en.products.product.price.regular_price
R999.95
Translation missing: en.products.product.price.sale_price
R999.95
Translation missing: en.products.product.price.regular_price
R1,199.90
Tax included.
Introducing SKOON. WOW-WOW WONDER 3-Hyaluron & Vitamin C Face Serum: Your Skin's New Best Friend
Meet your skin's newfound ally – the remarkable SKOON. WOW-WOW WONDER 3-Hyaluron & Vitamin C Face Serum. This extraordinary 3-in-1 water-based elixir is your ultimate hydration solution, designed to deliver a triple boost of Hyaluronic Acid molecules (high, medium, and low), Buchu, and Vitamin C.
The Power of Triple Hydration:
💧 High, Medium & Low Hyaluronic Acid Molecules: Immerse your skin in a hydration trifecta that caters to every level of your complexion. From the surface to the depths, this trio of Hyaluronic Acid molecules ensures that every nook and cranny of your skin is drenched in luxurious moisture.
💧 Buchu Extract: Unleash the power of Buchu – an African botanical treasure. Known for its natural anti-inflammatory and antioxidant properties, Buchu soothes and rejuvenates your skin, providing a canvas that's ready to embrace radiance.
💧 Vitamin C: Illuminate your complexion with the radiance-boosting prowess of Vitamin C. This potent antioxidant not only brightens your skin but also supports collagen production, leaving you with a youthful, lit-from-within glow.
Experience the WOW Effect:
Witness the magic unfold as your skin drinks in the intensified hydration and basks in the glow of a truly radiant complexion. With SKOON. WOW-WOW WONDER 3-Hyaluron & Vitamin C Face Serum, the name says it all. It's not just a serum; it's a testament to the transformative power of skincare done right.
Elevate your beauty routine to a new level of wonder. Embrace the magic of SKOON. WOW-WOW WONDER 3-Hyaluron & Vitamin C Face Serum, and unlock a world where your skin's radiance knows no bounds. This is more than skincare – it's a journey into pure enchantment.
🎨 Fun Fact: Did you know? Our WOW-WOW WONDER 3-Hyaluron Face Serum is like a triple treat of hydration for your skin! Picture this: a team of Hyaluronic Acid molecules - high, medium, and low - working together in perfect harmony, like a hydration dream team! Each molecule has its unique superpower, from deep hydration to skin-plumping magic, all coming together to give your skin the ultimate moisture boost. Get ready to embrace the power of this 3-in-1 wonder and watch your skin glow with delight! It's the ultimate secret to a hydrated, happy complexion. 💧🌟
 ◦ Intense Hydration - deeply hydrates skin, providing instant and long-lasting moisture for a plump, supple complexion
 ◦ Improved Moisture Barrier - replenishes and strengthens skin's natural moisture barrier, helping to retain moisture and protect against environmental stressors
 ◦ Brighter Complexion - helps to brighten skin tone, reduce the appearance of dark spots, and promote a more even, radiant complexion
 ◦ Reduced Fine Lines - helps plump skin, reducing the appearance of fine lines and wrinkles for a smoother, more youthful look
 ◦ Antioxidant Protection - helps to neutralise free radicals and protect your skin from oxidative stress, which can lead to premature ageing
 ◦ Firming and Toning - contributes to firmer, more toned skin, giving your complexion a more youthful appearance
 ◦ Non-Greasy Formula - lightweight, non-greasy texture, making it suitable for all skin types, including oily and blemish-prone skin
Buy  SKOON. WOW-WOW WONDER 3-Hyaluron & Vitamin C Face Serum online today!
AM | PM: Smooth a few drops of serum onto clean, damp skin. Misting skin after applying the serum will enhance actives.

AM only, if you use vitamin A at night.
Aqua (Water), Pentylene Glycol, Sodium Ascorbyl Phosphate, Salix Alba (White Willow) Bark Extract, Sodium Hyaluronate, Ethanol, Phytic Acid, Ethylhexylglycerin, Agathosma Betulina (Buchu) Leaf Extract, Magnesium Carboxymethyl Beta-Glucan, Sodium Phytate, Polyepsilon-lysine, Citric Acid.