SKOON. CEO - Thandi Mbulaheni
Growing up as a young girl in Soweto, Johannesburg it was always my dream to see the world. Which I did!

In 2018, I settled down in one of the most beautiful places in the world - Cape Town - to take up the stewardship of a small, indie skincare brand, called SKOON. (That's Afrikaans for 'clean'.)

SKOON. represents everything I love about Africa – our vibrant, innovative formulas are a joyful celebration of our 'communities and flora'. These include local, indigenous botanicals unique to South Africa and other African countries, used for millennia by local tribes. It is my ambition to leapfrog this well-loved local South African brand onto the world stage.

My 15 years' (feels like a 100!) brand building experience with blue-chip FMCG companies has given me the advantage to drive growth and storytelling into SKOON.

My management team and I are excited about 2021 – completely ready to take the next big step.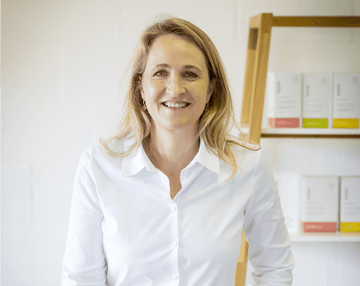 Founder & Creative Director - Stella Ciolli
Like many other entrepreneurs in the beauty industry, I did not set out to start a skincare brand.

A tiny filler story in my local newspaper simply caught my eye - a snippet that said every day most people apply, on average, 515 ingredients to our faces and bodies. This got me thinking – and SKOON was born. It is true that there exists a strong symbiotic relationship between a founder and her company.

SKOON. is a combination of all my passions. An abiding love for our diverse local plant life on the African continent, and respect for the natural sciences.

These are the cornerstone of everything we do at SKOON. And, last but not least, clean beauty, playing clean and a commitment to giving back to the community. SKOON. isn't a business that popped up overnight. It has been quite a journey and I always joke that I have gone through growing pains twice in my life.

If I look back, though, it's all been worth it. We are a company with a great heart and spirit. Rich in context and even richer in our dreams. I look forward to sharing her with the world.