SKOON. Airless Refill Technology: Say hello to our new environmentally-conscious packaging
SKOON. is so, so excited to level up our company's sustainability by launching our new green initiative: SKOON. Airless Refill Technology.

The aim of SKOON. Airless Refill Technology is to modernise all our bottles and jars in line with sustainable packaging guidelines. A lofty goal indeed.

Fortunately, we are not on our own. We have partnered with an international company that shares our green dreams of refillable beauty.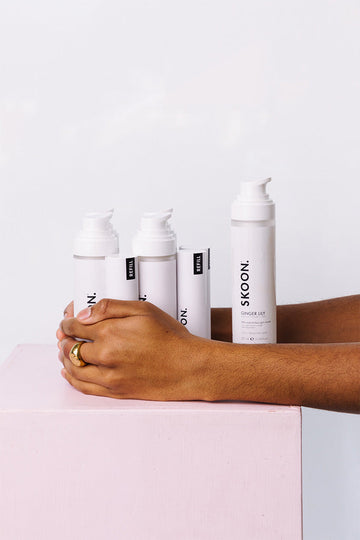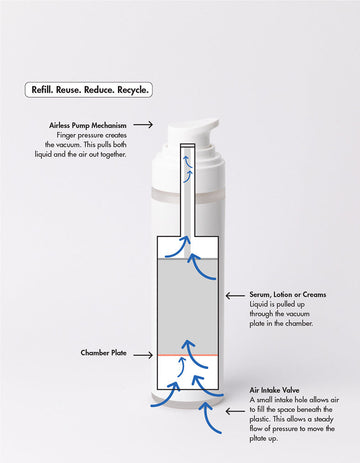 Refill, reuse & recycle: Refillable beauty is just a pump away.
What is SKOON. Airless Refill Technology packaging?
The short answer: our airless pump glass bottles don't have straws dipping into the product, nor do they introduce air into the bottles.

Instead, airless pump dispensers are designed to protect our face creams from the air, safeguard natural active ingredients, extend shelf life, and maintain overall product efficacy.

Not only does this guarantee longer-lasting face creams for consumers, but it also drastically reduces waste by promoting refills instead of discarding empty containers.
5 benefits of glass airless pump bottles for moisturisers and face creams
Preservation of Product Integrity: The airtight nature of airless pump bottles extends the shelf life and ensures the ingredients remain active, effective, and stable until the last dollop of cream is used.
Hygienic and Controlled Dispensing: Airless packaging minimises the risk of contamination, which is particularly beneficial for our products that are loaded with natural ingredients. The same goes for the efficacy of our gentle and natural preservatives.
No Product Waste: Airless pump dispensers minimise wastage by enabling precise and consistent dosage.
Versatile and Reusable: Glass airless pump bottles can be easily cleaned and reused. They can also be refilled, making them a versatile and cost-effective option.
Environmentally Friendly: Our innovative airless refill packaging takes recycling to the next level. Effortlessly segregate packaging components by material – glass and plastic – ensuring a seamless and efficient recycling process.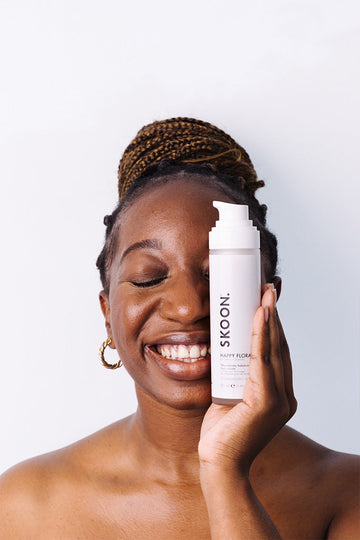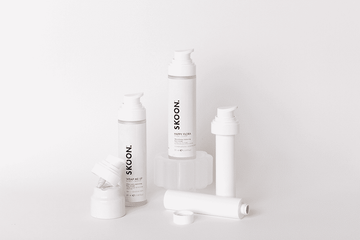 What are SKOON. face cream airless refill cartridges?
SKOON. Airless Refill Technology is sustainable packaging consisting of a disposable and replaceable inner refill cartridge, designed to fit inside the SKOON. airless pump glass bottle.

Once you have pumped the last dollop of face cream from the refill cartridge, it can be detached and recycled (psst... the cartridge is made from PP and is 100% recyclable).

You then attach a new cartridge to the pump dispenser and simply screw it back inside the airless glass bottle - couldn't be easier!

What do you get when you buy SKOON. Airless Refill Technology face creams?
Want to reduce single-use plastic containers and promote sustainability? We do too! That's why we offer a solution: instead of buying new products every time you run out, you can now buy any of our SKOON. face creams in our new luxury 50 ml airless glass bottle.

When you finish the product, simply buy one of our new 50 ml airless refill cartridges (available for all your favourite face creams!). With the same pump dispenser, you can refill it a whopping 25 times.

Now that's what we call planet-loving, refillable beauty at its best.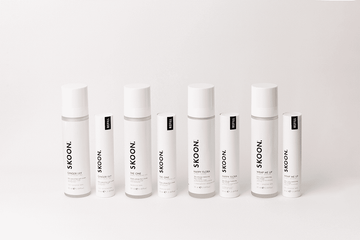 How to replace your moisturising face cream airless refill cartridge.
How many times can you refill, reuse and recycle SKOON.'s airless pump glass bottles?
A whopping 25 times!!! That's approximately 2yrs :-) And both the glass bottles and refill cartridges are made from recyclable materials - zero waste, here we come!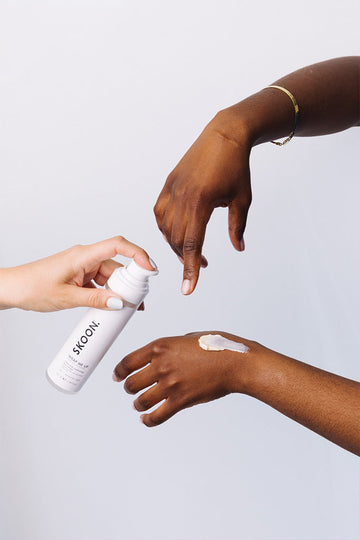 Why does airless packaging occasionally require priming?
Airless packaging requires priming in order to ensure that the product is being properly dispensed. The airless pump helps to push out the product without allowing for any air to enter into the container, so priming is necessary in order to draw the product up into the chamber of the container and make it ready for use.

A few things to note with airless packaging on first use:
When you receive your moisturiser in an airless refill pump bottle, it is recommended to pump the top a few times to ensure normal product dispensing.
Unlike packaging with dipstick straws, airless packaging may require several initial empty pumps. It is completely normal for some bottles to take between 10-20 empty pumps before the moisturiser is dispensed.
If you do not see any product after around 15 pumps, you might need to prime the internal pump mechanism. This is a common occurrence with airless packaging and should not be considered a defect.
To prime the mechanism, you will need to loosen the small disc inside the bottle that moves to the top when pumping. This will allow it to move freely again.
Also, make sure the air intake valve at the bottom remains unobstructed as it is crucial for proper dispensing function.
By following these steps, you can ensure optimum performance from your airless packaging!

How to prime your airless pump dispenser
To ensure optimal performance and get the most out of your product, follow these simple steps to prime the bottle before its first use:
Tap the Base: With the cap removed, gently tap the base of the bottle on a flat surface. This helps to dislodge any air bubbles that may be trapped in the pump system.

Pump Several Times: Press down on the pump head multiple times to initiate the flow of product. You may need to pump the dispenser anywhere from 10 to 20 times until the product is dispensed.

Try the 'Secret Touch': For an extra boost in priming, here's a trick to consider turn the product upside down and gently tap it on the pump's side. Do this with the cap still on. This technique can help release any stubborn air bubbles and enhance the priming process.

Observe Product Dispensing: As you pump, you'll notice that the product begins to emerge from the nozzle. It's normal for the initial pumps to take a bit of effort due to the airless system's design.

Enjoy Your Product: Once you see a consistent flow of product, your airless bottle is now primed and ready for use! Each subsequent pump will dispense your product effortlessly and without air exposure
Unlock SKOON.'s secret for best moisturising face creams
Experience the ultimate hydration with our nourishing range of moisturising face creams. Embrace the SKOON. journey to reveal your skin's true potential today. Your skin deserves the best, and we deliver.
What is a moisturiser?
Moisturisers are skincare products formulated with water-loving hydrators, nourishing emollients (oils and butters) and specialised skin actives.

Skin that appears radiant, feels supple and exudes a healthy glow typically contains 64% water. The magic bullet for maintaining this optimal moisture content is the use of a daily moisturiser.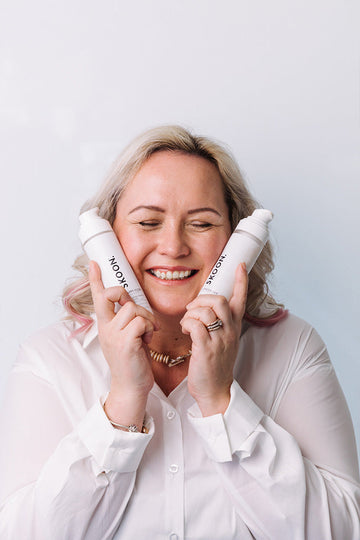 SKOON.'s Face creams: our biggest beauty secret
Uncover SKOON.'s secret to the best moisturising face creams.
Well, we actually have two secrets:

Firstly, all our face creams contain a trio of barrier repair actives: ceramides, pomegranate sterols and organic shea butter. Why is this a beauty secret? Because plump, glowing skin begins with a healthy skin barrier. Ceramide face creams form the cornerstone of achieving a more youthful look through great skincare.

Secondly, we include an in-built, mild exfoliant called White Willow Bark (or salicylic acid) in all our face creams. Salicylic acid in face creams effectively removes dead cell buildup and improves the texture of your skin. We call this phenomenon the "SKOON. Glow".
Read the happy customer reviews about SKOON. moisturising face creams
We absolutely adore our face creams at SKOON., but don't just take our word for it. Read some of our super happy customer reviews:
Isabel M
Customer Review for HAPPY FLORA Microbiome Face Cream:

"This product feels lovely on my face! It is super light and does not leave an oily feeling on my skin after applying. Despite the lightness of this cream it still makes my skin feel great and sufficiently hydrated. 100% recommended!"
Aaliyah D
Customer review for GINGER LILY Oil control face gel-cream:

"From the first time I used this product, I knew I needed to incorporate it into my skincare routine. I have really oily skin, and this keeps me balanced without leaving my face feeling dry."
Discover the best face cream for you with Skin Essentials 101 Guide
Ready to buy? Let's have a quick refresher in Skin Essentials 101 on how to choose the right face cream and products for your skin:
Best face cream for dry skin What causes dry skin?
Dry skin is caused by moisture escaping from your skin due to one (or more!) of the following reasons: wrong choice of face cream, impaired skin barrier function, over-cleansing, living in a dry or cold region with low natural humidity and the side effects of certain medicines.
How to choose the best cream for dry skin
The best cream for dry skin contains a mixture of water-loving hydrators, natural emollients that lie on top of your skin and form a protective barrier, and lipid ingredients to "patch" the holes in your skin's barrier. Choose SKOON. WRAP ME UP, a fragrance-free therapy cream, for that extra tender lovin' care that ticks all three boxes.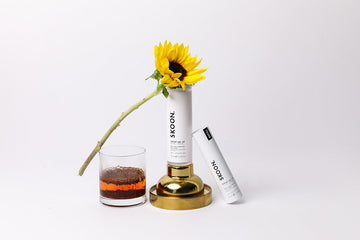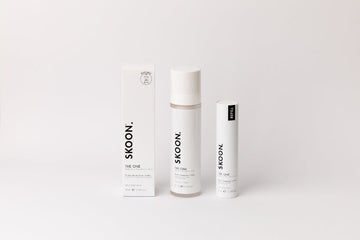 What if I have dry + sensitive skin?
We have you covered. The best face cream for dry, sensitive skin is, you guessed it... WRAP ME UP Ultra-rich comforting face cream! 
In a customer's own words:
"I use Wrap Me Up with a small amount of Ruby Marine mixed in, am & pm. Bye menopause skin, bye dull skin, bye irritated skin, hello soft skin with a lovely glow...love my little duo. If you leave me on an island I'll take these two with."
Best face cream for balanced skin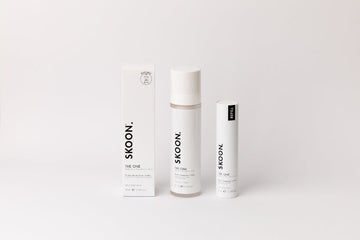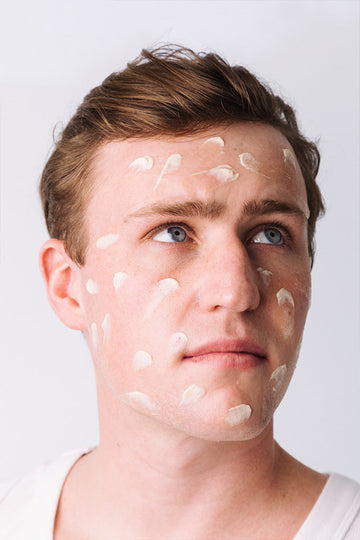 Best face cream for combination skin What is combination skin?
Yes, let's talk about combination skin. Combination skin is characterised by differences in your T-zone. If you have a narrow oily area along the centre of your face only, you have combination skin + dry patches. 
On the other hand, if the pores along your T-zone are clearly visible and extend across your cheeks, you have combination skin + oily T-zone.
How to choose the best cream for combination skin with dry patches (predominantly around the cheek area)?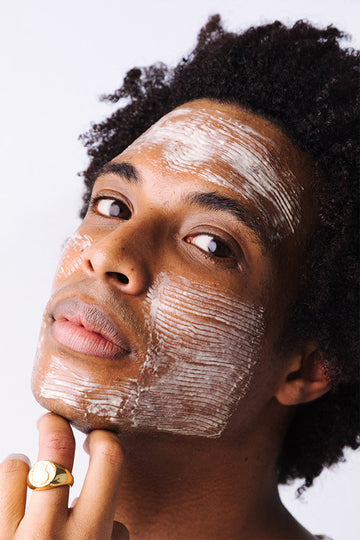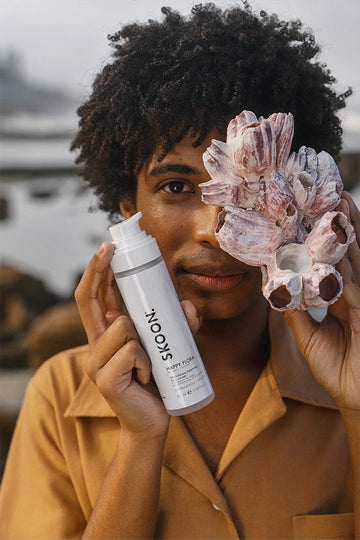 How to choose the best face cream for combination skin with oily T-zone (forehead, nose, and chin)?
Best face cream for oily skin What causes oily skin?
Quick answer. You got your oily skin from your parents. The number and size of your pores and oiliness level are all down to your genes. Hormones can also have an influence, but even your hormonal activity is down to hereditary factors. For oily skin, you need a moisturiser that is non-comedogenic and doesn't add extra oil but still hydrates and protects your skin barrier while controlling sebum production.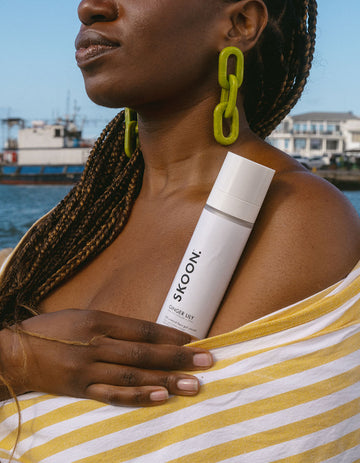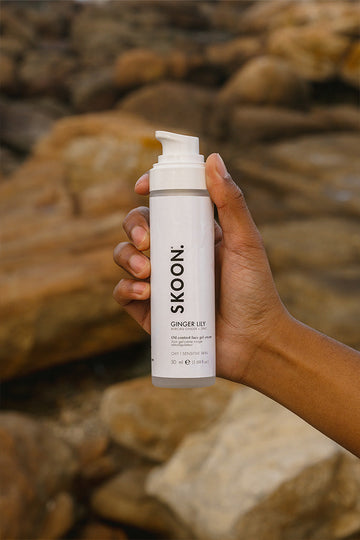 What does non-comedogenic moisturiser mean?
Skincare products or ingredients that cause clogging of pores are referred to as comedogenic. Naturally, non-comedogenic products are the exact opposite and do not clog pores.
SKOON. GINGER LILY Oil control gel-cream is an all-in-one moisture bomb when it comes to hydrating and controlling oily skin. It is a lightweight, non-comedogenic hydrator with oil-control actives that rapidly absorbs into the skin.
What is an oil-free moisturiser?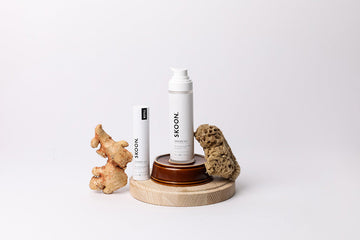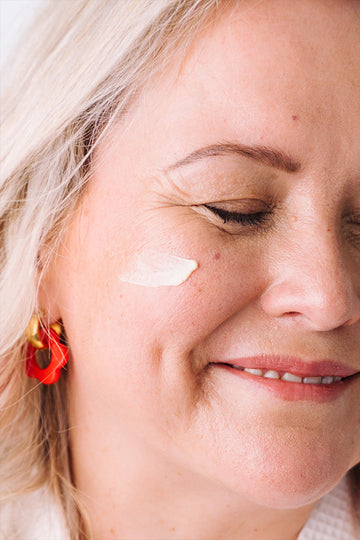 How to choose the best face cream for oily skin?
If you have oily skin don't choose any cream. Choose a gel-cream! The best gel-cream for oily skin is a lightweight, non-comedogenic hydrator with oil-control actives. SKOON.'s uber gel-cream, GINGER LILY, is the bomb when it comes to hydrating and controlling oily skin simultaneously.
What if I have oily, blemish-prone skin?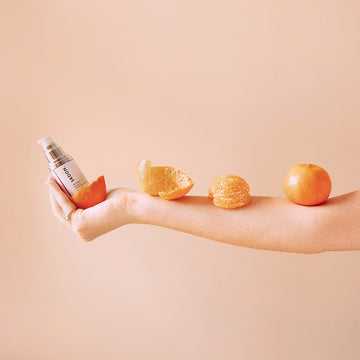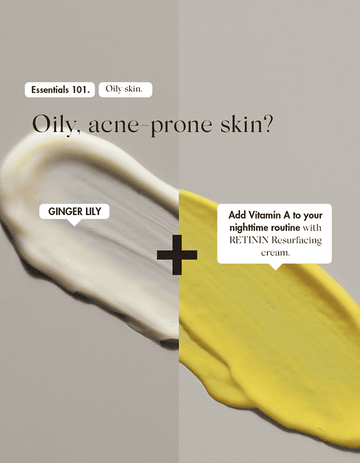 What if I have sensitive, oily, blemish-prone skin?
Shop SKOON.'s NEW Environmentally-Conscious Packaged Moisturising Face Creams
Don't let your skin go another day without the care it deserves. Experience the transformative power of our moisturisers, now packaged in brand new environmentally friendly packaging, and unlock the radiant, glowing complexion you've always wanted.
Take charge of your skincare journey and make the change your skin will thank you for. Your radiant skin awaits!