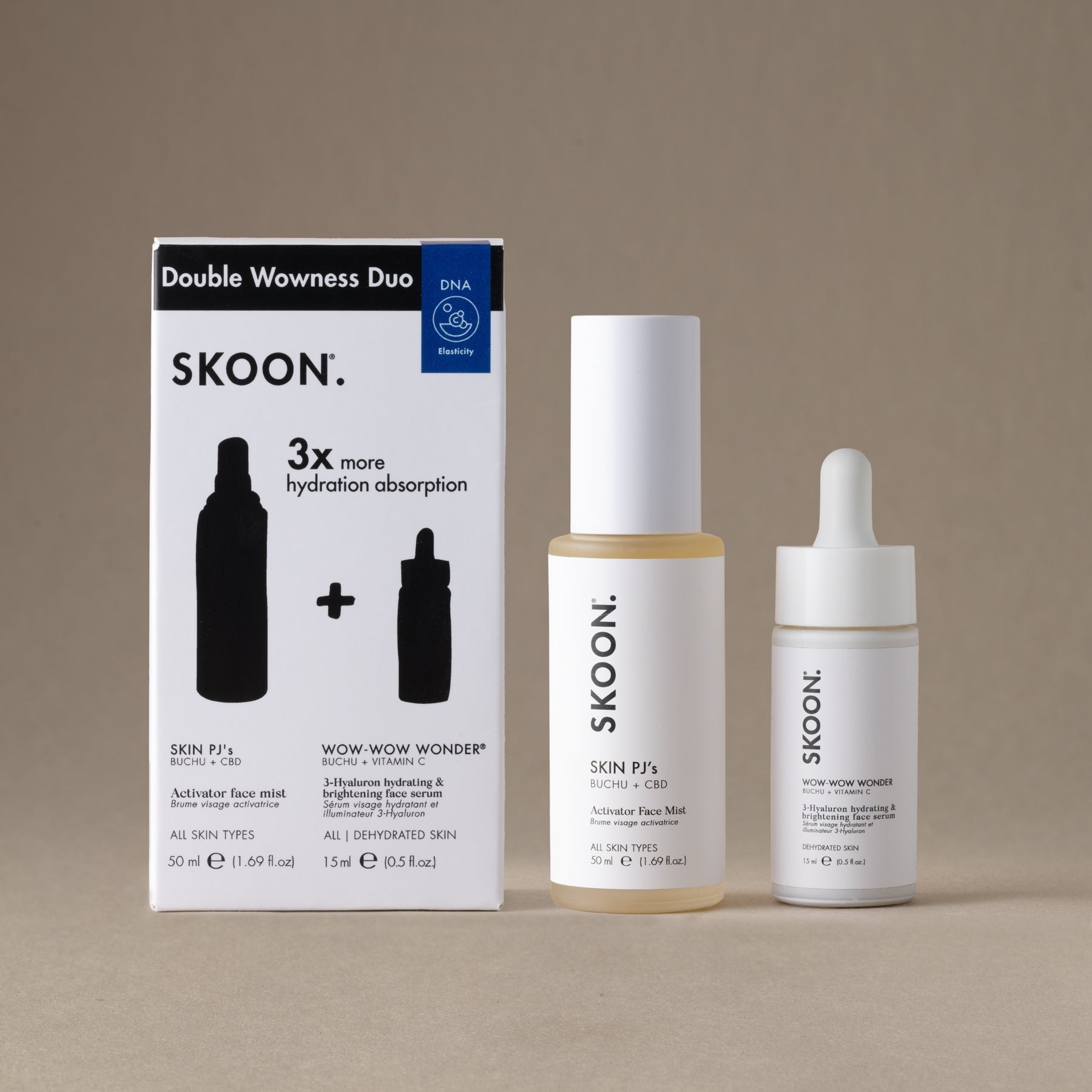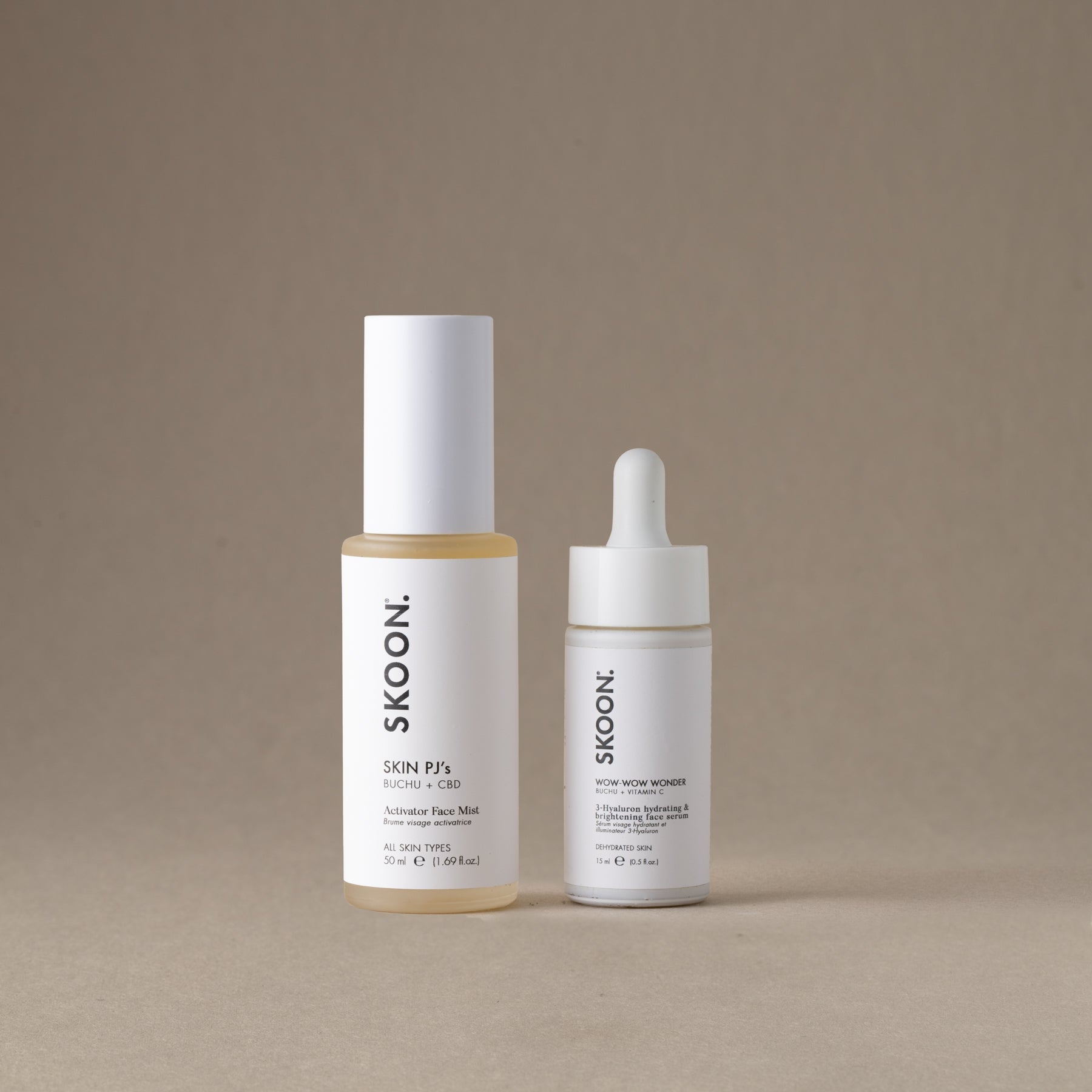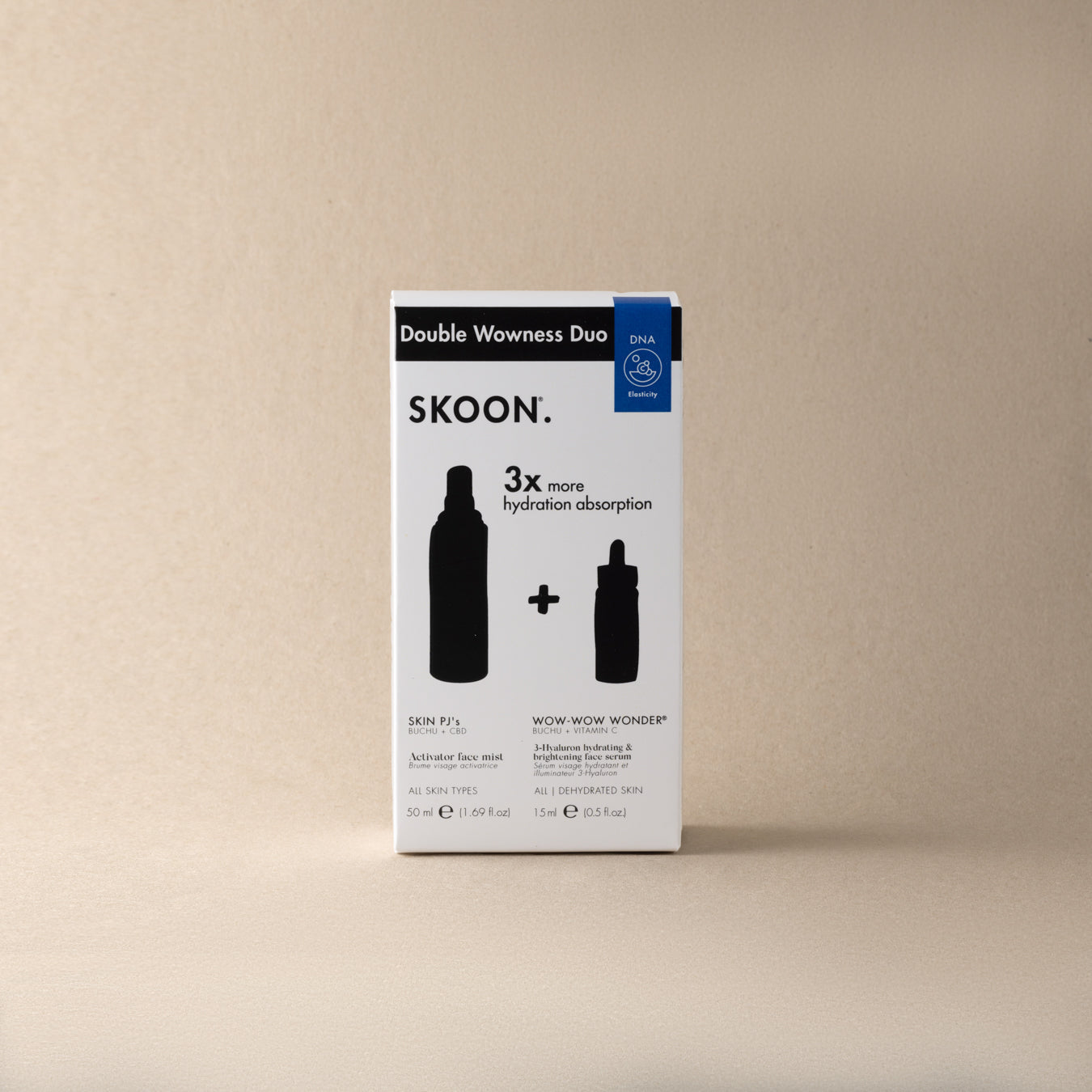 DOUBLE WOWNESS Hydration Duo
Translation missing: en.products.product.price.regular_price
R749.95
Translation missing: en.products.product.price.sale_price
R749.95
Translation missing: en.products.product.price.regular_price
R949.90
Tax included.
Introducing SKOON. DOUBLE WOWNESS Hydration Duo: Where Double the Hydration Equals Double the Amazement
Step into a world of pure hydration enchantment with the extraordinary SKOON. DOUBLE WOWNESS Hydration Duo. This dynamic duo is a symphony of luxurious hydration that's bound to leave you utterly amazed.
Let's dive in:
💦 SKOON. WOW-WOW WONDER Serum: Immerse your skin in a triple blend of Hyaluronic acid molecules, Buchu, and Vitamin C with the remarkable WOW-WOW WONDER Serum. Watch as your skin drinks in the intensified hydration and basks in the glow of a radiant complexion. Experience the magic of a serum that truly lives up to its name.
💦 SKOON. SKIN PJ's Activator Face Mist: Elevate your hydration game with a mist that's in a league of its own. Infused with a unique blend of A-beauty extracts – Buchu, Bulbine Frutescens, Chamomile, and African Ginger – this mist is the secret to unlocking the perfect activation of water-based actives. Skin-comforting CBD and Magnesium add an extra layer of indulgence to this experience.
Unveil Your Ultimate Glow:
Discover the power of double hydration with SKOON. DOUBLE WOWNESS Hydration Duo – where wowness is doubled and radiance is taken to new heights. Elevate your skincare routine with this exquisite fusion of science and nature, and embrace a complexion that's truly luminous from within.
Experience hydration like never before. Your skin deserves the best, and now, it's time to deliver exactly that.
🎨 Fun Fact: Did you know? Your skincare secret to better absorption is all about timing! For maximum effectiveness, apply water-based actives on damp skin. It's like a refreshing splash of hydration that helps these actives penetrate deep into your skin like a superhero swooping in to save the day! So, the next time you're pampering yourself, remember to catch those water droplets on your skin and watch the magic happen. Get ready to unleash the power of perfectly absorbed skincare - it's the ultimate skincare hack you'll love! 💦✨
◦ Intense Hydration - delivers a triple blend of hyaluronic acid molecules, providing deep and long-lasting hydration to quench thirsty skin
◦ Radiant Complexion - the duo promotes a brighter and more even skin tone, leaving your complexion looking radiant and glowing
◦ Better Absorption - applying water-based actives on damp skin enhances the absorption of the powerful ingredients
◦ Refreshed and Revitalised Skin - provides instant refreshment and revitalisation
◦ Versatile Hydration - the duo caters to a variety of skin types and concerns
◦ Long-lasting Hydration - hydration benefits are long-lasting, providing your skin with the love it deserves throughout the day
◦ The Wow Factor - the combined benefits of intense hydration, radiance, better absorption, and refreshment create the ultimate "wow factor" for your skincare routine, giving you that coveted youthful, glowing skin.

Pack includes: 
 ◦ 50ml SKIN PJ's Activator face mist
 ◦ 15ml WOW-WOW WONDER Serum
Buy SKOON. DOUBLE WOWNESS Hydration Duo online today!
AM | PM: Smooth a few drops of serum onto clean, damp skin. Misting with SKIN PJ's after applying the serum will enhance actives. AM only, if you use vitamin A at night.
Wow-wow wonder: Aqua (Water), Pentylene Glycol, Sodium Ascorbyl Phosphate, Salix Alba (White Willow) Bark Extract, Sodium Hyaluronate, Ethanol, Phytic Acid, Ethylhexylglycerin, Agathosma Betulina (Buchu) Leaf Extract, Magnesium Carboxymethyl Beta-Glucan, Sodium Phytate, Polyepsilon-lysine, Citric Acid.

Skin PJ's: