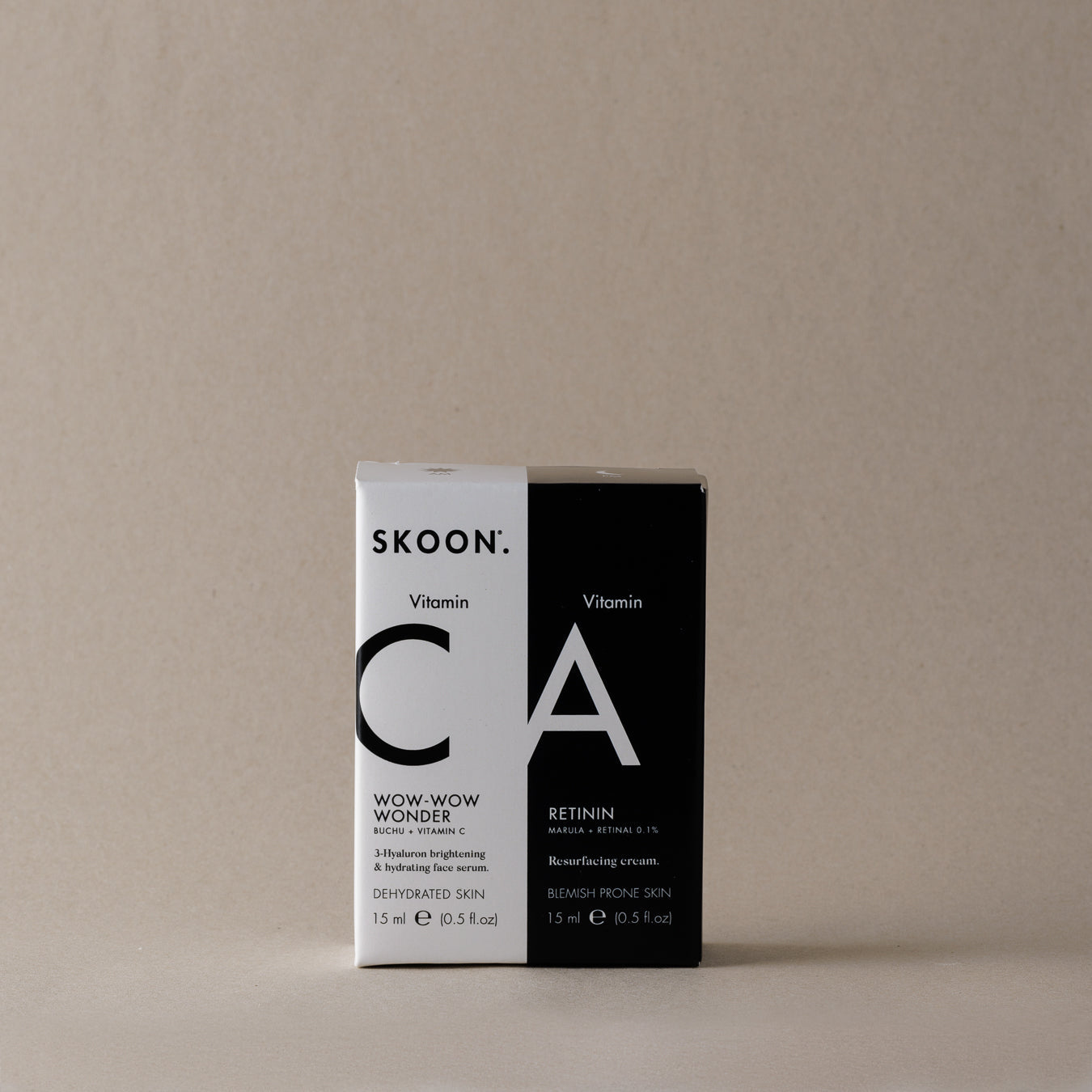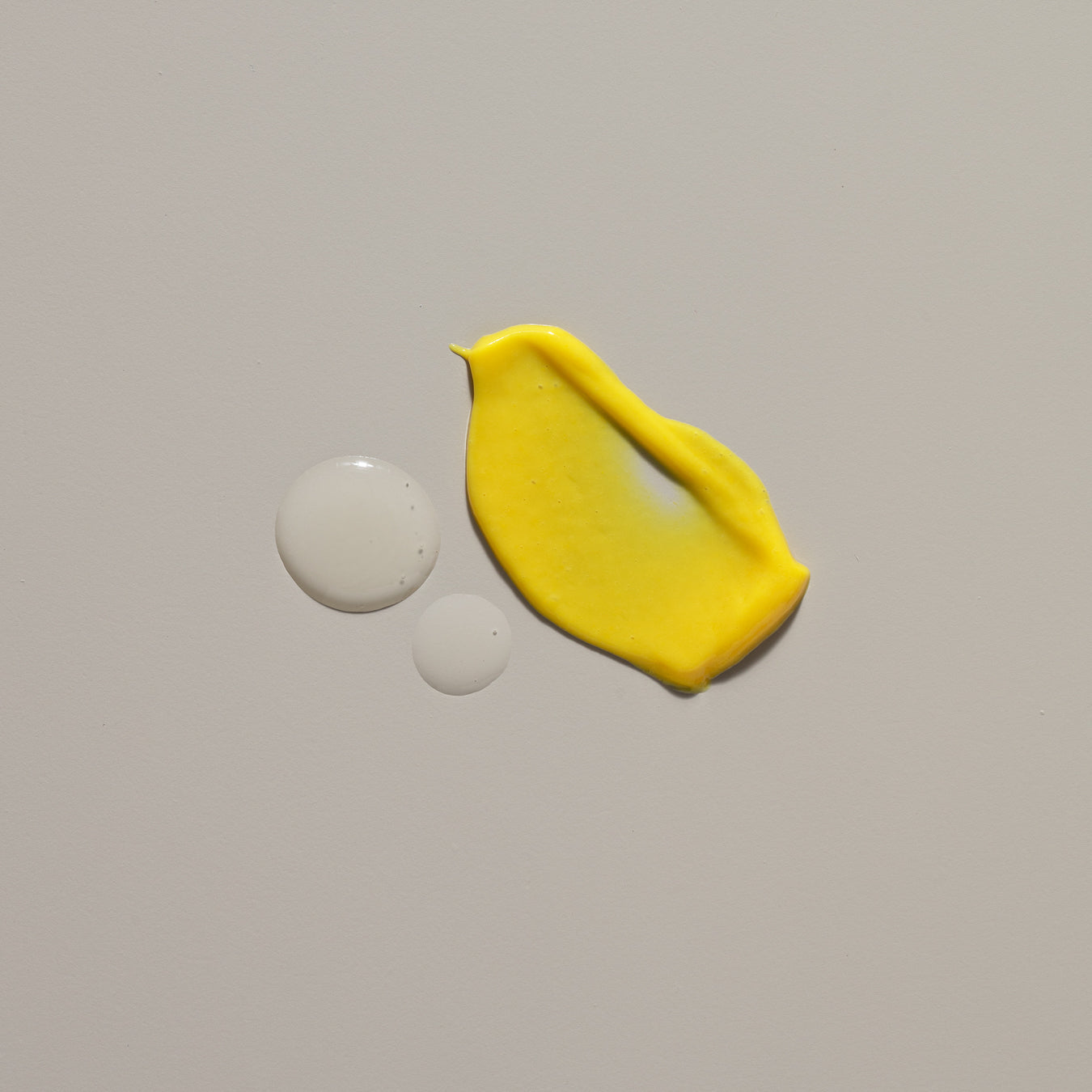 Translation missing: en.products.product.price.regular_price
R899.95
Translation missing: en.products.product.price.sale_price
R899.95
Translation missing: en.products.product.price.regular_price
R1,059.90
Tax included.
Welcome to the Era of Healthy, Radiant Skin with SKOON. The Dream Team Duo! Embrace the Magic of Vitamin C and Vitamin A - Your Key to Glowing, Youthful Skin!
Say hello to the ultimate dream team in skincare—the enchanting duo of Vitamin C and Vitamin A. Unleash the power of these potent antioxidants as they work harmoniously to transform your skin from within.
Vitamin C - Your Radiant Skin Guardian:
Experience the magic of Vitamin C, a powerful antioxidant that neutralises UV-induced free radicals. Watch as it brightens your complexion, evens out skin tone, and protects against environmental stressors. Embrace the journey to radiant, healthy-looking skin with the enchantment of Vitamin C.
Vitamin A - The Pro-Collagen Ace:
Say goodnight to signs of ageing with Vitamin A, the pro-collagen ace that works its night-time magic while you rest. Stimulate new collagen production and embrace a youthful, firm complexion that defies the test of time.
Together - A Dynamic Duo:
The SKOON. Dream Team Duo brings together the brilliance of Vitamin C and the transformative power of Vitamin A. Witness the magic as they synergise to unlock your skin's true potential.
Welcome to the Era of Healthy, Radiant Skin:
Embrace the power of this dynamic duo and prepare to unveil the beauty that lies within your skin. Radiate with confidence as you embrace healthy, glowing, and youthful skin. 
🎨 Fun Fact: Step aside, superheroes - we've got the Vitamin A & Vitamin C dream team on the scene! 🦸‍♀️🍊 These skincare powerhouses are like dynamic duos straight from a comic book, teaming up to save your skin from the woes of time and environmental stress. Vitamin A swoops in at night, stimulating collagen production like a pro-collagen ace, while Vitamin C takes on the daytime, neutralising free radicals and brightening your complexion like a dazzling sunbeam. Together, they're an unstoppable force, ensuring your skin stays radiant, youthful, and ready to take on any adventure life throws your way. It's time to unleash the magic of this dream team and unveil the superhero within - your skin will thank you for the heroic transformation! 💪🍊💫
 Vitamin A
◦ Stimulates Collagen Production - Vitamin A encourages the production of collagen, a key protein that supports skin structure, resulting in improved elasticity and firmness
◦ Reduces Fine Lines and Wrinkles - helps diminish the appearance of fine lines and wrinkles, leading to smoother skin texture
◦ Improves Skin Tone and Texture - enhances skin tone, making it look more even and refined
◦ Boosts Cell Turnover - promotes skin cell turnover, which means it helps shed dead skin cells and reveal fresher, younger-looking skin
◦ Fights Blemishes - regulates oil production and reduces the occurrence of blemishes by unclogging pores and preventing breakouts
Vitamin C
◦ Antioxidant Protection - neutralises free radicals, protecting the skin from environmental stressors and oxidative damage
◦ Brightens Skin - helps to fade dark spots, hyperpigmentation, and age spots, resulting in a more radiant complexion
◦ Boosts Collagen Synthesis - stimulates collagen production, leading to improved skin elasticity and suppleness
◦ Reduces Inflammation - helps soothe and calm irritated skin
◦ Enhances Sun Protection - works synergistically with sunscreens to provide additional protection against UV-induced skin damage.

RETININ NOTICE: Not recommended if you are pregnant/breastfeeding or under the age of 16 years.
Buy SKOON. THE DREAM TEAM Duo online today!
AM: Smooth a few drops of serum onto clean, damp skin. Misting skin after applying the serum will enhance actives. Following with your daily moisturiser + spf.

PM: Smooth a dollop onto clean skin, at night only. Broad spectrum SPF is recommended for day use when vitamin A is topically applied at night.
Wow-wow wonder: Aqua (Water), Pentylene Glycol, Sodium Ascorbyl Phosphate, Salix Alba (White Willow) Bark Extract, Sodium Hyaluronate, Ethanol, Phytic Acid, Ethylhexylglycerin, Agathosma Betulina (Buchu) Leaf Extract, Magnesium Carboxymethyl Beta-Glucan, Sodium Phytate, Polyepsilon-lysine, Citric Acid.

Retinin: Aqua (Water), Glycerin*, Butyrospermum Parkii (Shea Butter)*, Cocos Nucifera (Coconut) Oil*, Salix Alba (White Willow) Bark Extract, Octyldodecanol, Lactobacillus Ferment, Helianthus Anuus (Sunflower) Seed Oil Unsaponifiables, Behenyl Alcohol, Glyceryl Stearate, Cyclodextrin, Sclerocarya Birrea (Marula) Seed Oil, Lecithin, Sodium Levulinate, Lupinus Albus Seed oil, Sodium Anisate, Ethylhexylglycerine, Tocopherol, Lysolecithin, Sclerotium Gum, Lactic Acid, Glyceryl Caprylate, Ethanol, Triticum Vulgare (Wheat) Germ Oil Unsaponifiables, Echium Plantagineum Seed Oil, Dextran, Sodium Phytate, Trifluoroacetyl Tripeptide-2, Isomalt, Rubus Chamaemorus (Cloudberry) Seed Oil, Helianthus Anuus (Sunflower) Seed Oil, Pullulan, Xanthan Gum, Glycine Soja (Soybean) Sterols, Ceramide NP, Fulvic Acid, Pentylene Glycol, Punica Granatum Sterols , Retinal, Sodium Hyaluronate, Pistachia Lentiscus (Mastic) Gum, Biosaccharide Gum-1, Cardiospermum Halicacabum Flower/Leaf/Vine Extract, Sodium Benzoate, Hexanoyl Dipeptide-3 Norleucine Acetate.
Our anti-ageing bestselling combo pack!
THE DREAM TEAM
WOW-WOW WONDER Hydrating Serum + RETININ Resurfacing Cream.
Powered by Vitamin C + Vitamin A
Why use topical Vitamin C in the morning, and Vitamin A at night?

Vitamin C – collagen protector.
WOW-WOW WONDER, in addition to its other phenomenal ingredients, contains 3% Vitamin C. This brilliant multitasking vitamin acts as a potent antioxidant to protect existing collagen by neutralising free radicals. Use WOW-WOW in the morning for daytime collagen protection and a brightening boost.

Vitamin A - collagen factory
RETININ - at night, the pro-collagen vitamin, Vitamin A (Retinal with an "a") regenerates and resurfaces your skin, speeding up cell turnover and stimulating growth of new bundles of collagen.
Just remember. Good morning, C! Good night, A!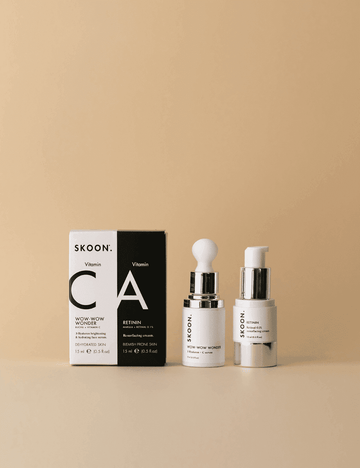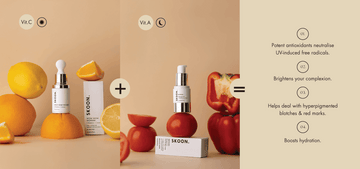 Hint: Add our SKIN PJ's Activator face mist to up the efficacy of the actives in WOW-WOW WONDER. A light spritz of SKIN PJ's, before applying WOW-WOW will soothe, calm and amplify the efficacy of all the active ingredients.