Translation missing: en.products.product.price.regular_price
R109.95
Translation missing: en.products.product.price.sale_price
R109.95
Translation missing: en.products.product.price.regular_price
Tax included.
Introducing SKOON. Bamboo Muslin Facecloth: Your Gateway to Radiant Skin
Are you ready to unlock the secret to glowing, flawless skin? Experience the enchantment of SKOON. Bamboo Muslin Facecloth, a little square of pure magic that will revolutionise your skincare routine. This transformative tool is specially designed to exfoliate, cleanse, and clear your skin, elevating your skincare to new heights.
Why SKOON. Bamboo Muslin Facecloth?
This little wonder works in harmony with any cleanser, making it ideal for oil- or butter-based formulas like our renowned Nkuto balm. It effortlessly removes every trace of impurities and makeup, leaving your skin feeling fresh and revitalised.
Experience the Magic:
Embrace the enchantment as the SKOON. Bamboo Muslin Facecloth gently buffs your skin like a luxurious exfoliator. Say goodbye to dullness and hello to a radiant, glowing complexion that turns heads wherever you go.
Unleash the Power of Active Ingredients:
Our facecloth isn't just an ordinary tool—it's a game-changer! Expertly removing your cleanser allows active ingredients to penetrate your pores deeply, maximizing their potential and delivering visible results.
A Touch of Luxury:
Crafted from premium bamboo muslin, this facecloth feels incredibly soft against your skin, creating a spa-like experience in the comfort of your own home. It's gentle, yet effective, making it suitable for all skin types, even sensitive ones.  
Don't wait any longer; dive into the SKOON. Bamboo Muslin Facecloth world and embrace the extraordinary. Experience the magic for yourself and revel in the transformation of your skin. Radiance awaits, so elevate your skincare today! Experience the magic for yourself and revel in the transformation of your skin. Radiance awaits, so elevate your skincare today!
🎨 Fun Fact: Get ready to experience the magic of our Bamboo Muslin Cloth! 🌿 It's not your average washcloth - this beauty buddy is soft, gentle, and oh-so eco-friendly! Made from sustainable bamboo fibers, it's like giving your skin a cosy hug while you cleanse. Say hello to a touch of luxury in your skincare routine! It's time to pamper your skin and the planet with our delightful Bamboo Muslin Cloth! 🌟✨

Buy SKOON. BAMBOO MUSLIN Facecloth online today!
AM | PM:
1. Wet the muslin cloth: Start by wetting the muslin cloth with warm water. Ensure it is thoroughly soaked but not dripping.

2. Apply Cleanser: Apply your preferred facial cleanser spreading it evenly.

3. Massage: Use gentle circular motions to massage the cleanser onto your skin. The muslin cloth will help to remove dirt, makeup, and impurities while providing mild exfoliation.

4. Steam and Cleanse: Run the muslin cloth under warm water again and wring out any excess water. Place the cloth over your face, allowing the warmth to steam your skin for a few moments. This step helps to open up the pores and enhance the cleansing process.

5. Gentle Removal: Use the muslin cloth to gently remove the cleanser from your face. Start from the centre of your face and move outward in gentle, upward motions. Rinse and wring out the cloth as needed to ensure effective cleansing.
How does a bamboo Muslin Facecloth enhance skin care?
The SKOON. BAMBOO MUSLIN Facecloth can help you achieve improved skin texture while it thoroughly cleanses and gently exfoliates your skin by enhancing the absorption of your chosen cleanser. 
This versatile muslin cloth also mildly stimulates the production of collagen - a vital protein responsible for maintaining skin elasticity and firmness - while boosting blood circulation and reducing inflammation. 
Elevate your skincare routine and indulge in the luxurious benefits of the SKOON. BAMBOO MUSLIN Facecloth.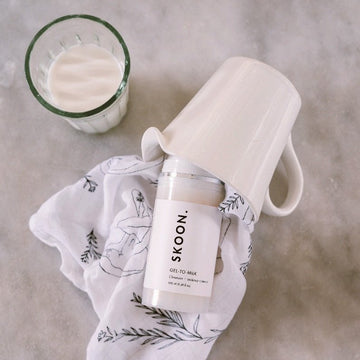 BAMBOO MUSLIN Facecloth Benefits
Gentle exfoliation
Improved blood circulation
Enhanced product absorption
Thorough cleansing
Mild stimulation of collagen production
Improved skin texture
Reduces inflammation
Everyday gentle exfoliator
Using a muslin cloth as part of your cleansing routine is a great way to lift away dead skin cells and impurities that have built up throughout the day. Simply remove your cleanser with circular movements using your muslin cloth for gentle exfoliation.
This enhanced cleanse is great for both brightening skin on the dull, dry side, and helping to stop blackheads forming for oilier and combination complexions. 
Use muslin cloth with care, avoiding excessive scrubbing or harsh pressure that could irritate or damage the skin.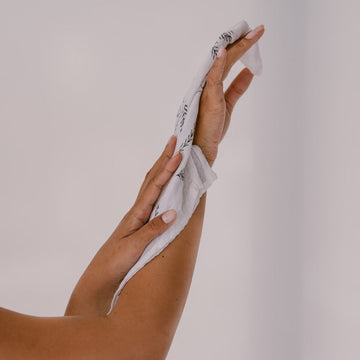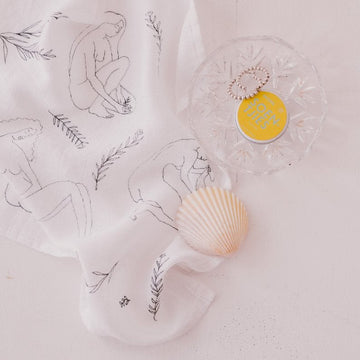 Pout perfector
Chapped lips are a common problem throughout the year, and they can look particularly uncomfortable once you layer lipstick on top.
So before applying your lip care, use a damp muslin cloth to gently buff lips in a circular motion. Follow with an organic lip balm for softer, smoother lips.
Facial steamer
Soak your muslin cloth in warm (not too hot) water, wring it out, then lie down and place the cloth over your face for 1-2 minutes.
You can do this on top of a face mask to help skin absorb all the nourishing actives, or simply apply it to freshly cleansed skin for a home spa experience.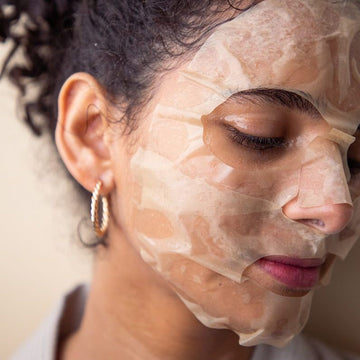 Best skincare products to pair with our Muslin Facecloth
Explore our picks for thorough cleansing and improved skin texture. Packed with hero ingredients that support the stimulation of collagen production to help you maintain a clear and firm complexion.
Learn how to incorporate these into your everyday skincare regimen.
GEL-TO-MILK Cleanser + Makeup Remover
MARULA + VITAMIN E
AM or PM
A soothing, creamy, soap-free cleanser that removes dirt, pollution and makeup -  gently and effectively - without damaging the skin's barrier. FRAGRANCE FREE.
WHITEWASH Purifying Clay Cleanser
CAPE CLAY + AZELAIC ACID
AM or PM
A mineral-rich cleanser with Cape Clay, Azelaic Acid and Zinc to clean out pores, blot excess oil and reduce shine. Foam free with a natural clean scent. The best of both worlds - gentle but effective. *CERTIFIED ORGANIC INGREDIENTS.
MARULA + BEESWAX
AM or PM
Melted butter cleanser made with Nkuto (aka organic Ghanaian shea butter) and zero water. Perfect to give dry-dry skin a polish and glow.
OH SHERBET! Exfoliating Face Mask
AZELAIC ACID 10% + PREBIOTIC
AM or PM
OH SHERBET! prevents and protects by gently exfoliating (with Azelaic acid), cleansing and sweeping away any debris from pores. It repairs the skin barrier (Lactobacillus Probiotic), helping to keep environmental irritants out.
Purchase SKOON BAMBOO MUSLIN Facecloth today
Boost blood circulation, stimulate collagen production, and reduce inflammation for a revitalised complexion.
Crafted from 100% bamboo, this facecloth provides an effective and thorough cleanse, removing impurities and unclogging pores. With its deep cleansing, gentle exfoliation, and enhanced absorption properties, this versatile facecloth is your key to improved texture and a youthful glow. 
Buy SKOON BAMBOO MUSLIN Facecloth online from SKOON. today!