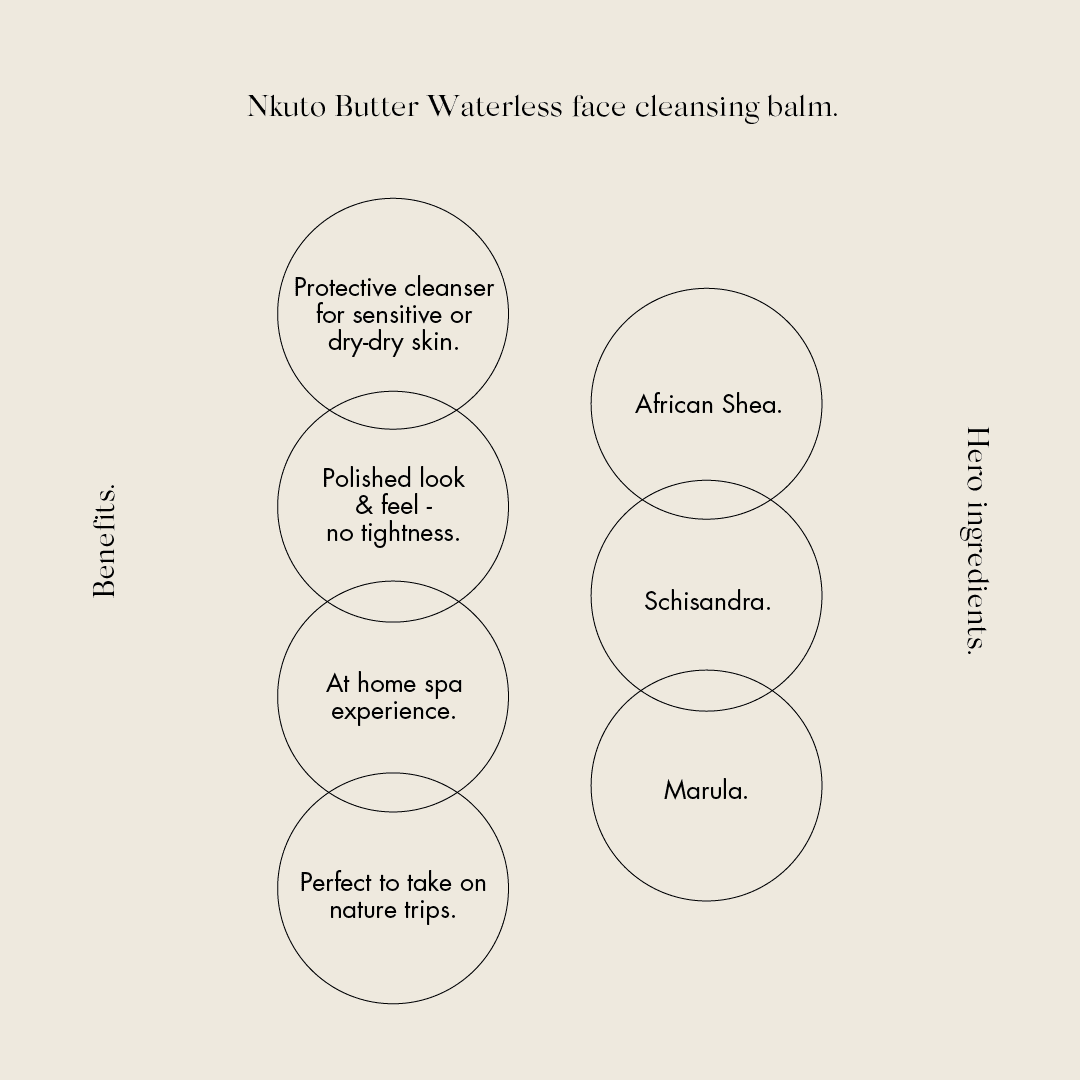 NKUTO BUTTER Hot Cloth Cleanser
Translation missing: en.products.product.price.regular_price
R465.95
Translation missing: en.products.product.price.sale_price
R465.95
Translation missing: en.products.product.price.regular_price
R465.95
Tax included.
Indulge in the Height of Luxury: Introducing SKOON. Nkuto Butter Hot Cloth Cleanser – Where Pure Indulgence Meets Skincare Magic!
Step into a realm where skincare becomes an exquisite indulgence – the realm of SKOON. Nkuto Butter Hot Cloth Cleanser. Meticulously crafted with the utmost care and the finest organic Ghanaian shea butter, this cleanser is your passport to a world of at-home spa luxury. With absolutely no water needed, it's a fusion of pure indulgence and transformative beauty.
Elevate Your Skincare Ritual:
🧈 The Power of Shea Butter: Embrace the nurturing prowess of Shea butter – a gem renowned for its skin-loving benefits. This oil-based cleanser is an impeccable blend of Shea butter, Schisandra, and Safflower. It's a symphony of ingredients working in harmony to promote deep cleansing and improved microcirculation. All this, while respecting the delicate balance of your skin barrier.
🧈 Bamboo Muslin Cloth: Elevate your cleansing experience with SKOON. Bamboo muslin cloth. A quintessential must-have for every beauty enthusiast, this cloth offers a touch of elegance to your routine. Immerse yourself in the enchantment of muslin cleansing and unlock the secrets to a polished, glowing complexion. Tailored with love for extra-dry skin, this journey promises radiance beyond compare.
Unveil the Enchantment:
SKOON. Nkuto Butter Hot Cloth Cleanser isn't just a skincare product; it's an invitation to revel in the art of self-pampering. Immerse your senses in the opulence of organic shea butter and experience the transformative allure of muslin cleansing. Let your skin dance with delight as it embraces a complexion that's not just radiant, but truly enchanting.
🎨 Fun Fact: Did you know? Our Hot Cloth Cleanser is like a velvety dream come true for your skin! Crafted with Nkuto, the magical organic Ghanaian shea butter, this buttery goodness glides smoothly on your skin, whisking away impurities without a drop of water. It's like a spa day for your face, leaving your skin pampered and refreshed. Immerse yourself in the buttery bliss of skincare luxury - a little touch of enchantment for your daily routine!" 🌟🧈
 ◦ Intense Hydration - rich in natural oils and emollients, providing intense hydration to dry and dehydrated skin
 ◦ Gentle Cleansing - effectively removes dirt, makeup, and impurities without stripping the skin of its natural oils, making them suitable for sensitive and dry skin types
 ◦ Enhances Skin Barrier - strengthens the skin's protective barrier, helping to retain moisture and protect against environmental stressors
 ◦ Makeup Removal - effective at removing makeup, including stubborn and waterproof products, making the cleansing process more efficient
 ◦ Radiant Complexion - promote a radiant and healthy-looking complexion
 ◦ Waterless Cleansing - as water is not required, a sustainable and eco-friendly option for skincare enthusiasts
 ◦ At-Home Spa Experience - creates a spa-like experience during your daily skincare routine
 ◦ Soothing Properties - reduces redness and irritation, making them ideal for sensitive skin
Buy NKUTO BUTTER Melted Cleanser online today!
AM | PM:
1. Preparation: Start with dry hands and a dry face.

2. Scoop a small amount: Take a small amount of the Nkuto butter cleanser using your fingertips.

3. Warm the product: Gently rub the butter cleanser between your palms to melt it slightly. This will make it easier to apply and spread on your skin.

4. Apply to the face: Massage the melted butter cleanser onto your dry face using gentle, circular motions. Ensure that you cover your entire face, including the forehead, cheeks, nose, and chin.

5. Focus on massaging: Take a moment to enjoy the luxurious sensation of massaging the cleanser into your skin. This will help to dissolve makeup, dirt, and impurities, while also allowing the nourishing oils to penetrate your skin.

6. Eye makeup removal: If you're using the cleanser to remove eye makeup, be extra gentle around the delicate eye area. You can use your fingertips or a muslin cloth to remove eye makeup without tugging on the skin.

7. Add water to emulsify: Once you have massaged the butter cleanser onto your face thoroughly, add a few drops of warm water to your palms and continue massaging. This will emulsify the product, turning it into a milky consistency.

8. Rinse or wipe off: Use a damp Bamboo muslin cloth to gently wipe away the cleanser along with the makeup and impurities. Rinse the cloth as needed to ensure effective cleansing.

9. Pat dry: After thoroughly wiping off the cleanser, pat your face dry with a clean towel.

Follow up with skincare - Continue with the rest of your skincare routine, including serums, concentrates, and moisturisers.
Prunus Armeniaca (Apricot) Kernel Oil, Macadamia Ternifolia (Macadamia) Seed Oil, Cera Alba (Beeswax)*, Simmondsia Chinensis (Jojoba) Seed Oil*, Sclerocarya Birrea (Marula) Seed Oil, Butyrospermum Parkii (Shea) Butter*, Squalane, Euphorbia Cerifera (Candelilla) Wax, Theobroma Cacao (Cocoa) Seed Butter, Cocos Nucifera (Coconut) Oil*, Glyceryl Caprylate, Citrus Aurantium Amara (Petitgrain) leaf Oil, Linalool**, Tocopherol, Thymus Vulgaris (Thyme) Leaf Oil, Lavendula Angustifolia (Lavender) Flower Oil, Helianthus Anuus (Sunflower) Seed Oil, Phospholipids, Schisandra Chinensis (Schisandra) Fruit Extract, Hippophae Rhamnoides (Seabuckthorn) Fruit Extract, Glycerin, Rosmarinus Officinalis (Rosemary) Leaf Extract*, Glycine Soja (Soybean) Sterols, Stearic Acid, Limonene**, Safflower Oil/Palm Oil Aminopropanediol Esters, Geraniol**. *Certified organic ingredient. **From natural essential oils. Palm oil in this product is RSPO certified.