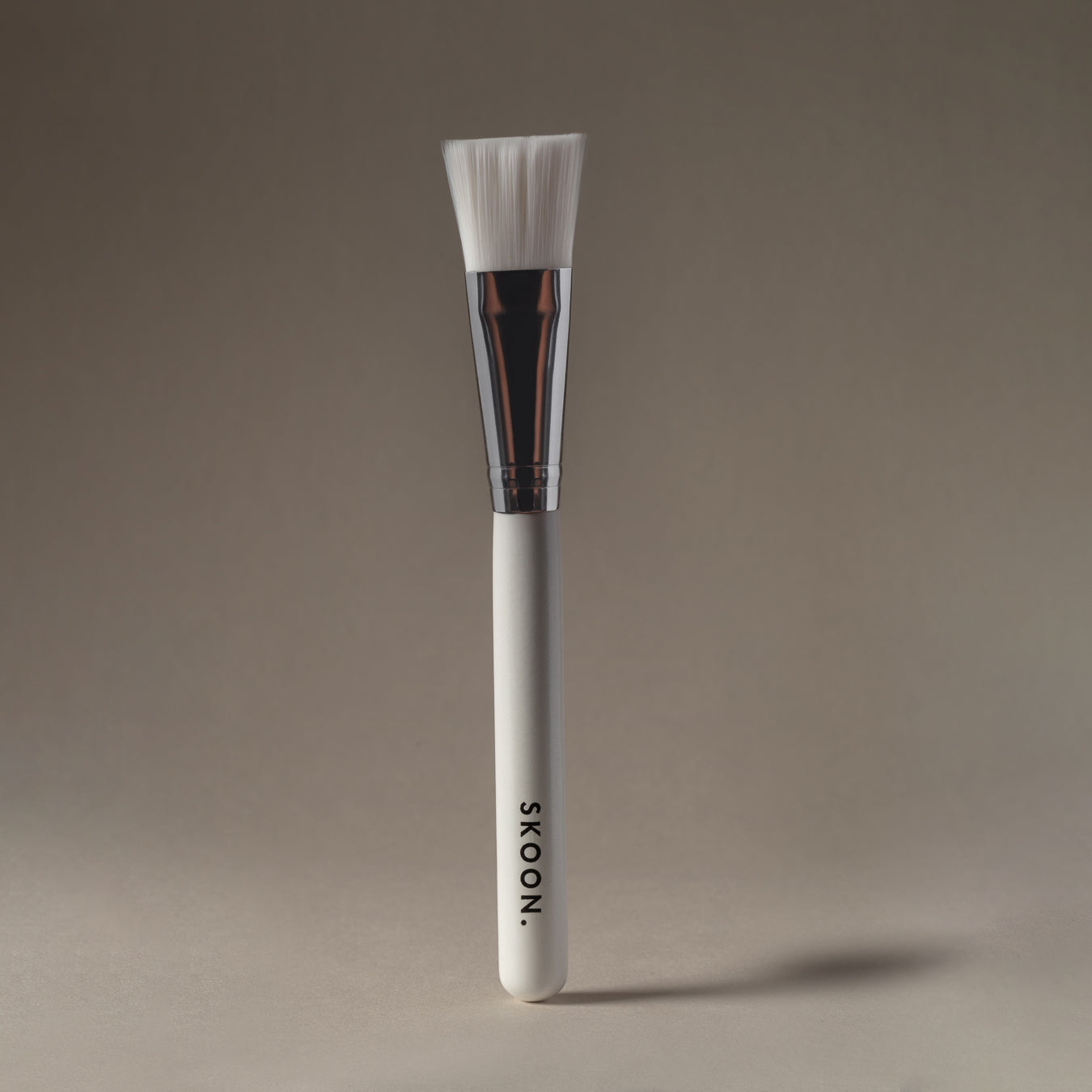 Translation missing: en.products.product.price.regular_price
R129.95
Translation missing: en.products.product.price.sale_price
R129.95
Translation missing: en.products.product.price.regular_price
Tax included.
Unleash the Beauty Revolution with SKOON. NO MESS Face Mask Brush: Your Path to Spa-Like Perfection
Say hello to flawless, spa-like applications with the revolutionary SKOON. NO MESS Face Mask Brush—the ultimate game-changer that will transform your skincare routine. Bid farewell to messy fingers and uneven coverage, and embrace a whole new level of precision, smoothness, and evenness in your face mask application.
The Perfect Application, Every Time:
Our exceptional face mask brush ensures no more guessing games or messy mishaps. It effortlessly glides across your skin, delivering precise, controlled coverage of your favourite SKOON. Oh Shebert! face mask. Every inch of your face receives the pampering it deserves, for an unparalleled skincare experience.
Say Goodbye to Mess, Hello to Luxury:
Elevate your skincare ritual with the NO MESS Face Mask Brush and indulge in a luxurious, spa-like treatment right at home. Revel in the comfort and convenience of mess-free, professional-grade application that will leave you feeling pampered and refreshed. 
Are you ready to embrace flawless applications and reveal a radiant, rejuvenated complexion? Join the beauty revolution with SKOON. NO MESS Face Mask Brush and elevate your skincare experience like never before. Say yes to perfect applications, say goodbye to mess, and say hello to radiant skin! 
🎨 Fun Fact: Here's a fun twist on face mask application: our NO MESS Face Mask Brush! 🖌️✨ It's like having a mini spa artist in your hands! These super-soft nylon bristles make applying masks a breeze, ensuring an even and mess-free experience. Pamper yourself with this little beauty buddy for a touch of luxury in your skincare routine. Get ready to paint your way to a glowing complexion with our NO MESS Face Mask Brush! 🎨🌟
◦ Mess-Free Application - allows for precise and even application of face masks, preventing any product wastage or mess on your hands or face
◦ Hygienic - ensures that your hands stay clean and free from any mask residue, reducing the risk of introducing bacteria to your skin
◦ Even Coverage - helps to distribute the mask evenly across your face, ensuring that all areas receive the same amount of product for optimal results
◦ Saves Product - ensures that you use just the right amount of product, preventing over-application and extending the longevity of your face mask
◦ Gentle on Skin - soft bristles of the brush are gentle on the skin, making the application process soothing and comfortable.
◦ Less Product Waste - avoid using excess product, saving you money in the long run
◦ Spa-Like Experience - makes skincare routine feel more luxurious and spa-like, adding a touch of indulgence to your self-care moments
Buy SKOON. NO MESS Face Mask Brush online today!
AM | PM:
1. Preparation: Start with a clean face and a well-mixed Oh Sherbet! face mask. Make sure your face is free from any makeup or dirt.

2. Dip the Brush: Take your NO MESS Face Mask Brush and dip the bristles into your face mask product. Make sure to get enough product on the brush for even application.

3. Apply the Mask: Using gentle and even strokes, apply the face mask to your face with the brush. Start from the center of your face and work your way outward, avoiding the eye and lip areas.

4. Coverage: Ensure that the mask is applied evenly to all areas of your face. The soft nylon bristles will help spread the mask smoothly for a uniform application.

5. Avoid Waste: The brush is designed to minimize waste, as it allows you to use just the right amount of product without excess dripping or running.

6. Even Layers: If you need to layer the mask for better coverage, you can do so with the brush. Apply additional layers gently for optimal results.

7. Rinse the Brush: After finishing the application, rinse the NO MESS Face Mask Brush thoroughly with warm water and mild soap to clean off any remaining product.

Dry and Store - Allow the brush to air dry completely before storing it in a clean and dry place.
Wood, Aluminium Ferrule, Nylon Bristles