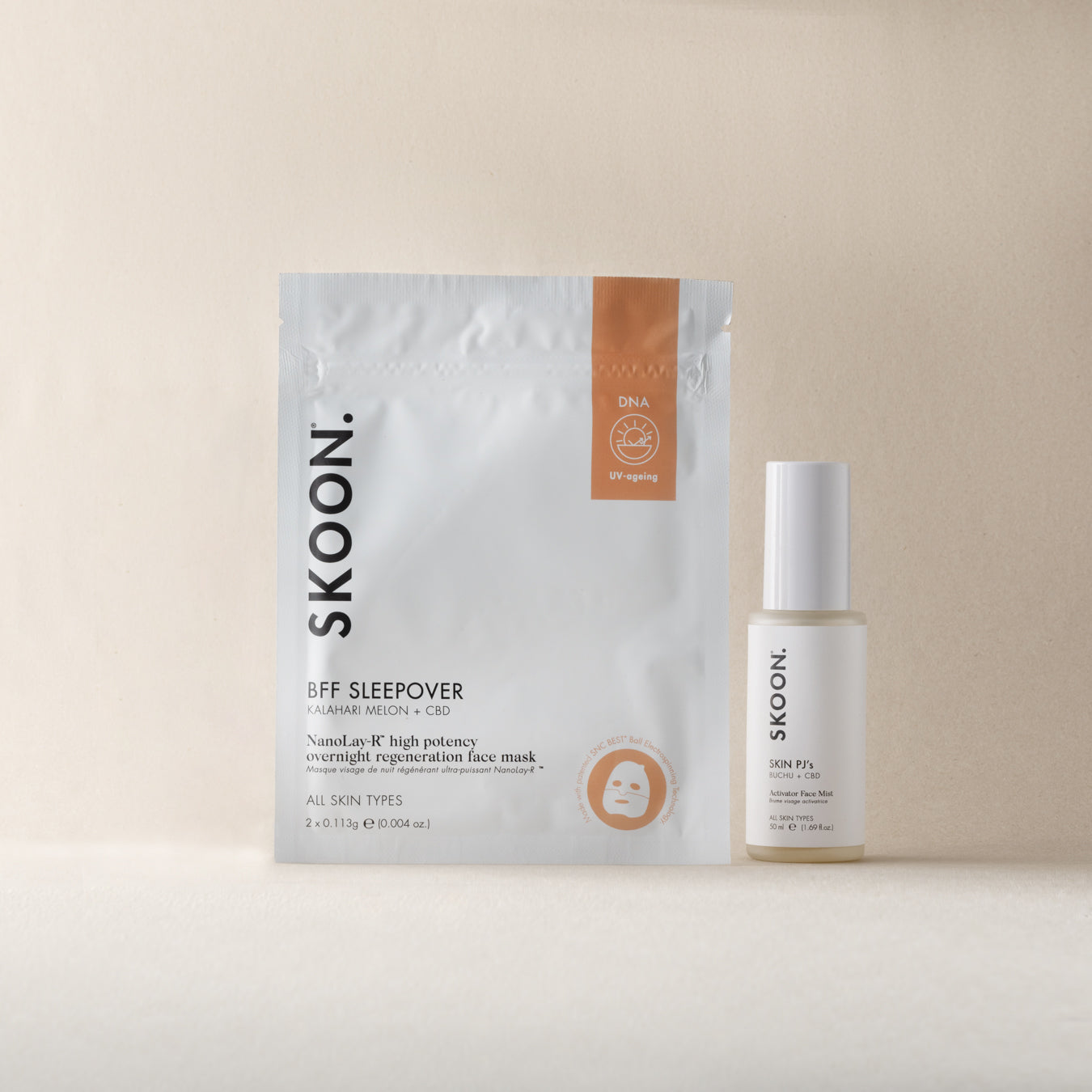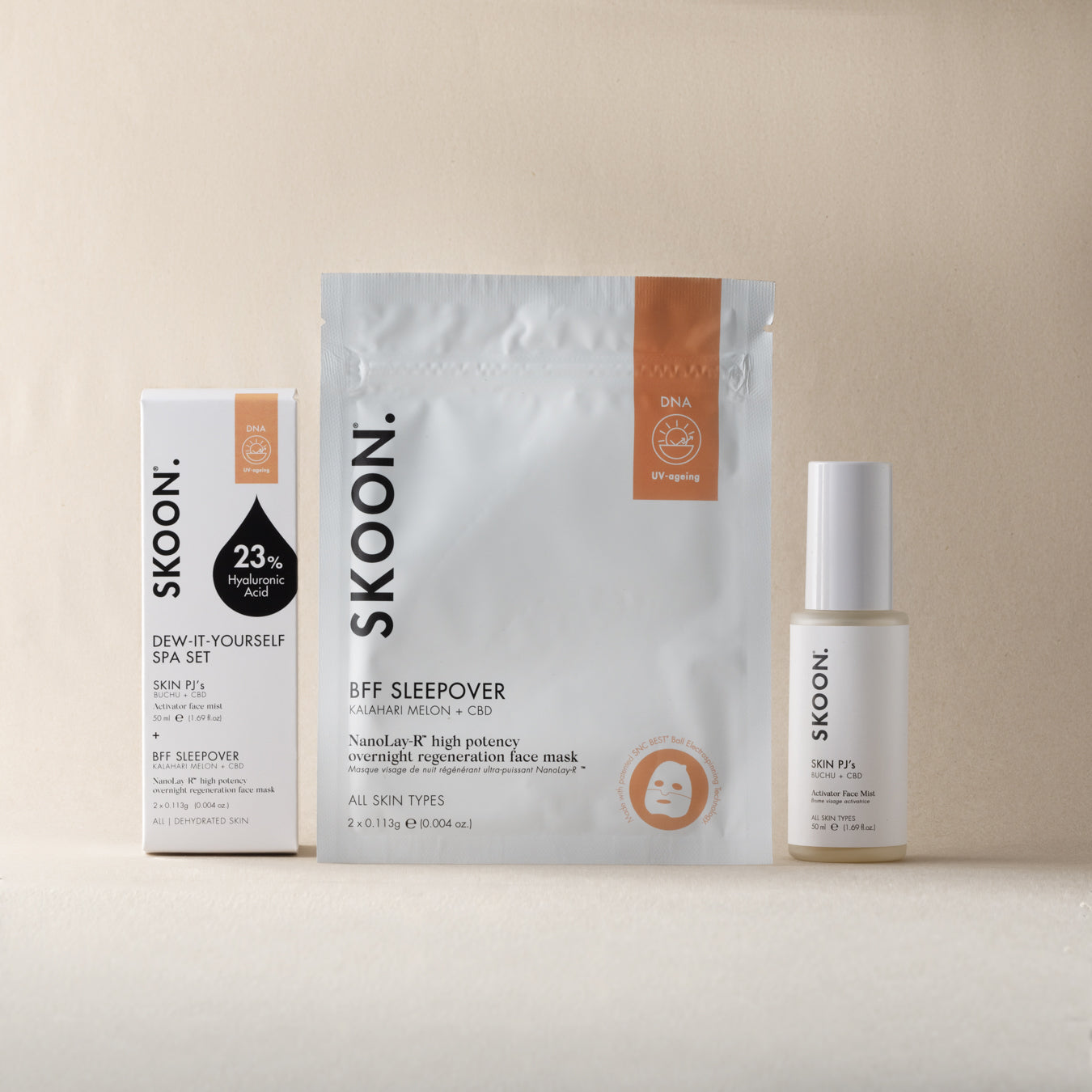 DEW-IT-YOURSELF NanoGlow Spa Set
Translation missing: en.products.product.price.regular_price
R599.95
Translation missing: en.products.product.price.sale_price
R599.95
Translation missing: en.products.product.price.regular_price
R705.95
Tax included.
Indulge in Luxurious Relaxation with SKOON. DEW-IT-YOURSELF NanoGlow Spa Set: Your Personal Oasis of Rejuvenation
Experience tranquillity at home with SKOON. DEW-IT-YOURSELF NanoGlow Spa Set - your private haven of revitalisation. Transform your surroundings into a sanctuary of relaxation, where luxury meets rejuvenation. Indulge in a spa-like escape that's tailored to your schedule, allowing you to unwind whenever and wherever you desire.
Behold the Enchantment:
💦 High-Potency Nanofibers: Delve into the mesmerizing transformation as our mask evolves into delicate nanofibers layered on compostable brown parchment paper, infused with the magic of 23% Hyaluronic Acid (HA). The marvel is achieved without a single preservative, ensuring your experience is pure, safe, and truly enchanting.
💦 The Ultimate At-Home Recharge: Immerse yourself in the pampering ritual of SKOON. BFF SLEEPOVER Pro-Collagen Hydrating Overnight Mask. Crafted with high-potency, electrospun nanofibers, it boasts an exquisite blend of 23% Hyaluronic Acid, CBD, and Kalahari Melon. Awaken to skin that's deeply hydrated and revitalised.
💦 SKOON. SKIN PJ's Activator Face Mist: Elevate your experience with the perfect activation of water-based actives. Infused with a unique blend of A-beauty extracts – Buchu, Bulbine Frutescens, Chamomile, and African Ginger – this mist is an exquisite fusion of comfort and refreshment. Added CBD and Magnesium provide an extra layer of skin-soothing care.
Create Your Oasis of Serenity:
Welcome to a world where rejuvenation knows no bounds. Discover the SKOON. DEW-IT-YOURSELF NanoGlow Spa Set and unlock a universe of relaxation at your fingertips. This is more than skincare; it's an escape into pure indulgence and serenity.
Elevate your surroundings. Elevate your senses. Elevate your experience. Embrace the extraordinary with SKOON. DEW-IT-YOURSELF NanoGlow Spa Set and craft your own haven of tranquillity – because you deserve nothing but the best.  
Step into the Future of Skincare with NanoFiber Technology!
Bid farewell to the constraints of traditional skincare methods and welcome the extraordinary capabilities of NanoFiber's advanced delivery system - a marvel crafted with SNC BEST® Ball Electrospinning Technology. Get ready to witness a remarkable shift in skincare with precise and targeted delivery of potent ingredients, ensuring an unparalleled level of absorption and efficacy. Behold its extraordinary effects as it brings nourishment and regeneration deep within the layers of your skin, yielding results that are not only visible but also enduring. 
🎨 Fun Fact: Did you know that our nanofiber technology is like skincare wizardry? 🧙‍♂️ These tiny, supercharged fibers work their magic, delivering a lavish dose of pure hyaluronic acid without any preservatives directly to your skin's deep dermal layers! 🌟 Say hello to a fresh, plump, and oh-so-happy complexion that embraces the future of skincare innovation. 🚀 Embrace the enchantment of nanofibers and treat your skin to a hydrating sensation like no other! 💧✨
 ◦ Deeper penetration of Hyaluronic Acid, CBD, Astaxanthin
 ◦ Long-lasting once-off hydration boost with 23% HA.
 ◦ Enhances skin cell regeneration process
 ◦ No preservatives or fragrance – suitable for sensitive skin
Pack includes: 
  ◦ 50ml SKIN PJ's Activator Mist
 ◦ BFF SLEEPOVER Mask (2 in a pack)
Buy DEW-IT-YOURSELF NANOGLOW SPA SET from SKOON. today!
AM I PM:
1. Open the sachet and carefully remove one mask using dry hands. Seal the zip-lock of the sachet for future use.
2. Spritz your entire face generously with SKIN PJ's Activator face mist until your skin is thoroughly damp. Now, remove the middle mesh piece from the BFF SLEEPOVER face mask (white side of the paper) and gently place it directly onto your clean, damp skin, leaving the paper mask cover in place.
3. Use wet hands to pat the paper cover mask, ensuring an even and snug fit on your face.
4. To prevent the mask from drying out, lightly spritz the paper mask cover with SKIN PJ's Activator face mist.
5. After 3-4 minutes, carefully remove the wet paper mask cover. Massage any remaining nanofiber mask residue into your skin.
6. For ultimate hydration, finish by spritzing your face again with SKIN PJ's Activator face mist. Follow this up by applying a layer of cream along with 2-3 drops of an oil-based concentrate to effectively lock in the water-based actives. Leave the products on overnight for maximum benefits.
BFF Sleepover:Pullulan, Sodium Hyaluronate, Citrullus Vulgaris (Kalahari Melon) Seed Oil, Magnesium PCA, Helianthus Annuus (Sunflower) Seed Oil Unsaponifiables, Glyceryl Stearate, Zinc PCA, Bulbine Fru-tescens (Burn Jelly) Leaf Extract, Lecithin, Cannabis Sativa Seed Oil, Glycine Soja (Soybean) sterols, Cannabis Sativa Leaf Ex-tract , Haematococcus Pluvialis Extract, Olea Europaea (Olive) Fruit Oil, Pinus Cembra Wood Extract, Tocopherol, Glycine Max (Soybean) Oil.

Skin PJs:Aqua (water), Salix Alba (White Willow) Bark Extract, Alcohol, Cyclopia Subternata (Honeybush) Leaf Extract*, Glycerin, Bulbine Frutescens (Burn Jelly) Leaf Extract, Sclerotium gum, Chamomilla Recutita (Matricaria) Flower Extract, Sodium Phytate, Agathosma Betulina (Buchu) Leaf Extract, Siphonochilus Aethiopicus (African Ginger) Root Extract, Polyepsilon-lysine, Cannabis Sativa Seed Oil, Magnesium PCA, Pentylene Glycol, Leuconostoc/Radish Root Ferment Filtrate, Lecithin, Cannabis Sativa leaf Extract, Pinus Cembra Wood Extract, Tocopherol.

*Certified Organic Ingredient



Treat yourself to the spa experience you deserve!
Incorporating the DEW-IT-YOURSELF Spa Set into your routine offers a rejuvenating escape and an opportunity to embrace self-care in a meaningful and effective way.

Elevate your self-care moments with the DEW-IT-YOURSELF Spa Set and embrace the joy of taking care of yourself. Here's why you should use it:

Benefits of the DEW-IT-YOURSELF spa kit
Pamper Yourself: With carefully curated skincare products, the spa set offers a luxurious pampering session for your skin. It nourishes, hydrates, and revitalises, leaving your skin feeling soft, supple, and radiant.
Affordable Spa Experience: The spa set provides an affordable alternative to expensive spa visits. You can enjoy all the benefits of a professional spa treatment without leaving the comfort of your home.

Convenient and Time-Saving: The set offers the flexibility to pamper yourself at your own convenience. No need to book appointments or travel to a spa. Simply create your spa experience whenever you have a moment to spare.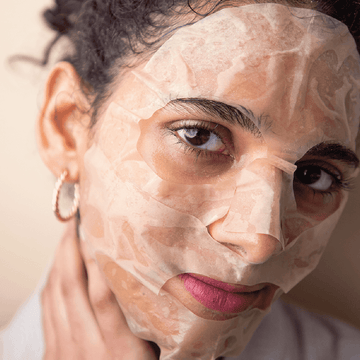 Glowing Skin: Regular use of the spa set can lead to glowing, radiant skin. The nourishing and rejuvenating properties of the products contribute to a more youthful and healthier complexion.
Perfect Gift: The spa set makes for a thoughtful and indulgent gift for yourself or a loved one. It's a wonderful way to show someone you care about their well-being and relaxation.
Embrace Remarkable Results for Your Skin - Discover the Power of Our Revolutionary Waterless NanoFiber Mask!
Discover the power of our Pro-Collagen Hydrating NanoFiber Mask – a waterless marvel boasting 100% actives and an impressive 23% Hyaluronic Acid content. Unlike conventional sheet masks that often rely on more water than actives, ours sets the bar higher with its potent formula.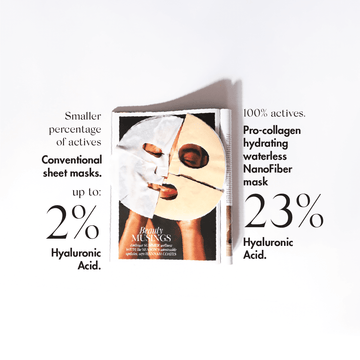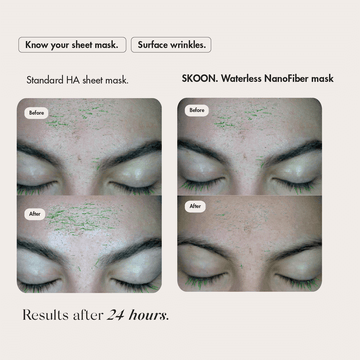 Embrace the ultimate hydration experience, delivering remarkable results for your skin.
Level up your skincare game with our revolutionary waterless NanoFiber mask!
Dry vs Dehydrated skin: Know the difference
Dry skin is a skin type characterised by a lack of sufficient natural oils, which can lead to a rough and flaky texture.
On the other hand, dehydrated skin is a temporary condition caused by a lack of water, resulting in tightness and fine lines. It's important to note that dry skin is an inherent trait, while dehydration can affect any skin type.

To maintain healthy skin in both cases, adequate moisturisation and hydration are crucial. Understanding the distinction between dry and dehydrated skin empowers you to tailor your skincare routine effectively, ensuring your skin stays nourished, balanced, and radiant.

Choose the right products and care for your skin's specific needs, unlocking the secret to a healthy and glowing complexion. Let us help you achieve your skincare goals with expert solutions for every skin type and concern.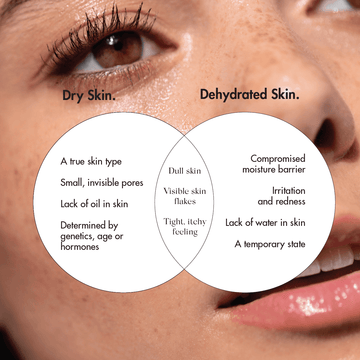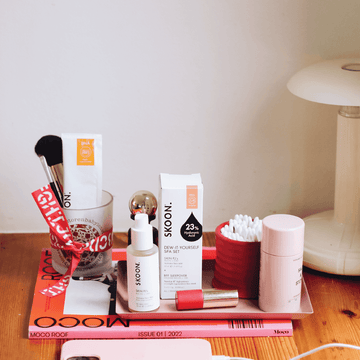 Shop DEW-IT-YOURSELF SPA SET
Unleash Extraordinary Skin Transformation. Experience the Unmatched Potency of Our Revolutionary Waterless NanoFiber Mask!
Shop DEW-IT-YOURSELF.