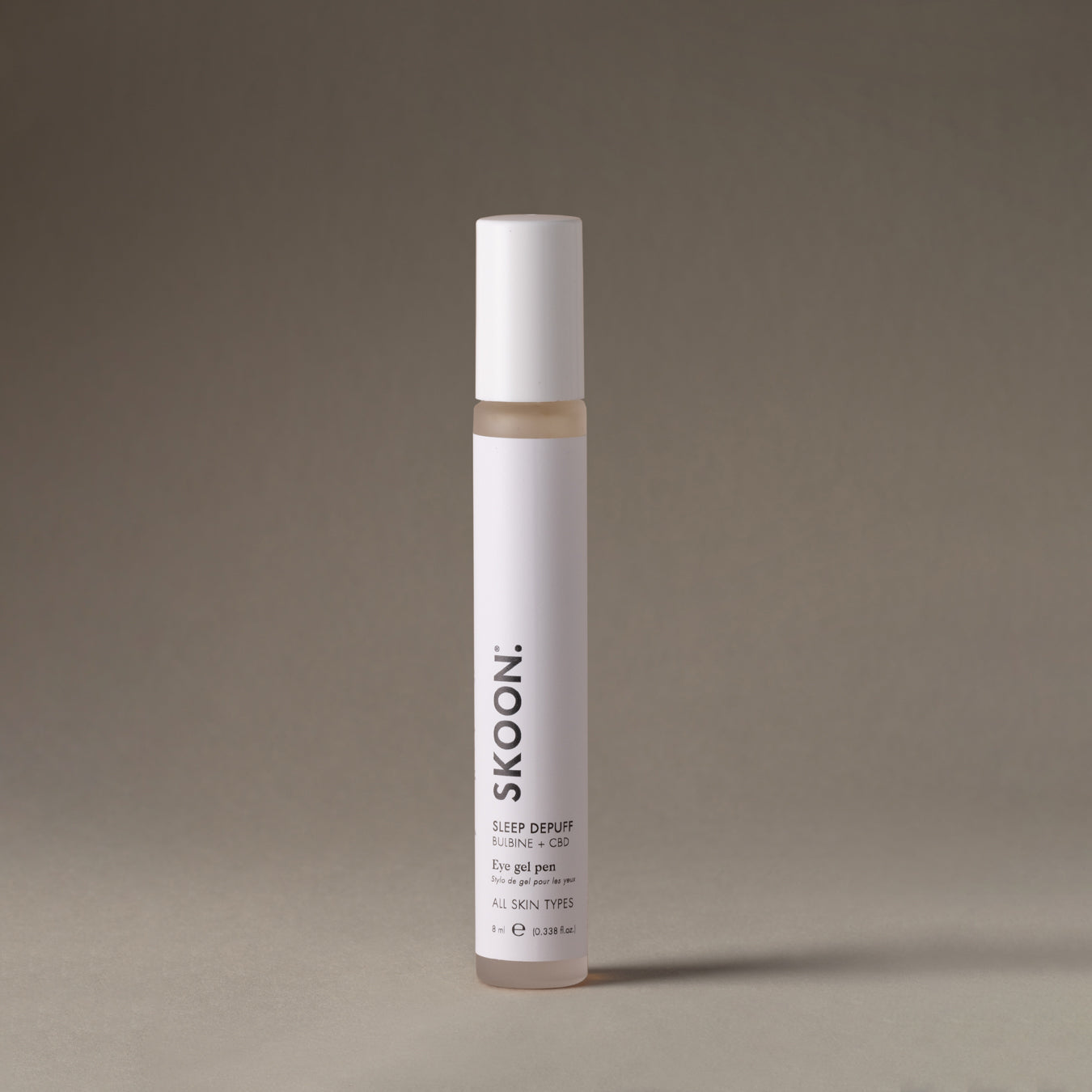 Translation missing: en.products.product.price.regular_price
R599.95
Translation missing: en.products.product.price.sale_price
R599.95
Translation missing: en.products.product.price.regular_price
Tax included.
Unveil Your Eyes' New Best Friend: Introducing SKOON. SLEEP DEPUFF Eye Gel Pen – Your Ticket to Bright, Youthful Eyes!
Prepare to meet a game-changing addition to your skincare arsenal – the remarkable SKOON. SLEEP DEPUFF Eye Gel Pen. This extraordinary lightweight eye gel is a powerhouse of potent ingredients, meticulously crafted to rejuvenate and transform the delicate skin around your eyes.
Experience the Power of SLEEP DEPUFF:
✨ Caffeine Awakening: Awaken your eyes with the invigorating touch of caffeine. This ingredient, known for its revitalising prowess, works tirelessly to depuff and revive tired eyes, leaving you looking and feeling refreshed.
✨ Youth-Boosting Peptides: Embrace the magic of peptides – youth-boosting marvels that target fine lines and wrinkles, delivering a burst of radiance to your eye area. Watch as the signs of ageing gracefully retreat, unveiling a smoother, more youthful complexion.
✨ Bulbine Frutescens Elixir: Immerse your skin in the botanical goodness of Bulbine Frutescens. This ingredient, rich in nurturing properties, partners with the other actives to create a symphony of depuffing, fine line-minimizing, and complexion-enhancing effects.
Unlock the Magic of Youthful Eyes:
SKOON. SLEEP DEPUFF Eye Gel Pen isn't just an eye gel – it's a journey into the world of revitalisation and transformation. With every application, you're treating your eyes to a symphony of ingredients that work harmoniously to restore their youthful radiance.
Elevate your skincare ritual to new heights of brilliance with SKOON. SLEEP DEPUFF Eye Gel Pen. Embrace the luxury of bright, depuffed, and rejuvenated eyes, and let your gaze shine with the magic of timeless beauty.
🎨 Fun Fact: Did you know? Our SLEEP DEPUFF Eye Gel Pen is a dreamy trio of Bulbine, CBD, and Caffeine, working in harmony to combat those pesky under-eye puffiness and dark circles! It's like a magical potion that brings back the sparkle in your eyes after a night of adventure or a long day. Embrace the power of this dynamic trio as they team up to revitalise and refresh your delicate eye area. Say goodbye to tired eyes and hello to a well-rested, bright-eyed look that's ready to conquer the world! Awaken the magic of your eyes today with this enchanting gel pen.✨🌙


◦ Depuffs
◦ Reduce the appearance of wrinkles
◦ Reduces dark circles
◦ Improves hydration and complexion
◦ Convenient eye gel pen
Buy SKOON. SLEEP DEPUFF Eye Gel Pen online today!
AM | PM: Shake SLEEP DEPUFF Eye gel pen to allow coating of metal roller ball with gel. Glide roller ball under each eye from inner corner to outer corner several times. Re-shake, if necessary. Follow by applying a cream to lock in water-based actives.

Tip: Leave SLEEP DEPUFF Eye gel pen in the fridge for 5-10 minutes for a cooling and refreshing application.


Aqua (water), Glycerin*, Salix Alba (White Willow) Bark Extract, Pentylene Glycol, Caffeine, Bulbine Frutescens Leaf Extract, Lecithin, Coffea Arabica Seed Extract, Alcohol, Sodium Hyaluronate, Xanthan Gum, Sodium Phytate, Sclerotium Gum, Cannabis Sativa Seed Oil, Pullulan, Polyepsilon-lysine, Magnesium PCA, Leuconostoc/Radish Root Ferment Filtrate, Palmitoyl Tripeptide-5, Diaminobutyroyl Benzylamide Diacetate, Arbutin, Cannabis Sativa Leaf Extract, Tocopheryl Acetate, Pinus Cembra Wood Extract, Tocopherol, Glutathione, Linolenic Acid, Linoleic Acid, Ascorbyl Palmitate. *Certified Organic Ingredient
Depuff, minimise fine lines & improve complexion around the eye area
With scientifically selected ingredients designed for thin under-eye skin.
The eye contour area is up to 10X thinner than other areas of the face - and often shows the first signs of natural ageing, since the thinner skin is more susceptible to collagen and elastin loss; and more vulnerable to environmental factors.

SLEEP DEPUFF Eye gel pen features youth-boosting peptides (Palmitoyl Tripeptide-5 and Diaminobutyroyl Benzylamide Diacetate) that stimulate the production of collagen to promote firmer, younger-looking skin. These hero ingredients also minimise fine lines around the eye area.

SLEEP DEPUFF Eye gel pen also contains active caffeine - a natural stimulant and antioxidant that boosts circulation and reduces the appearance of puffiness around the eye area.
For dark circles under the eyes, SLEEP DEPUFF contains Arbutin - a powerful skin brightener- and Glutathione - a potent antioxidant - to reduce the appearance of dark circles. This duo helps optimise skin complexion and results in an enhanced skin brightening effect.


Why do I need this in my life?
Great question. Here's why:

The eye contour area is extremely fragile and thin – up to 10X thinner than other areas of the face. There's not a lot of room for error.

If we're tired, it shows. If we're dehydrated, it shows. And if we age, it definitely shows up there first. That's why this area needs a little more TLC than the rest.

If you struggle with any of the following skin challenges, SLEEP DEPUFF can help with that.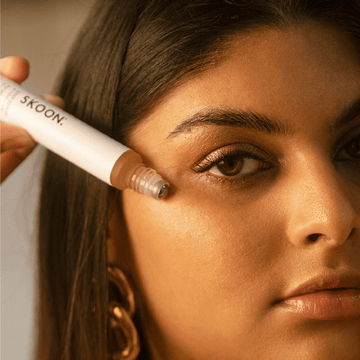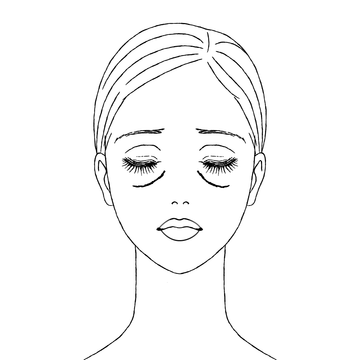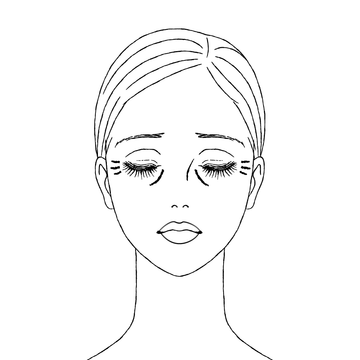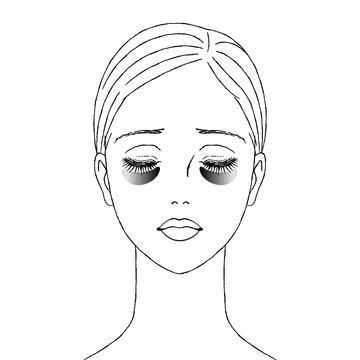 Puffy Eyes
This can be caused by three things: natural ageing, excessive fluid build-up, or dilated blood vessels under the eyelid.

Crow's feet and Wrinkles
As we get older, we lose collagen and elastin, which shows up as crows feet (A.K.A fine lines and wrinkles in the corner of your eye). It's a completely natural part of ageing, but it can be intensified by chronic dryness and dehydration

Dark Circles
We've all had them. Genes, lack of sleep, diet, microcirculation, or hyperpigmentation can all cause skin under our eyes to turn blue, purple or brown.

SleepScience Fact: Results After 28-day clinical trial*
Our 28-day clinical trial was conducted with 20 participants who are 35 - 65 years old and applied the SLEEP DEPUFF twice daily (AM+PM), and the results were amazing!
With SLEEP DEPUFF you can erase puffiness, dark circles and crow's feet. It's true, we've proven it.
We were able to conclude that SLEEP DEPUFF Eye gel pen resulted in:
●  Visible wrinkle area reduction of up to 13%
●  Visible wrinkle depth reduction of up to 14%
●  Visible wrinkle volume reduction of up to 25%
Roll it on + reap while you sleep.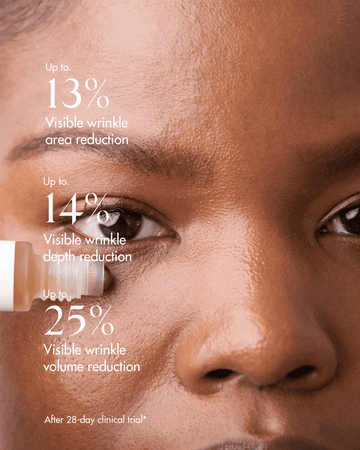 Hero Ingredients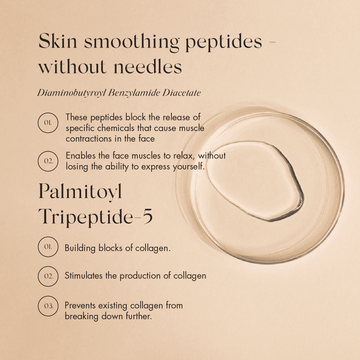 Youth-boosting peptides
Achieve firmer, younger-looking skin.

Slow the signs of ageing and reduce the appearance of crow's feet and fine lines with Palmitoyl Tripeptide-5 and Diaminobutyroyl Benzylamide Diacetate which stimulate the production of collagen.

Peptides are the building blocks of collagen and help stimulate the production of new collagen while preventing existing collagen from breaking down further. In short, these age-defying hero ingredients can give you firmer, younger-looking skin.

Active caffeine
Reduce the appearance of swelling & puffiness under the eyes.
In short, Active Caffeine is coffee for your skin.

Caffeine is a natural stimulant and antioxidant that prevents skin damage. It can also boost circulation, shrink blood vessels and reduce the appearance of puffy eyes and undereye swelling.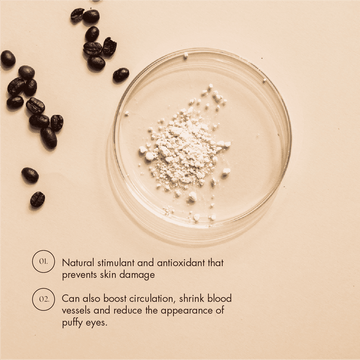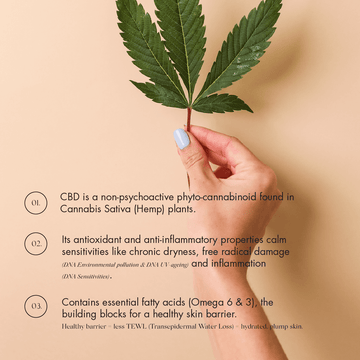 CBD
Reduce inflammation and retain moisture.
CBD (cannabidiol) is a non-psychoactive ingredient that has antioxidant and anti-inflammatory properties. CBD can help calm sensitivities like chronic dryness, free-radical damage and inflammation.

CBD also contains essential fatty acids (Omega 6 & 3) for building a healthy skin barrier and maintaining optimum skin hydration.
Magnesium PCA
Repair skin barrier, enhance hydration and reduce inflammation.
Magnesium PCA is an essential mineral and forms a key part of the Natural Moisturising Factors (NMF's) in your skin.

NMF's play a significant role in enhancing skin hydration and skin barrier repair.

Magnesium PCA also helps to fight inflammation caused by external stress from environmental pollution. It calms sensitive skin and improves the skin's overall complexion.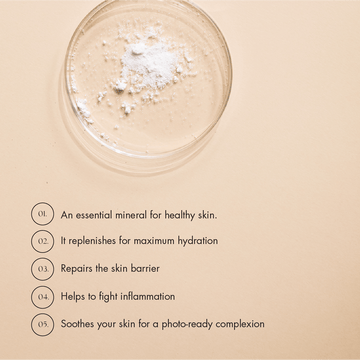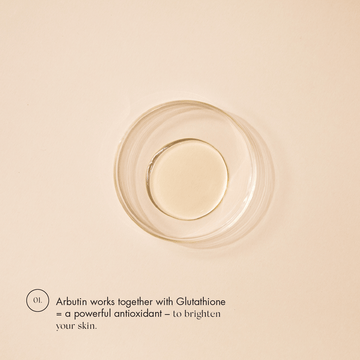 Arbutin & Glutathione
Brightens your skin.
Arbutin is a powerful skin brightener ingredient (extracted from Bearberries) that inhibits the main enzyme in the skin pigmentation process. Arbutin works hand in hand with antioxidant-rich Glutathione to brighten your skin and improve skin complexion around the eye area.

Bulbine frutescens
Stimulate collagen synthesis.

Our A-Beauty hero ingredient, Bulbine frutescens (otherwise known as the Burn Jelly plant), is an aloe-like succulent plant found in the dry valleys of Southern Africa.

Bulbine frutescens has traditionally been used for its wound healing and anti-inflammatory properties. More recently, the leaf juice was shown to stimulate collagen synthesis, an essential factor in slowing the signs of natural ageing.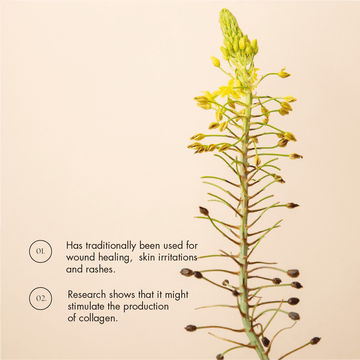 Purchase SLEEP DEPUFF Eye gel pen
Try SLEEP DEPUFF, a lightweight eye gel pen with active caffeine, youth-boosting peptides, CBD and Bulbine frutescens to depuff, minimize fine lines and improve skin complexion around the eye area.

TIP:
Leave your SLEEP DEPUFF in the fridge and roll the soothing gel onto the eye area morning and night to increase lymph drainage and reduce puffiness.