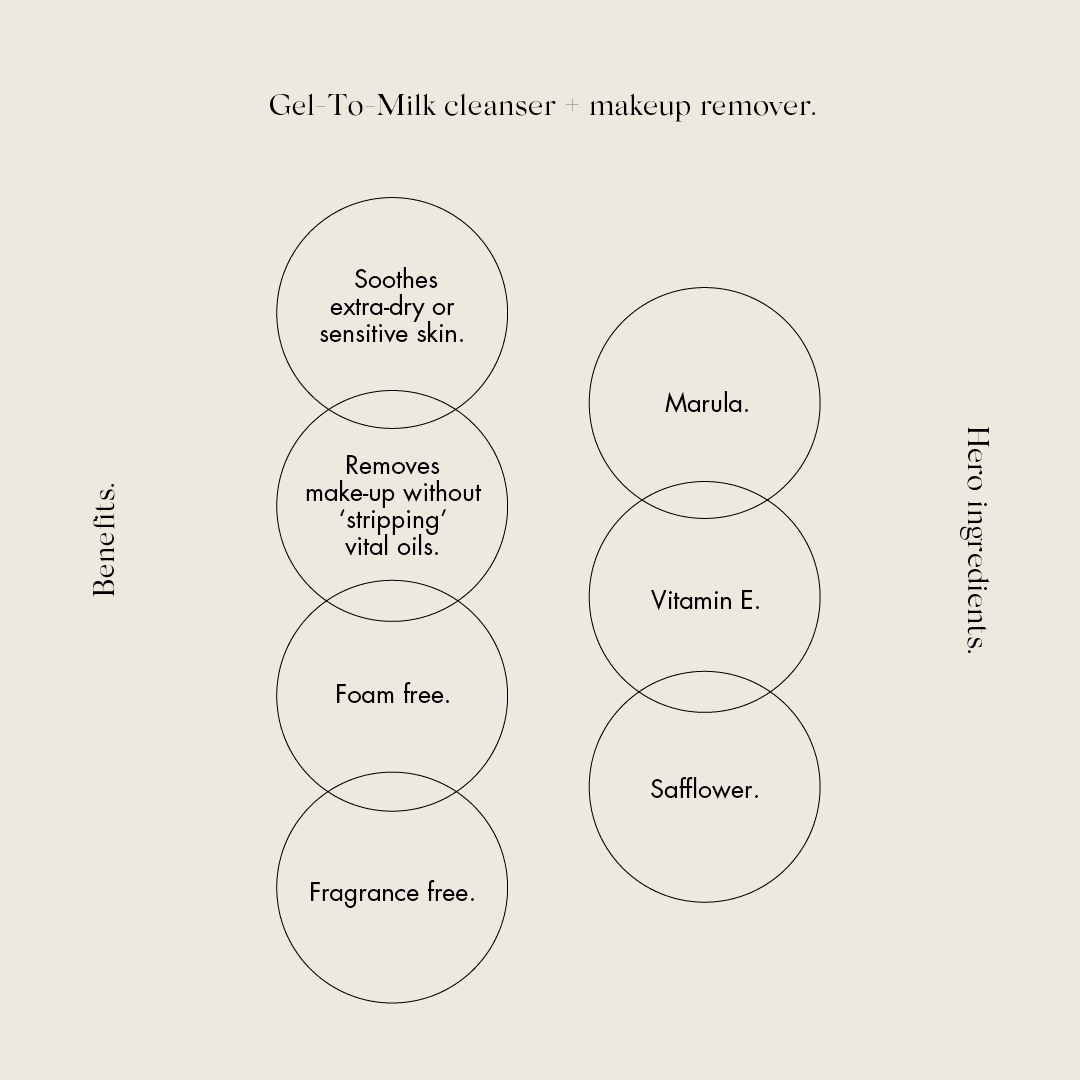 GEL-TO-MILK Cleanser + Makeup Remover
Translation missing: en.products.product.price.regular_price
R229.95
Translation missing: en.products.product.price.sale_price
R229.95
Translation missing: en.products.product.price.regular_price
Tax included.
Embark on a Cleansing Journey Like Never Before with SKOON. GEL-TO-MILK Cleanser + Makeup Remover – Your Path to a Flawless Skincare Routine!
Introducing the captivating SKOON. GEL-TO-MILK Cleanser + Makeup Remover – a true gem in your skincare collection. Brace yourself for a mesmerising transformation as this soft gel embraces the power of water and gracefully transforms into a soothing milky fluid, unveiling a world of indulgence that's simply unparalleled.
Experience the Magic of GEL-TO-MILK:
🥛 Transformative Elegance: Watch in awe as the soft gel texture metamorphoses into a luxurious milky fluid upon contact with water. It's a symphony of textures that will leave you enchanted and your skin craving for more.
🥛 Adored Worldwide: Say goodbye to traditional foam cleansers and welcome the jelly cleanser that has captured the hearts of countless users around the world. The GEL-TO-MILK formula is adored for its unique texture and remarkable effectiveness.
🥛 Nature's Nurturing Touch: Immerse your skin in the nurturing embrace of Safflower, Marula, and Vitamin E. This creamy, soap-free cleanser is your partner in gently and effectively removing dirt, pollution, and makeup without compromising your skin's natural moisture.
Your Skincare Power Duo:
Complete the magic with our beloved SKOON. Bamboo muslin cloth, your perfect cleanser BFF. This dynamic duo ensures a polished and radiant skin finish, elevating your cleansing experience to extraordinary heights.
Elevate Your Cleansing Ritual:
SKOON. GEL-TO-MILK Cleanser + Makeup Remover isn't just a cleanser – it's a transformative experience that elevates your skincare routine to new heights of elegance and indulgence. With every use, you're embracing the magic of soft gel turning into milky fluid, unveiling a complexion that's cleansed, refreshed, and utterly radiant. Embrace the magic of a cleansing journey that's as mesmerising as it is effective, and let your skin bask in the glow of ultimate indulgence. 
🎨 Fun Fact 1: Ever wonder about the secret behind the SKOON. GEL-TO-MILK Cleanser + Makeup Remover's enchanting powers? It's all thanks to the dynamic trio of safflower, marula, & vitamin E! Safflower brings a burst of hydration, marula works its magic with nourishing goodness, and vitamin E swoops in with antioxidant wonders. Together, they create a symphony of skincare delights, leaving your skin feeling pampered and oh-so-radiant. Prepare to be spellbound by this delightful blend of nature's finest! ✨🌼🌿
🎨 Fun Fact 2: Discover 'airless technology': it's not just about looks, it's a skincare game-changer. Traditional containers expose products to air, but airless tech dispenses precisely, safeguarding freshness from oxygen and contaminants. Your skincare stays potent, effective, and ready to love your skin. It's not just packaging; it's brilliance! 🌬️🧡✨
◦ Effective Cleansing - removes dirt, makeup, impurities, and excess oil from the skin's surface, leaving it clean and refreshed
◦ Gentle on Skin - gentle and non-irritating formula, making them suitable for all skin types, including sensitive skin
◦ Soothing Properties - calms and comfort the skin, reducing redness and irritation
◦ Makeup Removal - effective at removing makeup, including waterproof makeup, making the cleansing process more efficient
◦ Non-Stripping - formulated not to strip the skin of its natural oils, helping maintain the skin's moisture barrier
◦ Pore-Cleansing - helps unclog pores and reduce the appearance of blackheads and whiteheads, promoting clearer and smoother skin
◦ Foam-free & Fragrance-free
Buy SKOON. GEL-TO-MILK Cleanser + Makeup Remover online today!
AM | PM:
1. Preparation: Start with dry hands and a dry face.

2. Pump a small amount: Dispense a small amount of the GEL-TO-MILK Cleanser onto your fingertips or the palm of your hand.

3. Apply to the face: Gently massage the gel cleanser onto your dry face using circular motions. Ensure that you cover your entire face, including the forehead, cheeks, nose, and chin.

4. Breakdown make-up and impurities: As you massage the gel onto your skin, it will interact with the natural oils and makeup, breaking them down and starting to dissolve impurities.

5. Add water to emulsify: Once you have massaged the gel cleanser onto your face thoroughly, wet your hands with warm water. Continue massaging, and you'll notice the gel transforming into a milky fluid.

6. Emulsify and cleanse: The emulsification process helps to lift and suspend impurities, makeup, and excess oil, allowing them to be easily rinsed away.

7. Rinse or wipe off: Use warm water to rinse your face, removing the cleanser along with the impurities. Alternatively, you can use a damp Bamboo muslin cloth to gently wipe away the cleanser.

8. Pat dry: After thoroughly rinsing or wiping off the cleanser, pat your face dry with a clean towel.

Follow up with skincare - Continue with the rest of your skincare routine, including serums, concentrates, and moisturisers.


BOTTLE PRIMING INSTRUCTIONS:
1. Tap the Base: With the cap removed, gently tap the base of the bottle on a flat surface. This helps to dislodge any air bubbles that may be trapped in the pump system.
2. Pump Several Times: Press down on the pump head multiple times to initiate the flow of product. You may need to pump the dispenser anywhere from 10 to 20 times until the product is dispensed.
3. Try the 'Secret Touch': For an extra boost in priming, here's a trick to consider, turn the product upside down and gently tap it on the pump's side. Do this with the cap still on. This technique can help release any stubborn air bubbles and enhance the priming process.
4. Observe Product Dispensing: As you pump, you'll notice that the product begins to emerge from the nozzle. It's normal for the initial pumps to take a bit of effort due to the airless system's design.
5. Enjoy Your Product: Once you see a consistent flow of product, your airless bottle is now primed and ready for use! Each subsequent pump will dispense your product effortlessly and without air exposure.
Carthamus Tinctorius (Safflower) Seed oil, Glycerin, Sclerocarya Birrea (Marula) Seed Oil, Aqua (Water), Prunus Amydalus Dalcis (Sweet Almond) Oil, Sucrose Laurate, Sucrose Stearate, Tocopherol, Helianthus Anuus (Sunflower) Seed Oil, Sucrose Palmitate, Fulvic acid.