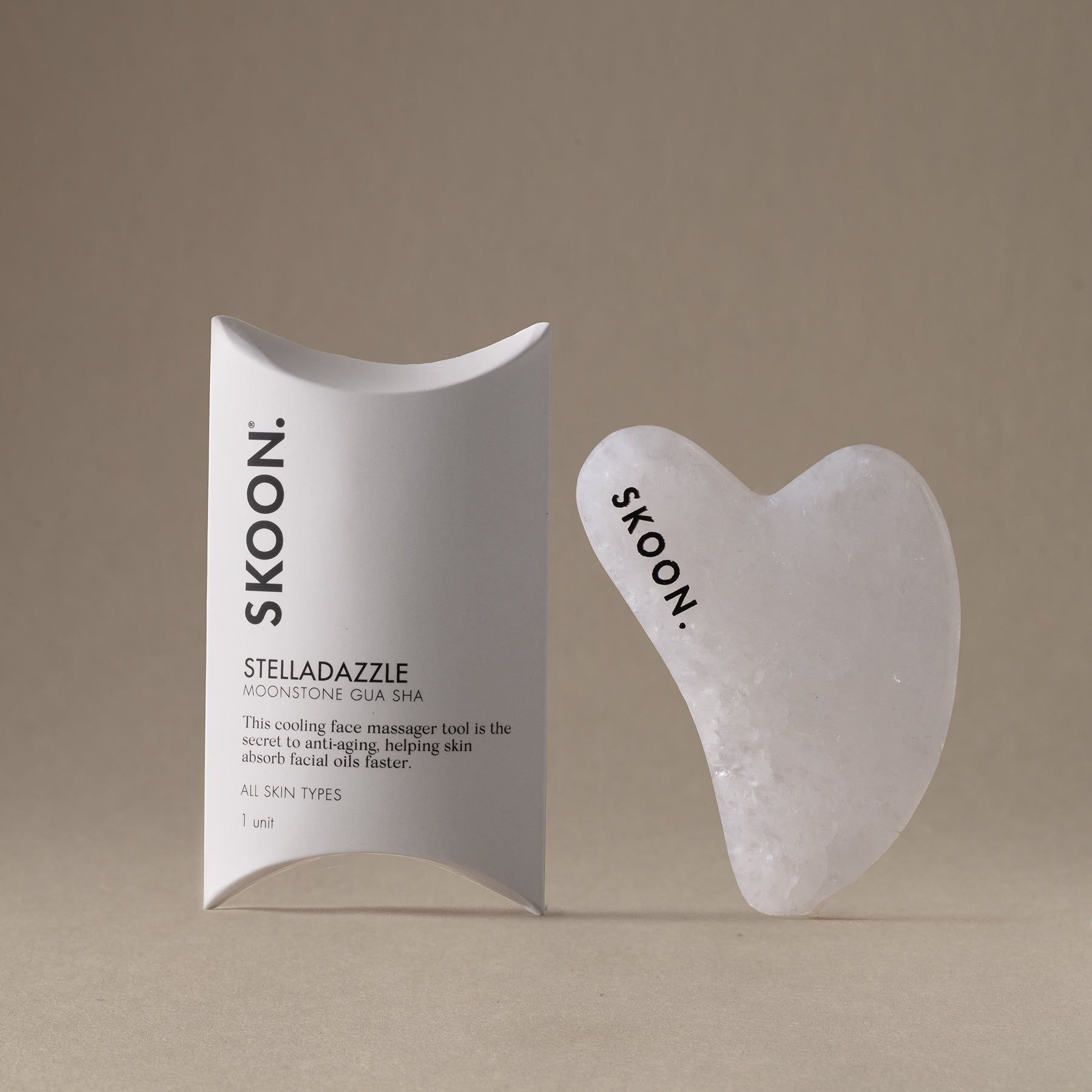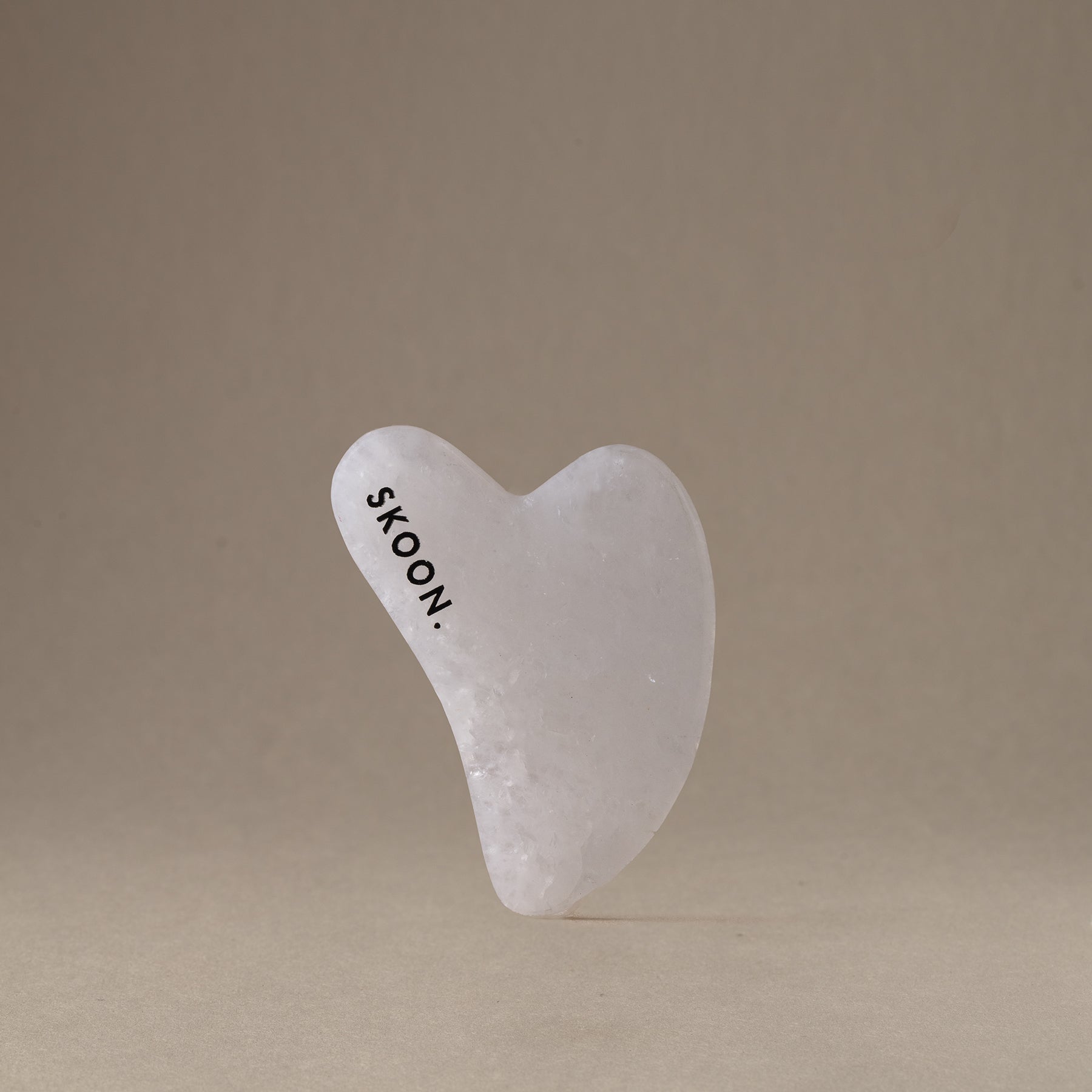 STELLADAZZLE Moonstone Gua Sha
Translation missing: en.products.product.price.regular_price
R249.95
Translation missing: en.products.product.price.sale_price
R249.95
Translation missing: en.products.product.price.regular_price
R249.95
Tax included.
Reveal Your Radiance with SKOON. STELLADAZZLE Moonstone Gua Sha: The Gateway to Transformed Skin
Unleash the magic of SKOON. STELLADAZZLE Moonstone Gua Sha, a gemstone facial tool that will elevate your skincare routine to new heights. Crafted from natural Moonstone, this exquisite Gua Sha offers a pampering experience like no other, unlocking the secret to your best skin yet.
Experience the Beauty of Moonstone:
Indulge in the luxurious allure of Moonstone, as this captivating gemstone glides effortlessly across your skin, providing a comfortable grip and a soothing touch. Its natural properties work in harmony with your facial oils or serums, enhancing their absorption and boosting their effectiveness.
Radiant Results:
Prepare to witness a transformation like never before. With each Gua Sha massage, your skin will experience improved firmness, enhanced elasticity, and blissful tension relief. Feel the stress melt away as this magical tool boosts circulation, reduces inflammation, and brings forth a radiant, youthful glow.  
Are you ready to embrace the magic of Moonstone Gua Sha? Experience the wondrous benefits of this transformative facial tool and elevate your skincare to new dimensions. Unveil your radiant skin and empower yourself with the beauty of Moonstone—your key to transformed beauty.
🎨 Fun Fact: Say hello to our enchanting Moonstone Gua Sha! 🌙✨ This magical gemstone tool isn't just about beauty; it's steeped in centuries of ancient skincare wisdom. Gua Sha, derived from Chinese tradition, promotes relaxation, improved circulation, and a radiant complexion. Let the Moonstone's soothing energy work its charm as you glide it gracefully across your skin. Embrace the mystical world of self-care with our Moonstone Gua Sha and let your skin and spirit glow! 🌟🌌
Buy STELLADAZZLE MOONSTONE GUA SHA online from SKOON. today!
Start with a cleansed face. Use the Gua Sha 1 - 2 times a week after applying a SKOON. concentrate or serum. Start gliding the Gua Sha from the centre of the face (applying pressure) towards the ears. The flatter end of the tool is suitable for the cheek and forehead area whereas the opposite end is more suitable for the chin area. The skin may appear slightly redder after 5 minutes. This is a good sign as it is an indication of circulation. Cleanse skin to remove any excess oil or product. Apply a moisturiser or any additional skincare products as desired.

For best results, store in the fridge or freezer for a refreshing experience!
Natural Moonstone Gemstone
Benefits of Gua Sha
If you are worried about wrinkles and sagging skin, then your concern is elasticity. A Gua Sha can help you achieve a more youthful, glowing complexion by enhancing the absorption of concentrates and serums, boosting circulation, promoting blood flow and reducing inflammation.
Gua Sha Benefits
Brightens complexion 
Fights cystic pimples 
Decreases dark circles 
Diminishes scars 
Lymphatic drainage 
Softens wrinkles and fine lines 
Reduces puffiness 
Contours and Sculpts
Helps skin absorb

concentrates and serums
What is dull skin?
Dull skin is when your skin looks tired and lacks a healthy glow. It can be caused by factors such as the buildup of dead skin cells and poor circulation. 
You can combat this by using a Gua Sha tool to improve blood circulation and detoxify the skin.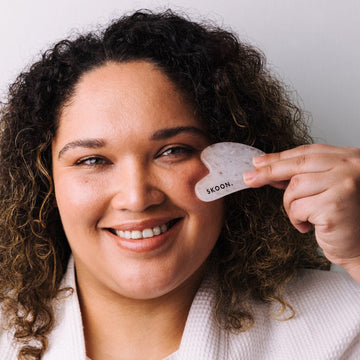 How to use a Gua Sha tool
AM/PM Routine
Prepare your skin: Start with clean and moisturised skin. Apply a SKOON. concentrate to provide lubrication and prevent friction during the Gua Sha session.
Apply gentle pressure: Hold the Gua Sha facial tool at a slight angle and apply gentle pressure to your skin. Begin with light pressure and gradually increase it if desired. The pressure should be firm enough to engage the skin but not so intense that it causes discomfort or pain.
Follow a specific pattern:

Start at the centre of your forehead and gently scrape in upward motions towards the hairline. Repeat this motion across the entire forehead.

Move to the eyebrows and scrape gently from the inner corner to the outer corner.

Next, move to the cheeks and scrape from the nose outward along the cheekbones.

For the jawline, start at the chin and scrape along the jawline towards the ears.
Finally, focus on the neck area and scrape from the centre of the neck upward towards the jawline.
Repeat the motions: Repeat each motion or pattern several times, around 3-5 times, on each area of the face. Maintain a gentle and fluid motion throughout the process.

Take care of your skin afterward: After the Gua Sha session, gently cleanse your skin to remove any excess oil or product. Apply a moisturiser or any additional skincare products as desired.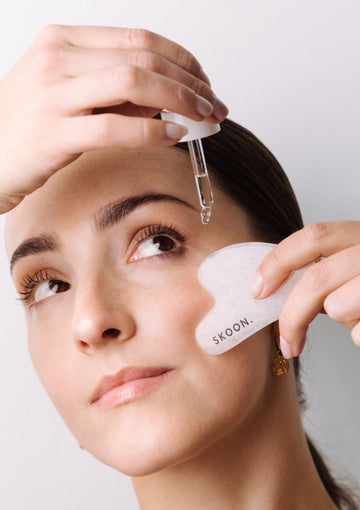 SkinConcentrates & Skin Concerns
Explore our picks for elasticity and skin-firming. Packed with star components that assist in maintaining a plump and firm complexion.
Learn how to incorporate these into your everyday skincare regimen.
SUGABABE Moisture Matrix Face Concentrate
KALAHARI MELON + WHOA-TOX!
AM or PM
A natural, rich and nourishing oil-based concentrate, with Kalahari Melon, Squalane, and WHOA-TOX!. Repairs skin barrier to calm skin and lock in moisture for optimal health and hydration. FRAGRANCE FREE & dermatologically tested.
GLOWDROPS Bouncy skin face concentrate
BAOBAB OIL + WHOA-TOX!
AM or PM
Rich cream made with super-antioxidants, Rooibos + Honeybush to repair collagen. White Willow Bark increases cell turnover to stimulate new collagen. Clinically proven to reduce the appearance of wrinkles, and dermatologically endorsed.
ROSEGOLD Deep Tissue Face Concentrate
LESOTHO ROSEHIP + WHOA-TOX!
AM or PM
Target all UV-AGEING concerns including criss-cross wrinkles, pigmentation, sagging and leathery skin texture, with ROSEGOLD + WHOA-TOX!. Clinically proven to reduce the appearance of wrinkles, and dermatologically endorsed.
Purchase STELLADAZZLE MOONSTONE GUA SHA today!
Try the STELLADAZZLE Moonstone Gua Sha - a facial tool inspired by ancient Chinese beauty routines. 
A Gua Sha stone can improve firmness and elasticity while relieving tension in the face, and it also aids in absorption and pairs perfectly with your facial oils or serums.
Achieve a more youthful and glowing complexion with the Gua Sha tool, crafted from natural gemstone and shaped for a comfortable grip. 
Buy STELLADAZZLE MOONSTONE GUA SHA online from SKOON. today!