SUGABABE Moisture Matrix Face Concentrate
Translation missing: en.products.product.price.regular_price
R999.95
Translation missing: en.products.product.price.sale_price
R999.95
Translation missing: en.products.product.price.regular_price
R1,199.90
Tax included.
Introducing SKOON. SUGABABE Moisture Matrix Face Concentrate with WHOA-TOX!: Embrace the Magic of Youthful, Hydrated Skin
We've elevated your beloved Squalane with the hottest new star – ACMELLA OLERACEA (natural 'Botox') – or also known as WHOA-TOX! Brace yourself for a mesmerising journey as you explore the multitasking pro-collagen marvel that unfolds a natural Botox-like effect upon your skin.
Meet SKOON. SUGABABE Moisture Matrix Face Concentrate – Enriched with Soothing Kalahari Melon, Sugar Cane Squalane, and the Marvel of Acmella. This exquisite blend creates an effective moisture lock, caressing even the most sensitive skin with gentle care. 
What's Inside the Magic:
💧 ACMELLA OLERACEA (WHOA-TOX!): Prepare for a delightful surprise as your skin experiences a natural Botox-like transformation. ACMELLA works its wonders, leaving your skin looking and feeling rejuvenated, lifted, and oh-so-smooth.
💧 Soothing Kalahari Melon: Immerse your skin in soothing luxury with the essence of Kalahari Melon. Experience a comforting touch that revitalises and nurtures your skin's well-being.
💧 Sugar Cane Squalane: Unlock the secrets of exquisite hydration as Sugar Cane Squalane ensures your skin remains plump, supple, and gorgeously moisturized.
Ignite your skin's radiance with this remarkable elixir. Elevate your senses and immerse yourself in the enchantment of nature's finest, as you embark on a journey to discover your skin's true magic.
🎨 Fun Fact: Meet the superstar of skincare - acmella oleracea! Don't be fooled by its name; this botanical wonder is no ordinary plant! Commonly known as 'nature's Botox,' acmella oleracea has a magical ability to smooth and relax your skin, just like a spa treatment without the needle fuss. Get ready to embrace the natural age-defying power of this botanical gem and say hello to a complexion that's as radiant as it is youthful. It's time to let acmella oleracea work its wonders and put a smile on your face!" 😄🌸
Eco-friendly Packaging
Step into the world of sustainable skincare with our exciting new product range, now offering three convenient sizes: 5ml, 15ml, and 30ml, complete with an extra 15ml refill! Embrace the magic of our first-ever sustainable packaging, featuring refillable glass containers that not only offer practicality but also contribute to a greener planet. Elevate your skincare routine while being a part of our mission to create a cleaner, eco-friendly world. Discover the power of sustainability and double the goodness today! 🌱🌍🌿
◦ Intense Hydration
◦ Smoothing and Firming with nature's 'Botox' 
◦ Improved Elasticity with nature's 'Botox'
◦ Reduces Fine Lines and Wrinkles with nature's 'Botox'
◦ Boosts Radiance
◦ Non-Comedogenic
◦ Enhances Skin Barrier
◦ Fast Absorption
◦ Natural & oil-based
◦ 100% Fragrance-free
Buy SKOON. SUGABABE Moisture Matrix Face Concentrate online today!
AM I PM: For sensitive skin, apply SUGABABE Sensitive face therapy concentrate directly onto clean skin to
form a protective barrier before applying cream. Alternatively, add 1-2 drops of concentrate to your cream to help effectively lock in moisture and water-based actives.
Squalane, Citrullus Vulgaris (Kalahari Melon) Seed Oil, Caprylic/Capric Triglyceride, Tocopherol, Helianthus Anuus (Sunflower) Seed Oil, Acmella Oleracea Extract
What is SENSITIVITIES skin concern all about?
Burning, stinging, itching, red + flaky skin.
If you're concerned about burning, stinging, itching, red and flaky skin, then your skin concern is SENSITIVITIES.
Sensitive skin is defined as skin that is highly reactive to treatments and environmental factors. Interestingly, at least 40% of us consider ourselves to be in this category.
In addition to being more reactive, sensitive skin can also have skin barrier function defects which expose nerve endings to nerve irritants.
A quick example of an impaired skin barrier: If you eat an orange and have chapped lips, it stings. The acidic orange juice penetrates right through your protective skin barrier and hits a nerve ending, causing the stinging, burning feeling.
Burning, stinging and itching therefore go hand-in-hand with sensitive skin.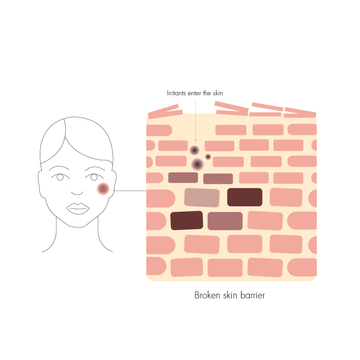 Hypersensitive allergic reaction vs sensitive skin
A hypersensitive allergic reaction is something different and is often confused with having sensitive skin. A hypersensitive allergic reaction is the body's immune system rejecting a particular substance (food, airborne substances or topical cosmetic ingredient). 
The skin is triggered to immediately respond to allergens by reddening (often a fine red rash), swelling, hives and so on. So hypersensitivity is not linked to an impaired skin barrier as in the case of sensitive skin.
If SENSITIVITIES is one of your key concerns, it's important to choose a soothing routine to calm redness and repair the skin's barrier with a 3-step SENSITIVITIES approach: prevent & protect, repair + be proactive.
SUGABABE Moisture matrix face concentrate
SUGABABE Moisture matrix face concentrate is a natural, rich and nourishing oil-based concentrate. 
African wonder oil, Kalahari Melon Seed is blended with a skin-mimicking emollient, Squalane (from sugar) and enriched with an electrifying new active ingredient called WHOA-TOX! from the Electric Daisy plant. WHOA-TOX! is rich in spilanthols and alkylamides and exhibits a natural botox effect when applied to skin. 
Kalahari Melon Seed Oil, from the dry plains of the Kalahari desert, combined with Squalane repairs the skin's barrier to calm skin and lock in moisture for optimal skin health and hydration.
Prevent I Trans Epidermal Water Loss (TEWL) - Kalahari Melon Seed Oil
Repair I Lipid Skin Barrier - Sugar Squalane
Pro-active I Stimulate Collagen - WHOA-TOX!
Pro-active I Stimulate Elastin - WHOA-TOX!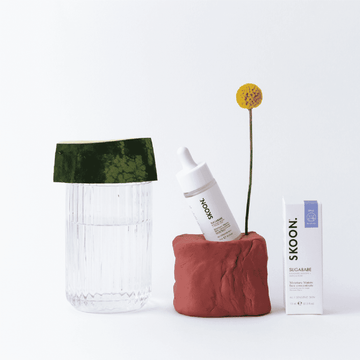 SENSITIVITIES skin concern daily AM + PM routine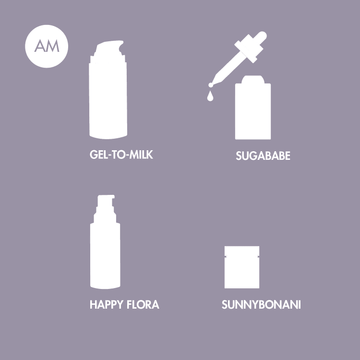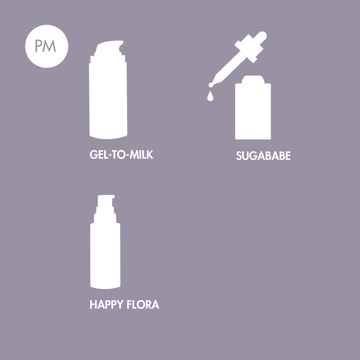 Daily SENSITIVITIES skin concern essentials
Here are some of our skin soothing favourites! Bursting with hero ingredients that help soothe and calm sensitive and irritated skin. Find out how to use them in your daily skincare routine.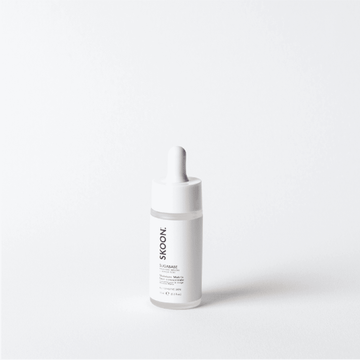 GEL-TO-MILK Cleanser + makeup remover
MARULA + VITAMIN E
AM or PM
Creamy, soap-free cleanser removes dirt, pollution and makeup gently and effectively without damaging the skin's barrier.
SUGABABE Moisture matrix face concentrate
KALAHARI MELON + WHOA-TOX!
AM or PM

Soothing Kalahari Melon, Squalane and WHOA-TOX! nourishes skin barrier and cares for very sensitive skin. FRAGRANCE FREE

HAPPY FLORA Microbiome face cream
BAOBAB + YOGHURT
AM or PM
Creamy, microbiome-friendly cream with Baobab, Swiss Yoghurt and Prebiotics improves the skin barrier for optimal hydration.
ELASTICITY All-in-one beauty smoothie
MARINE COLLAGEN + VITAMIN A + VITAMIN C
AM or PM
Pro-collagen ELASTICITY beauty supplement containing 44 building blocks for new collagen including Type I Hydrolysed Marine Collagen, MSM, Vitamin C, Baobab, 10+ antioxidants, minerals, vitamins, 2 billion/CFU probiotics + 5 types of digestive enzymes.
SUNNYBONANI Day defense sun cream SPF 20
ROOIBOS + ZINC
AM
Lightweight mineral sun cream protects collagen with mineral UV filters: Zinc + Titanium Dioxide. Repairs existing collagen with super-antioxidants, Rooibos + β-carotene.
RUBY MARINE Overnight hydrating mask
MARULA + WAKAME
AM or PM
Unique, Vanilla butter mask softens and plumps skin overnight. Use AM + PM for intense barrier repair and optimal moisture matrix.
Shop SUGABABE Moisture matrix face concentrate for calm skin
Try our SUGABABE Moisture Matrix Face Concentrate to calm and soothe sensitive skin with the hottest, new active ingredient trending in skincare - WHOA-TOX! - a pro-collagen active that exhibits natural botox effects when applied to skin. SUGABABE targets SENSITIVE skin concerns such as redness, irritation and itchiness. Naturally, SUGABABE is fragrance free, as it should be.