Translation missing: en.products.product.price.regular_price
R1,487.88
Translation missing: en.products.product.price.sale_price
R1,487.88
Translation missing: en.products.product.price.regular_price
R1,859.85
Translation missing: en.products.product.price.unit_price
Tax included.
Introducing the Winning Combo: SKOON Trifecta Trio - Your Ticket to Healthy, Happy Skin Day and Night!
Embrace the Magic of Vitamin C, Vitamin B3, and Vitamin A - Your Ultimate Team for Radiant, Youthful Skin!
Morning Magic - Vitamin C:
Start your day with the powerful protection of Vitamin C. This skin-friendly vitamin shields collagen, keeping it strong and resilient against environmental stressors. Watch as your complexion brightens and glows with the enchantment of Vitamin C.
Night-time Renovation - Vitamin B3 + Vitamin A:
As you slip into a restful slumber, let the ultimate team of Vitamin B3 and Vitamin A work their night-time magic. Vitamin B3 renovates and revitalises your skin, while Vitamin A builds collagen and supports youthful elasticity. Wake up to a rejuvenated, firm complexion that defies the test of time.  
Unlock the Magic: SKOON. SKIN PJ's Activator Face Mist - The Perfect Companion for SKOON. PIXIE DUST (Vitamin B3)!
⭐ SKOON. SKIN PJ's Activator Face Mist: Elevate your hydration game with a mist that's in a league of its own. Infused with a unique blend of A-beauty extracts – Buchu, Bulbine Frutescens, Chamomile, and African Ginger – this mist is the secret to unlocking the perfect activation of water-based actives. Skin-comforting Hemp extract and Magnesium add an extra layer of indulgence to this experience.
Bet on the Best:
Say hello to the winning combo - SKOON Trifecta Trio. Elevate your skincare game and embrace the magic of healthy, happy skin day and night. It's time to let your skin shine with the power of this enchanting trio! 
Vitamin C = SKOON. WOW-WOW WONDER
Vitamin B3 (Niacinamide) = SKOON. PIXIE DUST
Vitamin A (RetinAL with an "A") = SKOON. RETININ 
1. Benefits of Vitamin C - Collagen Protector:
Powerful antioxidant and free radical scavenger - protects collagen.
Melanin suppressant - helps to reduce hyperpigmentation.
Reduces the appearance of breakouts & blemishes
2. Benefits of Vitamin B3 (Niacinamide)  - Collagen Renovator:
Powerful antioxidant, increases the antioxidant capacity of the skin
Helps to detoxify skin pollutants including blue light from screen time
Strengthens the skin's natural barrier, helps to improve skin hydration, and reduces sensitivity
Helps regulate sebum production, which can lead to a reduction in excess oil and shine on the skin's surface
Helps to fade hyperpigmentation and promote a more even complexion
3. Benefits of Vitamin A (RetinAL with an "A") - Collagen Builder:
Pro-collagen & anti-ageing
Powerful keratolytic helps to stimulate cell turnover
Promotes new and organised bundles of collagen
Improves hyperpigmentation by removing stained skin cells
Helps to calm breakouts and blemishes
🎨 Fun Fact: Think of vitamins A, B, and C as your skin's very own superhero squad - each with its unique superpowers! 💪🌟 Vitamin A swoops in to fight fine lines and wrinkles, promoting a youthful, smooth complexion. Vitamin B comes to the rescue, enhancing your skin's moisture retention and helping to keep it soft and supple. And don't forget Vitamin C - the ultimate brightening and antioxidant expert, defending your skin against free radicals and revealing a radiant, glowing complexion! Together, they form an unbeatable trio, ready to bring out the best in your skin and make you feel like a true skincare superhero! 🦸‍♀️🌟
RETININ NOTICE: Not recommended if you are pregnant/breastfeeding or under the age of 16 years.
Buy SKOON. The TRIFECTA Trio online today!
AM: Smooth a few drops of Wow wow wonder serum onto clean, damp skin. Misting skin after applying the serum will enhance actives. Following with your daily moisturiser + spf.

PM: Smooth 1-2 drops of Nightlove, anti- pollution overnight serum onto clean skin. Follow with a dollop of moisturiser or 1-2 drops oil-based concentrate or balm to lock water- based actives and moisture in.

PM: Smooth a dollop for Retinin onto skin after Nightlove, at night only. Broad spectrum SPF is recommended for day use when vitamin A is topically applied at night.
Retinin: Aqua (Water), Glycerin*, Butyrospermum Parkii (Shea Butter)*, Cocos Nucifera (Coconut) Oil*, Salix Alba (White Willow) Bark Extract, Octyldodecanol, Lactobacillus Ferment, Helianthus Anuus (Sunflower) Seed Oil Unsaponifiables, Behenyl Alcohol, Glyceryl Stearate, Cyclodextrin, Sclerocarya Birrea (Marula) Seed Oil, Lecithin, Sodium Levulinate, Lupinus Albus Seed oil, Sodium Anisate, Ethylhexylglycerine, Tocopherol, Lysolecithin, Sclerotium Gum, Lactic Acid, Glyceryl Caprylate, Ethanol, Triticum Vulgare (Wheat) Germ Oil Unsaponifiables, Echium Plantagineum Seed Oil, Dextran, Sodium Phytate, Trifluoroacetyl Tripeptide-2, Isomalt, Rubus Chamaemorus (Cloudberry) Seed Oil, Helianthus Anuus (Sunflower) Seed Oil, Pullulan, Xanthan Gum, Glycine Soja (Soybean) Sterols, Ceramide NP, Fulvic Acid, Pentylene Glycol, Punica Granatum Sterols , Retinal, Sodium Hyaluronate, Pistachia Lentiscus (Mastic) Gum, Biosaccharide Gum-1, Cardiospermum Halicacabum Flower/Leaf/Vine Extract, Sodium Benzoate, Hexanoyl Dipeptide-3 Norleucine Acetate.

PIXIE DUST: Sodium Hyaluronate, Pullulan, Niacinamide, Squalane, Linoleic Acid, Glyceryl Stearate, Sucrose, Betaine, Myrothamnus flabellifolius (Resurrection plant) Extract, Hydrolyzed Rhodophyceae Extract, Lecithin, Magnesium Carboxymethyl beta-glucan, Azelaic Acid, Glycine Soja (Soybean) Sterols, Linolenic Acid, Haematococcus Pluvialis Extract, Olea Europaea (Olive) Fruit Oil, Tocopherol, Glycine Max (soybean) Oil.

Wow-wow wonder: Aqua (Water), Pentylene Glycol, Sodium Ascorbyl Phosphate, Salix Alba (White Willow) Bark Extract, Sodium Hyaluronate, Ethanol, Phytic Acid, Ethylhexylglycerin, Agathosma Betulina (Buchu) Leaf Extract, Magnesium Carboxymethyl Beta-Glucan, Sodium Phytate, Polyepsilon-lysine, Citric Acid.



Boosting collagen
TRIFECTA
Wow-Wow Wonder Hydrating Serum + Nitelove Anti-pollution Overnight Cream + Retinin Resurfacing Cream

Powered by Vit C + Vit B3 + Vit A
THE TRIFECTA reduces signs of ageing + fights skin pollution.

Vitamin C – collagen protector.
WOW-WOW WONDER, in addition to its other phenomenal ingredients, contains 3% Vitamin C. This brilliant multitasking vitamin acts as a potent antioxidant to protect existing collagen by neutralising free radicals. Use WOW-WOW in the morning for a daytime collagen protection and brightening boost.

Vitamin B3 – collagen renovator.
PIXIE DUST Barrier repair nanopillow face serum, infused with 17% Vitamin B3 (aka Niacinamide) helps repair collagen by increasing the antioxidant capacity of the skin. Hyaluronic acid, a co-factor ingredient in PIXIE DUST, plumps skin AM or PM with a boost of moisture.

Vitamin A - collagen factory

RETININ - at night, the pro-collagen vitamin, Vitamin A (Retinal with an "a") regenerates and resurfaces your skin, speeding up cell turnover and stimulating growth of new bundles of collagen.

Just remember. Good morning, C! Good night, A + B3!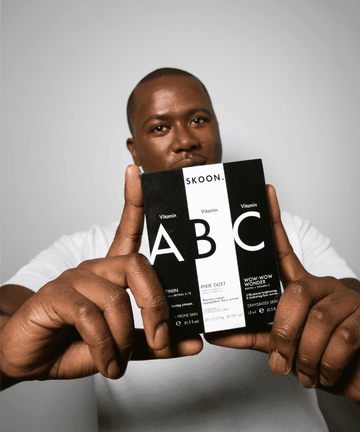 Your Collagen Timeline.