ElastiFirm Marine Collagen+ PowerBlend
Translation missing: en.products.product.price.regular_price
R999.95
Translation missing: en.products.product.price.sale_price
R999.95
Translation missing: en.products.product.price.regular_price
R999.95
Tax included.
ELASTICITY All-in-One Marine Collagen+ PowerBlend for firm skin
Introducing SKOON. ELASTICITY All-in-One Marine Collagen+ PowerBlend – your pathway to achieving firm, resilient skin from the inside out. Immerse yourself in a skincare revelation with these portable sachets brimming with 44 transformative skincredible ingredients. Whether you're seizing the day or winding down, these pro-collagen wonders are your gateway to unlocking a more youthful complexion.
Experience the prowess of 44 pro-collagen ingredients, meticulously orchestrated into 5 ultimate skin stacks:
Stack 1 – Collagen Builder: Pioneering Blocks for New Collagen
Embark on a journey to renewed elasticity. Our pioneering blend is designed to activate the building blocks for fresh collagen, empowering your skin with the tools it needs to maintain its youthful suppleness.
Stack 2 – Antioxidants: Safeguarding Existing Collagen
Preserve the beauty of your existing collagen. With a symphony of antioxidants, our formulation shields your skin's structural integrity, warding off the signs of ageing and promoting a radiant, firm complexion.
Stack 3 – Vitamins & Minerals: Nurturing Skin Health
Enrich your skin's vitality and health. Our thoughtfully curated blend of vitamins and minerals works harmoniously to proactively enhance your skin's well-being, leaving you with a luminous, nourished appearance.
Stack 4 – Probiotics: Cultivating the Good Gut - Good Skin Axis
Unleash the power of a balanced gut-skin connection. Our formula includes probiotics that actively contribute to cultivating a harmonious inside-out approach for vibrant, youthful skin.
Stack 5 – Digestive Enzymes: Maximising the Potency of Stacks 1 - 4
Amplify the impact of our meticulously crafted stacks. Our innovative digestive enzyme blend ensures optimal absorption and utilization of the potent ingredients in stacks 1 - 4, providing your skin with the ultimate nourishment it craves.
Not only are these sachets a revitalising treat, boasting low calories (below 15), but they also come in delightful mango + raspberry flavours. Embrace the pleasure of elevating your skincare journey with SKOON. ELASTICITY All-in-One Marine Collagen+ PowerBlend. Unveil the magic of collagen-rich nourishment that transcends the surface, empowering your skin to radiate youthful firmness.
NO GLUTEN

NO SOY

NO ADDED DAIRY

NO GMO

PESCATARIAN FRIENDLY

NATURAL SWEETENER

NATURAL FLAVOURS

HALAAL CERTIFIED

ON-THE-GO
 Want to taste before you buy? You will find ELASTICITY PowerBlend samples in the ELASTICITY Trial Kit, ENVIRONMENTAL POLLUTION Trial Kit, UV-AGEING Trial Kit or SENSITIVITIES Trial Kit.
🎨 Fun Fact: Dive into the world of skincare magic with our Marine Collagen+! 🌊✨ It's like a mermaid's secret to ageless beauty - hailing from the depths of the ocean, this powerful collagen source brings you the wonders of the sea. Picture your skin getting a mermaid-inspired boost, as Marine Collagen+ works its magic to promote a plump, firm complexion. So, channel your inner mermaid and let the enchantment of Marine Collagen+ unveil your skin's true beauty - it's a skincare adventure you won't want to miss! 🧜‍♀️🌊
ELASTICITY PowerBlend NOTICE: Please consult first with your physician, especially if you have a medical condition and, or are using medication, before using this product. Not recommended if you are pregnant/breastfeeding or under the age of 16 years.
Buy SKOON. ELASTICITY All-in-One Marine Collagen+ PowerBlend online today!
ELASTICITY AM + PM Routine
DAILY AM or PM: ELASTICITY Smoothie: Stir 1 sachet of the ELASTICITY Smoothie into 100 - 200 ml of water or juice or add
to your favourite fruit smoothie. Optional: add some crushed ice.
Type 1 Hydrolyzed Marine Collagen Peptide (Fish) (2.14 g), Baobab Fruit Powder, Methylsulfonylmethane (MSM), Orafti® Inulin, SKOON. Vitamin and Mineral Blend [Magnesium Citrate, Ascorbic Acid (Vitamin C), Choline Bitartrate, Potassium Chloride, Iodine Amino Acid Chelate, Zinc Bisglycinate Chelate, Selenium Amino Acid Chelate, Nicotinamide, Vitamin E Acetate, Vitamin B5 Pantothenic Acid, Copper Amino Acid Chelate, Vitamin B6 Pyridoxine HCL, Vitamin B1 Thiamine, Vitamin B2 Riboflavin, Vitamin A Acetate, Vitamin B9 Folic Acid, Vitamin K2 (Menaquinone-7), Vitamin B7 Biotin, Vitamin D3, Vitamin B12 Cyanocobalamin], SKOON. Gut and Skin Targeted Probiotic Blend [Lactobacillus Acidophilus, Saccharomyces Boulardii, Bacillus Coagulans, Bifidobacterium Bifidum] (2 billion CFU/ per serving), Silica, SKOON. Antioxidant Blend [Indian kino tree Extract (Pterostilbene), Turmeric Extract, Green Rooibos Extract, Honeybush Extract, Japanese Pagoda Tree Extract (Quercetin), Resveratrol, Coenzyme Q10, Astaxanthin], Acetyl-L-carnitine, Red Beetroot, Pink Himalayan Salt, Shilajit Extract (Fulvic Acid), Citric Acid, Tartaric Acid, Malic Acid, Non-nutritive Sweetener (Steviol Extract), L-Glutamine, Di-indolyl Methane (DIM), Mango Flavour, Raspberry Flavour, SKOON. Digestive Enzyme Blend [Amylases, Proteases, Lipases, Lactases and Cellulases], L-Glutathione.

ALLERGENS: FISH, IODINE.

What is an ELASTICITY skin concern all about?
Wrinkles + Sagging skin
If you're concerned about wrinkles and sagging skin, then your skin concern is ELASTICITY.
There are two types of wrinkles: Expression lines caused by repetitive facial movement and solar rhytides - the fancy name for criss-cross wrinkles caused by sun exposure.
Collagen and elastin are 'youth molecules' that keep your skin plump, firm and flexible. As you age, you lose some of this natural magic.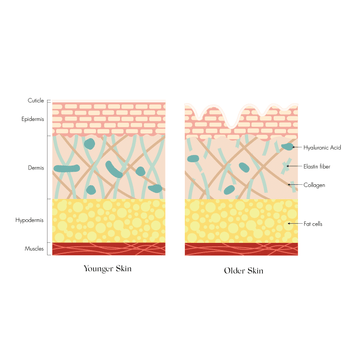 Collagen and elastin deplete over time due to:
Ageing
The simple process of growing older.
Too much fun in the sun
Years of cumulative UV-exposure damages collagen and elastin fibres, resulting in leathery, coarse skin and criss-cross wrinkles.
Your genes
Sometimes we inherit gene variants that make our skin break down existing collagen faster + also produce less new collagen. (Are you curious to know which skin genes you have?) 
If ELASTICITY is one of your key concerns, it's important to look after your collagen and elastin. Choose a pro-collagen routine to protect existing collagen and boost new collagen production for firmer, healthier skin with a 3-step ELASTICITY approach: prevent & protect, repair + be proactive.
ELASTICITY All-in-One Beauty Smoothie
Treat skin wrinkles + sagging from the inside by drinking 44 pro-collagen actives to improve skin firmness and texture from within. 
Here's how: Collagen is produced in cells called fibroblasts. The good news? Fibroblasts can be stimulated to produce more collagen by drinking hydrolised collagen peptides. 
The process of making new collagen is not an 'island' in your body. You need Vitamin C and MSM as co-factors to effectively produce collagen. Plus, like any 'factory process', manufacturing new collagen produces by-products. These unwanted by-products are called free radicals. Antioxidants are needed to neutralise free radicals. 
Simply put, ELASTICITY All-in-One Beauty Smoothie contains 44 skincredible actives including Type I Hydrolised Marine Collagen, Vitamin C, MSM and a potent stack of 10+ antioxidants, vitamins, minerals + probiotics (2 billion CFU per sachet) to support firm, bouncy skin. 
A daily beauty one-stop essential!
Hero ingredients
Protect I Collagen - Q10 + Vitamin A + Vitamin C
Pro-active I Stimulate Collagen - Marine Collagen + Vitamin C + MSM + Baobab
Pro-active I Good Gut-Good Skin Axis - 2 Billion CFU probiotics
Pro-active I Healthy Skin - A-Z Vitamin & Minerals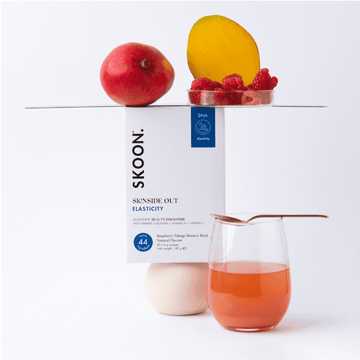 ELASTICITY Skin Concern Daily AM + PM Routine
Here are some of our skin firming favourites! Bursting with hero ingredients that help you keep skin plump + firm. Find out how to use them in your daily skincare routine.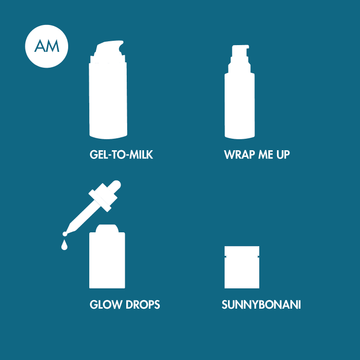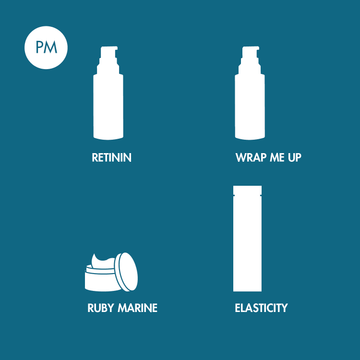 Daily ELASTICITY Skin Concern Essentials
Here are some of our acne-fighting favourites! Bursting with hero ingredients that help you control and prevent breakouts.
Find out how to use them in your daily skincare routine. 
ELASTICITY All-in-One Beauty Smoothie
MARINE COLLAGEN + VITAMIN A + VITAMIN C
AM or PM
Pro-collagen ELASTICITY All-in-One Beauty Smoothie contains 44 building blocks for new collagen including Type I Hydrolysed Marine Collagen, MSM, Vitamin C, Baobab, 10+ antioxidants, minerals, vitamins, 2 billion CFU per sachet, probiotics + 5 types of digestive enzymes
GLOWDROPS Dewy look face concentrate
BAOBAB + WHOA-TOX!
AM or PM
Sublime blend of 100% natural oils infused with WHOA-TOX! Acts as a pro-collagen concentrate by stimulating new collagen and elastin.
ROOIBOS + β-GLUCAN
AM or PM
Rich cream made with super-antioxidants, Rooibos + Honeybush to repair collagen. White Willow Bark increases cell turnover to stimulate new collagen.
RUBY MARINE Overnight hydrating mask
MARULA + WAKAME
AM or PM
Unique, vanilla butter mask softens and plumps skin overnight. Use AM + PM for intense barrier repair and optimal moisture matrix.
SUNNYBONANI Day defense sun cream SPF 20
ROOIBOS + ZINC
AM
Lightweight mineral sun cream protects collagen with mineral UV filters: Zinc + Titanium Dioxide. Repairs existing collagen with super-antioxidants, Rooibos + β-carotene.
RETININ Retinal 0.1% Face cream
MARULA + RETINAL 0.1%
PM
Resurfacing treatment cream with Vitamin A stimulates new collagen bundles and improves skin elasticity.
BUY ELASTICITY All-in-One Beauty Smoothie
Try our ELASTICITY All-in-One Beauty Smoothie, with 44 pro-collagen actives including marine collagen, 10+ antioxidants, vitamins, minerals + probiotics (2 billion CFU per sachet) to help keep skin plump and firm.