RadianceRenew Marine Collagen+ PowerBlend
Translation missing: en.products.product.price.regular_price
R999.95
Translation missing: en.products.product.price.sale_price
R999.95
Translation missing: en.products.product.price.regular_price
R999.95
Tax included.
HYPERPIGMENTATION All-in-One Marine Collagen+ PowerBlend for even skin 
Introducing SKOON. HYPERPIGMENTATION All-in-One Marine Collagen+ PowerBlend – your gateway to achieving a luminous, even skin tone from within. Immerse yourself in a world of radiant transformation with these potent pro-collagen sachets, enriched with 44 illuminating actives. Whether you're on the move or winding down, these treasures of brightness are your passport to unveiling a complexion that exudes flawless radiance.
Experience the brilliance of 44 brightening actives, meticulously woven into 5 ultimate skin stacks:
Stack 1 - Antioxidants: Masters of Melanin Inhibition
Erase the traces of unevenness. Our powerful blend of antioxidants takes centre stage, working diligently to inhibit the overproduction of melanin and restore your skin's natural luminosity.
Stack 2 - Collagen Builder: Forging Pathways to New Collagen
Elevate your skin's vitality and resilience. Our dynamic collagen-building formulation ignites the creation of new collagen, empowering your skin to maintain its firmness and brilliance.
Stack 3 - Vitamins & Minerals: Cultivating Vibrant Skin Health
Nurture your skin's well-being from within. Our thoughtfully curated mix of vitamins and minerals synergise to foster a foundation of vibrant, healthy skin, allowing your inner radiance to shine through.
Stack 4 - Probiotics: Fostering the Good Gut-Skin Axis
Unleash the potential of harmonious balance. Our formula, enriched with probiotics, nurtures the symbiotic relationship between your gut and skin, providing a holistic approach to achieving even, glowing skin.
Stack 5 - Digestive Enzymes: Amplifying Nutrient Uptake
Optimize the potential of every active ingredient. Our innovative blend of digestive enzymes ensures that your body maximizes the absorption and utilisation of the potent ingredients in stacks 1 - 4, paving the way for transformative nourishment.
Beyond their transformative benefits, these sachets offer a guilt-free indulgence, boasting super-low calories (below 15). With a delightful fusion of mango + orange flavours, every sip is a journey to brighter, even-toned skin.
Elevate your skincare regimen to a realm of radiance with SKOON. HYPERPIGMENTATION All-in-One Marine Collagen+ PowerBlend. Embrace the illuminating wonder that transforms your skin from within, granting you the confidence to flaunt a complexion that's nothing short of luminous. Your voyage to radiant, even skin begins here. 
NO GLUTEN

NO SOY

NO ADDED DAIRY

NO GMO

PESCATARIAN FRIENDLY

NATURAL SWEETENER

NATURAL FLAVOURS

HALAAL CERTIFIED

ON-THE-GO
Want to taste before you buy? You will find HYPERPIGMENTATION PowerBlend samples in the HYPERPIGMENTATION Trial kit.
🎨 Fun Fact: Dive into the world of skincare magic with our Marine Collagen+! 🌊✨ It's like a mermaid's secret to ageless beauty - hailing from the depths of the ocean, this powerful collagen source brings you the wonders of the sea. Picture your skin getting a mermaid-inspired boost, as Marine Collagen+ works its magic to promote a plump, firm complexion. So, channel your inner mermaid and let the enchantment of Marine Collagen+ unveil your skin's true beauty - it's a skincare adventure you won't want to miss! 🧜‍♀️🌊
HYPERPIGMENTATION PowerBlend NOTICE:
Please consult first with your physician, especially if you have a medical condition and, or are using medication, before using this product. Not recommended if you are pregnant/breastfeeding or under the age of 16 years.
Buy SKOON. HYPERPIGMENTATION All-in-One Marine Collagen+ PowerBlend online today!
HYPERPIGMENTATION DAILY AM or PM: Stir 1 sachet into 100 - 200 ml water or juice or add to your favourite fruit smoothie.
Optional: Add some crushed ice.
Type 1 Hydrolyzed Marine Collagen Peptide (Fish) (1.50 g), Orafti® Inulin, Baobab Fruit Powder, Methylsulfonylmethane (MSM), SKOON. Vitamin and Mineral Blend [Magnesium Citrate, Ascorbic Acid (Vitamin C), Choline Bitartrate, Potassium Chloride, Iodine Amino Acid Chelate, Zinc Bisglycinate Chelate, Selenium Amino Acid Chelate, Nicotinamide, Vitamin E Acetate, Vitamin B5 Pantothenic Acid, Copper Amino Acid Chelate, Vitamin B6 Pyridoxine HCL, Vitamin B1 Thiamine, Vitamin B2 Riboflavin, Vitamin A Acetate, Vitamin B9 Folic Acid, Vitamin K2 (Menaquinone-7), Vitamin B7 Biotin, Vitamin D3, Vitamin B12 Cyanocobalamin], Silica, SKOON. Gut and Skin Targeted Probiotic Blend [Lactobacillus Acidophilus, Saccharomyces Boulardii, Bacillus Coagulans, Bifidobacterium Bifidum] (2 billion CFU/ per serving), SKOON. Antioxidant Blend [Indian kino tree Extract (Pterostilbene), Turmeric Extract, Green Rooibos Extract, Honeybush Extract, Japanese Pagoda Tree Extract (Quercetin), Resveratrol, Coenzyme Q10, Astaxanthin], Pink Himalayan Salt, Mango Flavour, Orange Flavour, Citric Acid, Tartaric Acid, Malic Acid, Shilajit Extract (Fulvic Acid), Non-nutritive Sweetener (Steviol Extract), Acetyl-L-carnitine, Di-indolyl Methane (DIM), L-Glutathione, L-Glutamine, SKOON. Digestive Enzyme Blend [Amylases, Proteases, Lipases, Lactases and Cellulases], Verbasnol™ (Verbascoside).

ALLERGENS: FISH, IODINE.
What is HYPERPIGMENTATION skin concern all about?
Uneven Skin Tone + Dark Marks
If you're concerned about uneven skin tone and dark marks on your skin, then your skin concern is HYPERPIGMENTATION.
Melanin helps to protect the cells of our outer skin against damage from UV light. It does so by absorbing UV light before it's able to damage the sensitive DNA of the skin cells. Melanin protects against all forms of UV light, UVB + UVA as well as blue light. Think of melanin as the skin's highly effective first line of defense against damaging sun rays.
Melanin should be produced in an even fashion. Sun damage, hormones, genes, acne, inflammation - to name a few - can all trigger uneven melanin production. When this happens, you'll get uneven areas of darker coloured skin on your face, neck and chest.
These uneven marks and splotches are called hyperpigmentation and you get various types:
Solar Mottling (sun freckles, liver spots and dark marks)
Melasma (hormonal - pregnancy mask)
Post-Inflammatory Hyperpigmentation (dark spots after acne or squeezing pimples)
Periorbital Hyperpigmentation (dark marks around your eyes)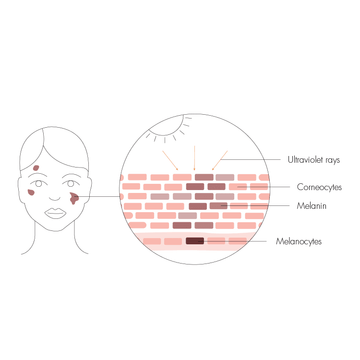 Solar Mottling
Solar mottling is uneven skin tone caused by years of cumulative sun damage. The skin looks mottled and leathery. Sun freckles, age spots or "liver spots" are part of this type of hyperpigmentation. 
Post-Inflammatory Hyperpigmentation (PIH)
Post-Inflammatory Hyperpigmentation (PIH) occurs after pimples, scrapes or minor skin injuries. Inflammation (the redness) triggers melanin production as an immune response to protect the damaged skin. The dark, hyperpigmented marks are often visible long after the acne or injury has healed.
Periorbital Hyperpigmentation
Hyperpigmentation around the eye area can affect skin under the eyes as well as the upper eyelids. This 'panda effect' can include hyperpigmentation (dark circles), swelling, fine lines and puffiness around eyes. Predisposed genetics, stress, raised cortisol levels, lack of sleep and leaky capillaries can all lead to increased deposition of melanin around the ocular area.
Melasma
The second most frequent reason for hyperpigmentation is an imbalance of hormones. This type of hyperpigmentation is called melasma. 
Pregnancy mask is another term used for melasma. "Pregnancy mask" refers to the dark butterfly pattern that affects the forehead, cheeks, chin and upper lip during pregnancy. 
All melasma is linked to hormones triggering melanocytes to produce more pigment.
Want to know more? Read our Ultimate Guide to Hyperpigmentation.
How to treat hyperpigmentation
There is no quick and easy way to treat hyperpigmentation. 
If HYPERPIGMENTATION is one of your key concerns, it's important to increase cell turnover to help remove existing marks as well as minimise melanin overproduction for future even-toned skin. 
Target your sunspots + post-acne marks with a 3-step HYPERPIGMENTATION approach: prevent & protect, repair + be proactive.
HYPERPIGMENTATION All-in-One Beauty Smoothie
Treat uneven skin tone + dark marks from the inside by drinking a potent blend of antioxidants including Verbasnol™  (the advanced age-defying botanical derived from Rehmannia glutinosa) to boost your skin's natural ability to fight free radical damage. 
Verbasnol™ exerts a remarkable antioxidative and anti-inflammatory effect by scavenging the free-radicals implicated in oxidative stress and skin ageing. 
The glycoside active in Verbasnol™ also inhibits the production of tyrosinase. Tyrosinase is a copper-containing enzyme that stimulates melanin production. If tyrosinase is inhibited, then melanin production is minimised. 
Less melanin means less hyperpigmented marks. 
HYPERPIGMENTATION All-in-One smoothie contains 44 skincredible actives, including marine collagen, 10+ antioxidants, vitamins, minerals + probiotics (2 billion CFU per sachet) to support an even skin tone from within. 
A daily, beauty one-stop essential!
Hero ingredients
Protect I Treat Uneven Pigmentation - Verbascoside + Glutathione 
Pro-active I Stimulate Collagen - Marine Collagen + Vitamin C + MSM + Baobab
Pro-active I Good Gut-Good Skin Axis - 2 Billion CFU probiotics
Pro-active I Healthy Skin - A-Z Vitamin & Minerals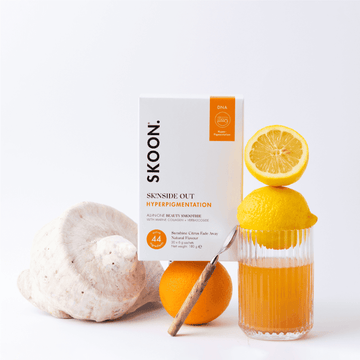 HYPERPIGMENTATION Skin Concern Daily AM + PM Routine
DAILY AM or PM: HYPERPIGMENTATION All-in-one smoothie: Stir 1 sachet into 100 - 200 ml water or juice or add to your favourite fruit smoothie. Optional: Add some crushed ice.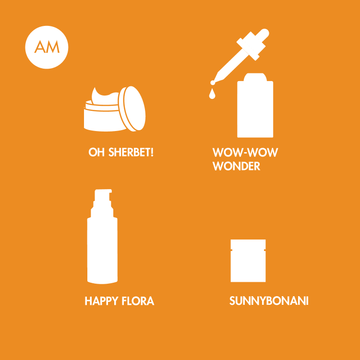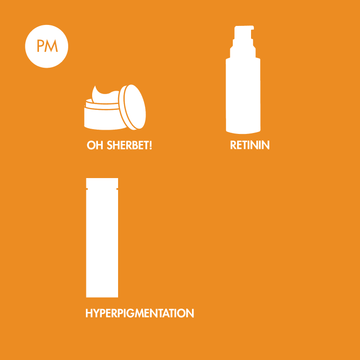 Daily HYPERPIGMENTATION Skin Concern Essentials
Here are some of our skin brightening favourites! Bursting with hero ingredients that help even skin tone and brighten dark marks.
Here's how to use them in your daily skincare routine.
HYPERPIGMENTATION All-in-one Beauty Smoothie
MARINE COLLAGEN + VERBASCOSIDE + GLUTATHIONE
AM or PM
Even skin HYPERPIGMENTATION All-in-One Beauty Smoothie contains 44 building blocks for skin tone including Type I Hydrolysed Marine Collagen, MSM, Vitamin C, Baobab, 10+ antioxidants, minerals, vitamins, 2 billion/CFU probiotics + 5 types of digestive enzymes.
OH SHERBET! Exfoliating face mask
AZELAIC ACID 10% + PREBIOTIC
AM or PM
Easy-to-use exfoliating mask with Azelaic Acid and Pink Clay that removes existing pigmented skin and dark marks.
WOW-WOW WONDER 3-Hyaluron face serum
BUCHU + VITAMIN C
AM
Triple blend of Buchu, Vitamin C and Hyaluronic Acid boosts moisture and brightens skin tone by inhibiting tyrosinase (the first step in melanin production).
HAPPY FLORA Microbiome face cream
BAOBAB + YOGHURT
AM or PM
Creamy, microbiome-friendly cream with Baobab, Swiss Yoghurt and Prebiotics - improves resilience and hydration after sun exposure.
SUNNYBONANI Day defense sun cream SPF 20
ROOIBOS + ZINC
AM
Lightweight mineral sun cream protects collagen with mineral UV filters: Zinc + Titanium Dioxide. Repairs existing collagen with super-antioxidants, Rooibos + β-carotene.
RETININ Retinal 0.1% Face cream
MARULA + RETINAL 0.1%
PM
Resurfacing treatment cream with Vitamin A stimulates new collagen bundles and improves skin elasticity.
BUY HYPERPIGMENTATION All-in-One Beauty Smoothie
Try our HYPERPIGMENTATION All-in-One Beauty Smoothie, with 44 brightening actives including marine collagen, antioxidants, vitamins, minerals + probiotics (2 billion CFU per sachet) to even out skin tone + brighten dark marks.